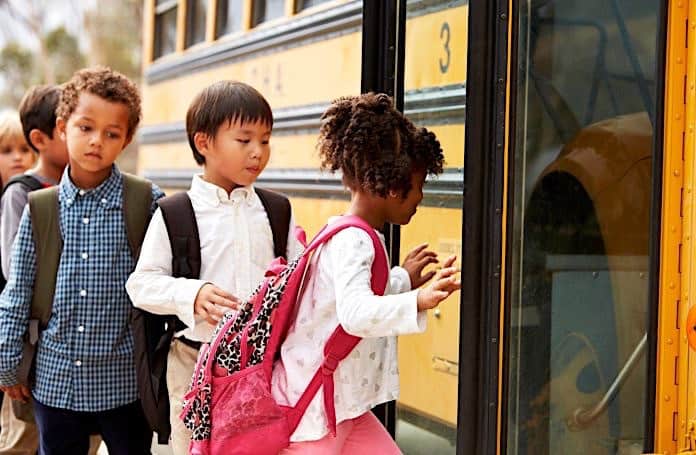 How should school bus operators respond when a special needs student acts aggressively on the school bus? Of course, school bus operators want to be sensitive to the special needs of the student who may be exhibiting violent behavior.
But, school bus operators must keep all students safe and, as employers, are obligated under OSHA to provide a safe work environment for their workers (29 U.S.C. 29 U.S.C. § 654.)
Types and Sources of School Bus Violence 
Incidents of school bus violence are common. In July 2016, Duval County Public Schools in Florida reported that nearly one in every 1,000 school bus trips recorded incidents of violence arising from fights. Recent reports by the National Center for Education Statistics reported that 7.4 percent of all incidents of bullying take place on the school bus.
But, incidents of fights and bullying may be different from violence arising from the unique circumstances of special needs students. While school bus violence may be common across the entire student population, there are different triggers, different methods of avoidance, and different remedies appropriate for special needs students.
Avoiding Aggressive Behavior 
Recognizing the factors that lead to aggressive or violent behavior is critical. Drivers should make an effort to know and understand the students in their care. The more drivers and aides know about students in their care, the better prepared they will be to recognize triggers that can lead to aggressive behavior or that can lead to escalations of potentially violent situations.
To the greatest extent possible, drivers and aides should address students by name and should observe the student's routines, behaviors, and demeanor. That way, a driver or aide is more able to recognize unusual or potentially troubling behavior.
Many special needs students have an Individual Education Program (IEP) that addresses their particular special needs. The IEP is a vital source of information about how best to help students avoid aggressive behavior that could escalate into violence. While some schools may resist sharing IEP information based on the student's "privacy" rights, school bus operators should be aware that federal law, including the Family Education Rights and Privacy Act (FERPA), states explicitly that a contracted provider of services with a "legitimate educational interest" should have access to such records.
The relevant section of FERPA, 34 C.F.R. § 99.31(a)(1)(i)(B), has been interpreted to include school bus drivers as those with a "legitimate educational interest." So, schools should share information in a student's educational records when that information would help a driver or aide understand how to provide a student with a supportive environment and how to react to situations that could result in aggressive or violent behavior. Advanced preparation and training will help drivers and aides avoid student violence before it starts.
Reacting to Aggressive Behavior 
Environmental factors can often result in student anxiety that escalates into aggression or violence. A driver's "reaction" should begin when a potential trigger is recognized. If the bus is delayed by traffic, construction or weather, the simple delay or break in routine could be a triggering event for some special needs students. Drivers should be prepared for the possibility of a delay and should be ready with a practical and age-appropriate plan. Questions about students' pets, a favorite sports team, or even a sing along can make delay time pass quickly and without incident.
Positive methods of intervention should be used whenever possible. Schools should be encouraged to consider and implement a program of Positive Behavior Intervention. Positive methods of behavior control, planned in advance, can provide drivers and aides with additional resources at the ready. At a minimum, school bus operators should know the student discipline and reporting procedures for their school. Discipline and reporting rules should be applied consistently, fairly, and in writing. But, sometimes avoidance efforts are not enough. When violence occurs, drivers or aides must react.
When practical and as a last resort, a driver or aide may need to physically prevent harm or may need to isolate a student from others. This is referred to as "restraint and seclusion," which is a completely different practice than securing students in Child Safety Restraint Systems and must be communicated to parents as such.
The U.S. Department of Education publishes a state-by-state summary of restraint and seclusion laws. Generally, state laws take a common sense approach. Applicable cases and statutes emphasize that positive, rather than negative, guidance should be used whenever possible.
Adult drivers and aides should be careful not to use any force in applying restraint or seclusion that is inappropriate or excessive given the circumstances and the individuals involved. Some states have statutes providing good faith immunity when adults caring for children must physically intervene to prevent harm. But, such immunity will not apply in instances of excessive, unwarranted or inappropriate physical intervention.
If physical intervention by a driver or an aide is not practical, not possible or the risk of injury is too great, and if no teachers or administrators are available to assist, the driver or aide should call 911. When an aggressive or violent incident has concluded, appropriate remedial follow-up action should be considered such as a "bus suspension," that is, excluding the student from transportation for some period of time.
The Difficult Remedy of Bus Suspension
There is inherent conflict between parents, the school and the school bus operator regarding "bus suspension" in reaction to aggressive student behavior. Parents are biased advocates for their children. Schools will measure their response against federal and state statutes that prohibit discrimination and require the school to provide a Free and Appropriate Public Education, or FAPE.
School bus operators will consider their contractual obligation to assure the safety of all students on the bus and their obligations under state and federal law to provide a safe workplace for employees. Ideally, the school and the school bus operator will have good clear written standards for student discipline that can be applied fairly when school bus violence occurs.
Well-written and properly applied procedures are the best response to a parent who believes their child is being treated unfairly. Like physical restraint, bus suspension is also a last resort that should be carefully considered.
What Should Schools and Contractors Do?  
Schools and school bus operators should be prepared in advance to recognize the onset of aggressive behavior on the school bus that can escalate into violence. Positive measures should be used whenever possible to avoid aggressive behavior. If violence does occur on the school bus, drivers and aides should be trained how to respond first with positive measures and, if absolutely necessary, with appropriate physical measures.
If physical intervention is not practical or possible, drivers and aides should know how to call for help by radio, phone or from school personnel, if available, and should take appropriate measures to protect all students from harm. Finally, school bus operators should understand their obligation to provide a safe work place.
Operators must address reports of school bus violence from their employees who work as drivers or aides. The responsive actions of the school or the operator should be based on appropriate written procedures that are fairly applied and all incidents, investigations and actions should be documented.
Failure to take reasonable responsive measures could result in civil liability for injuries to passengers, worker's compensation claims for injuries to drivers and aides who are employees, and fines under OSHA laws for failure to provide a safe work environment.
Editor's Note: This article was reprinted from the March 2017 issue of School Transportation News magazine.