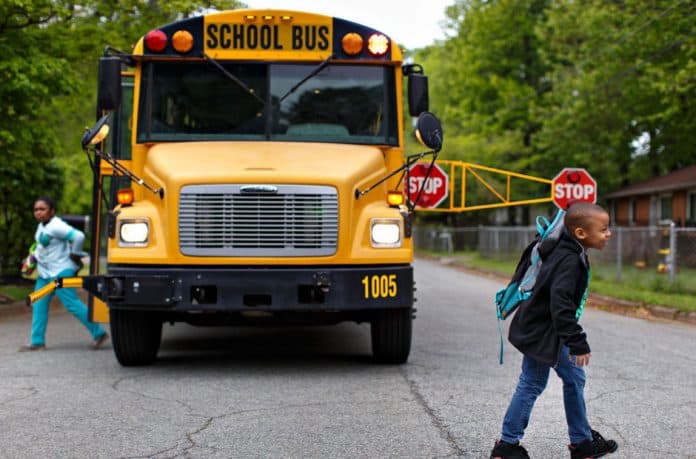 Indiana school districts received the green light in June 2019 to use longer stop arms that extend out from school buses across the next lane of traffic during student loading and unloading.
In October 2018, three siblings were struck and killed by an illegally passing vehicle in Rochester County. Since the incident, Indiana officials have elevated their safety concerns and updated laws to ensure more complete school bus safety.
Attorney General Curtis T. Hill, Jr. issued an Official Opinion, No. 2019-4, on June 27 and addressed it to Mike Mentzel, the chair of the Indiana State School Bus Committee, Michael Mentzel, and Michael LaRocco, director of transportation at the Indiana Department of Education. It said that motorists who pass a stop school bus in either direction when the stop-arm is in use are liable for any resulting property damage or personal injury.
---
Related: Indiana House passes School bus Safety Bill
Related: Indiana State Police Releases Report on School Bus Collision with Trash Truck
Related: School Bus Stop Legislation Passes Indiana House Committee
Related: Bill in Planning Stages after Death of Four Indiana Students
Related: Indiana Student Killed when Truck Rear-Ends School Bus
---
The extended stop-arm, which is already being used in several states, extends from 4.5 feet to 6.5 feet from the left side of the school bus. The use of extended stop-arms, according to Attorney General Hill, has reduced the number of illegally passing vehicles by 50 to 100 percent.
Adam Baker, press secretary for the Indiana Department of Education, told School Transportation News that any measure that makes a student safer is appreciated. However, there are considerations to be made before potentially mandating this equipment, he said.
For example, Baker relayed that one of the stop-arm suppliers he has spoken with informed him that the bolts have to be inspected daily and replaced monthly.
"So, that is a consideration. That is not just a cost, but another item that you have to make sure your local mechanics understand," Baker said.
Baker added that the extended stop-arm is designed to protect students, and the last thing anyone would want is for it to malfunction and harm a student.
Baker mentioned many items to consider when school districts look at the implications of extended stop-arm, including their use in rural areas and blocking one lane of traffic versus four-lanes of traffic.
"There are so many things to consider, it's good to have these discussions and then at the end of the day say, 'Okay, here is what these discussions look like, here are our considerations, here is the structure. Districts, it is up to you to decide if this is a measure you want to implement or not,'" Baker said.
Hill's opinion states that the Indiana School Bus Committee has the authority to regulate the required equipment for a school bus. Therefore, it may decide the establishment of whether a school bus is to have an extended stop-arm signal device or not. Requiring or permitting an extended stop-arm does not raise any additional liability issues for the school districts, he said.