Oklahoma Attorney General Scott Pruitt is set to take the reins at the EPA, the very agency he has advocated against for years, following a narrow 52-46 vote in the Senate.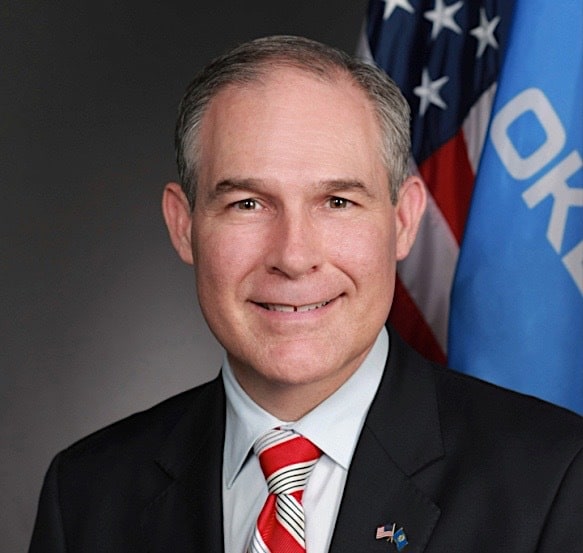 Scott PruittWebsites like the National Association of Attorneys General and The Federalist Society have stated Pruitt "is a leading advocate against the EPA's activist agenda" and established Oklahoma's first federalism unit to combat unwarranted regulation and overreach by the federal government. He filed Oklahoma's 2015 lawsuit against an Obama administration's policy to combat climate change, calling it an illegal power grab.
"The Clean Power Plan is an unlawful attempt to expand federal bureaucrats' authority over states' energy economies in order to shutter coal-fired power plants and eventually other sources of fossil-fuel generated electricity," Pruitt said at the time.
Pruitt also filed a lawsuit against Volkswagen last year for cheating emissions tests. This led to the separate $2.7-billion VW Mitigation Trust Fund that school districts, school bus contractors and tribal governments can use to pay for replacing older diesel school buses with new clean diesel or alterative fuel vehicles.
But environmentalists accuse Pruitt of allying with big business, especially oil, gas and coal interests, while serving as Oklahoma attorney general and prior to that, in the state Senate. Pruitt has also opposed an EPA's Office of Inspector General investigation into fracking's impact on local water sources.
The Environmental Defense Fund claimed Pruitt provided misleading testimony during his confirmation hearings regarding contributions he received, such as a $50,000 donation from Exxon Mobile last year to the Republican Attorneys General Association, or RAGA, that Pruitt serves as an executive. Pruitt then wrote a newspaper op-ed attacking efforts to investigate Exxon for misleading investors and public despite internal research that claims climate change exists.
Pruitt's supporters have countered these claims, referring to the time he commissioned a study with Arkansas Attorney General Lisa Rutledge on the impact of phosphorous pollution on the Illinois River that runs between the two states. Pruitt also led a "historic" water rights settlement between Oklahoma, Oklahoma City and the Choctaw and Chickasaw Tribal Nations.