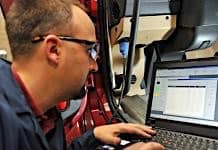 Reactive vehicle maintenance is a pricey, ongoing game of whack-a-mole. Something breaks, you fix it. If you want healthier school buses and a shop...
This issue of School Transportation News contains articles on federal funding for school bus Wi-fi, preparing for cyberthreats, and...
Find the latest vehicle production data and budget reports, industry trends, and contact information for state, national and federal...