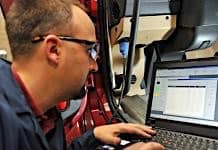 Reactive vehicle maintenance is a pricey, ongoing game of whack-a-mole. Something breaks, you fix it. If you want healthier school buses and a shop...
This issue of School Transportation News features the STN Transportation Director of the Year, Kayne Smith, as well as...
Find the latest vehicle production data and budget reports, industry trends, and contact information for state, national and federal...