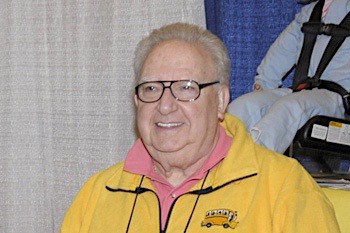 After 45 years in the student transportation business, Bob Rubin of Easy Way Safety Services officially retired at the beginning of June from his sales position. 
Rubin has been the industry's "iron man," having attended every NAPT annual conference since the inaugural event in Fort Worth, Texas, in 1975. In true Rubin humor, as his associates all know well, Rubin responded he was no iron man because, if he was, he "would sink." In 2006 at the NAPT annual conference in Kansas City, NAPT honored Rubin with the NAPT Distinguished Service Award.
Earlier this year at the Transporting Students with Disabilities & Preschoolers National Conference in Frisco, Texas, Rubin shared with STN and several industry contacts that 2013 would be his final year in the industry. But, as he told STN this week, a recent infection called strep cellulitis that hospitalized him for 16 days convinced him the time to retire was now rather than later. The infectionusually affects larger areas of skin and may spread rapidly. Rubin said he developed a fever as high as 104.5 degrees.
"Once I got rational, I just decided there was no way I could continue traveling," Rubin added. "This was the time to cut the chord."
That chord was first attached in 1969, when Chuck Bissinger of Easy Way Safety Services hired Rubin to assist in sales. Shortly thereafter, Bissinger and Rubin identified a new market for the company.
"This was in the era before padded seatbacks came on board in 1977," Rubin recalled. "There were thousands of buses out there that had nothing but metal or fiberglass for seat bottoms. So we developed a retrofit kit for seats."
It soon became a natural progression for the company to offer seat covers, as back then school districts had only one option: buy them from OEMs. Later, Rubin also developed along with Paul Stewart, at the time a director of transportation in Charleston, W.Va., a safety vest that protected students from being injured by the steel bus-seat frames during a sudden stop or even a crash. This was also well before school-seat belts were available. Rubin said NHTSA did not prohibit the safety vest but did require a disclaimer that the product was not intended to be used as a seat belt.
Rubin said first and foremost he will miss all the friends he has made over his career. He added that once he regains his strength from his recent illness he hopes to perform a "swan song" at the NAPT Summit this fall in Grand Rapids, Mich. He also said he expects to send a farewell letter to the industry by the beginning of July.