Transportation directors at Vista Unified School District in Southern California and Eugene School District 4J in southwest Oregon share why they made the decision to switch to renewable diesel for their fleets of school buses.
Vista Unified's Director of Transportation Bill Weisberg told STN that his operation shares California Air Resources Board No. 2 diesel fuel tanks with the city located north of San Diego. Last year, he related, the district began having issues with its school bus particulate traps clogging more frequently than normal, which prompted research for another option.
IPC USA, the local distributor for leading international renewable diesel company Neste Corporation, asked to do a presentation. Weisberg said he "was blown away by what this product could do." He also talked to San Diego Unified, which had at the time been using renewable diesel for about a year and recommended the fuel.
"What's interesting about this fuel is it's a drop-in fuel, meaning that there's no equipment upgrade needed. You can just mix it in with regular diesel because it has the exact same properties, chemically, as regular diesel," explained Weisberg. "But when you look at the two side-by-side, CARB diesel has that yellowish tinge to it. Neste My Renewable is as clear as water. So when you think about how that's going through your fuel filter and translates to exhaust, you kind of put two and two together. It's like, 'Okay, this totally makes sense.'"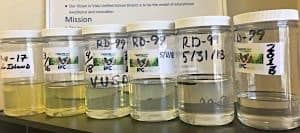 "Every month we had the (renewable diesel) added to our tanks, we took a sample from the tanks. You can actually see the clarity of the fuel get cleaner and clearer," he shared. (The photo to the right shows a lineup of these samples.)
Vista USD now uses renewable diesel in 53 of its school buses, and CNG in the other seven.
Eugene School District in Oregon, meanwhile, has been using renewable diesel, or R99, from Woodbury Energy Co. in 106 of its 116 buses for the past two and a half years. The other 10 school buses run on propane. Transportation Manager Chris Ellison said he learned about R99 from the City of Eugene, which had been using it for a year prior.
He said he was "pretty hesitant at first" but added that it was "probably one of the best decisions I made, fiscally." Ellison told STN he was pleased he could begin using it in his buses and fuel tanks immediately and could mix with the B5 biodiesel blend the district had been using.
R99 currently costs 15 to 18 cents more than the B5, "but we are seeing less diesel maintenance issues, namely less regen for the particulate filters" Ellison stated. "And we're seeing less DEF usage, as well. So for me, it more than makes up for the cost."
Vista USD's renewable diesel costs about 3 cents more than regular diesel, Weisberg said. IPC told Vista USD to plan on a five to 10 percent decrease in fuel economy, but Weisberg quickly followed that up with the fact that he also anticipates a decrease in maintenance costs since "the savings come in with less frequent maintenance on the particulate traps."
Eugene School District's fuel economy actually increased as a result of reduced regeneration times, Ellison said.
Vista USD also uses Safety Kleen recycled oil for its yellow and white fleet, which leaves the district with "very little dependence on petroleum products," said Weisenberg.
Use of renewable fuel must be accompanied by education, as both transportation directors attested to. Ellison shared that R99 was temporarily unavailable in Oregon when the state legislature left it off the approved list of fuel imports, and it was approved only after the municipalities and public agencies that were using it raised their voices in protest.
Weisberg said it was important to make the distinction between renewable diesel and biodiesel. Both perform like traditional diesel, but biodiesel is used in conjunction with diesel, while renewable diesel can replace it entirely. Biodiesel is made from "plant-based oils, recycled fats and greases" and renewable diesel is produced "from waste fats, residues, and vegetable oils, classified as hydrotreated vegetable oil."
However, Neste explained, biodiesel contains "aromatics and impurities that can contaminate oil, foul fuel injectors and clog the DPF filters." Renewable diesel also doesn't attract water or dirt when stored underground like biodiesel does, revealed Andrew DeBolt, lead mechanic for San Jose Unified School District, which was the first U.S. school district to make the switch to renewable diesel.
San Jose USD runs renewable diesel in 101 buses, a decision DeBolt said was made because it helped solve DPF problems the district was having, but "with no additional storage requirements or vehicle modifications." Its clean fuel attributes also "helped make this an easier sell to the board and district personnel.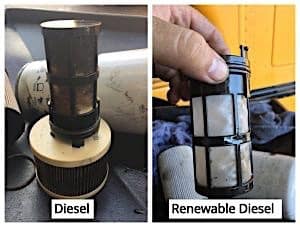 "You will notice a decrease in the number of times you have to service your filters," said DeBolt, who spoke about San Jose USD's experience with the fuel at last month's STN EXPO in Reno, Nevada. Sticking with the change turned out to be a "no- brainer" because it reduced time and money spent on maintenance, diesel particulate filters and Exhaust Gas Recirculation. As for the drivers, it was a net-neutral change because management initially didn't tell them and they didn't notice any difference.
While distribution was initially a struggle, DeBolt said suppliers of renewable diesel "are expanding as fast as people want to buy it."
Networking among districts and cities is spreading the word of renewable diesel and its benefits. Other districts have already been asking Weisberg about it, and he said he is happy to share the reasons he switched.
"Any decision I can make that helps improve the health and welfare of our kids and our community, I'm going to jump on that bandwagon," he declared.
Ellison declared himself "a huge proponent for R99" and shared that his mechanics were not happy when they had to temporarily go back to B5 due to the legislative snafu.
As demonstrated by both of these districts, the plug-and-play nature of renewable diesel poses an attractive option for districts who have diesel buses and are looking to join the clean bus trend. Additionally, they have both applied for new bus funding from the Volkswagen Mitigation Trust Fund. Eugene SD has 13 buses Ellison said it hopes to obtain replacement funding for, while Weisenberg said Vista USD is looking to receive 10 electric buses.