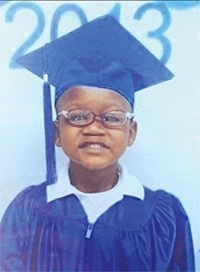 A six-year-old boy was hit and killed by a passing truck at his school bus stop Wednesday morning in Orangeburg County, S.C. Police confirmed that Zion Toland was attempting to cross Highway 178 when the accident occurred at 7:15 a.m., about 13 minutes before sunrise.
"The child, he was crossing the street, the bus was making a U-turn, but the bus had no lights activated," said Lance Cpl. Judd Jones.
Police noted the bus also did not have its stop arm extended at the time.
Jones said no charges have been filed against the 50-year-old driver as the investigation continues. She was not injured in the accident.
Family members said Zion and his 11-year-old brother were about to get on the school bus outside his grandfather's house when the younger boy was suddenly struck by a black Dodge pickup truck. Later that afternoon, they told WISTV that Fred, Zion's brother, had written him a note apologizing for not holding his hand while crossing the street to catch the bus.
Zion was a kindergarten student at Dover Elementary School in Orangeburg Consolidated School District Five.
Two days prior, another 6-year-old boy, Edmund Brock of Waterford, N.J., died after being hit by his school bus at his bus stop. And two weeks before that, 8-year-old Jaidyn Williams of August, Ga., died from injuries after being hit by a motorist who illegally passed his stopped school bus in early December.
Yesterday's fatal accident occurred on the same day the Kansas State Department of Education released its annual report documenting student fatalities during school bus loading and unloading. According to the KSDE, the 46 states that responded to the survey reported nine fatalities for 2012-2013, the same as the prior year.
Every year about a half-dozen children nationwide are hit and killed by motorists who fail to obey school-bus stop laws. Jaidyn and Zion are, respectively, the fourth and fifth student to be killed this school year by passing motorists in the dark pre-dawn hours.