Not many people in their lifetime get to have an annual award named after them, but George Sontag, Jr., supervisor of transportation at Centerville City Schools in Ohio, has been honored that way. 
As a bona fide living legend around the state, School Transportation News wanted to hear more about his real lifetime of work in the industry.
The George Sontag, Jr. Award for the School Bus Driver of the Year is presented annually in honor of Ohio Association for Pupil Transportation charter member George Sontag. The award citation states: "It is the intent of this award to recognize school bus drivers who exhibit outstanding leadership and professional conduct in the school transportation field, both in the district they represent as well as in the State of Ohio. The award also recognizes school bus drivers who have contributed to the advancement of pupil transportation as a profession."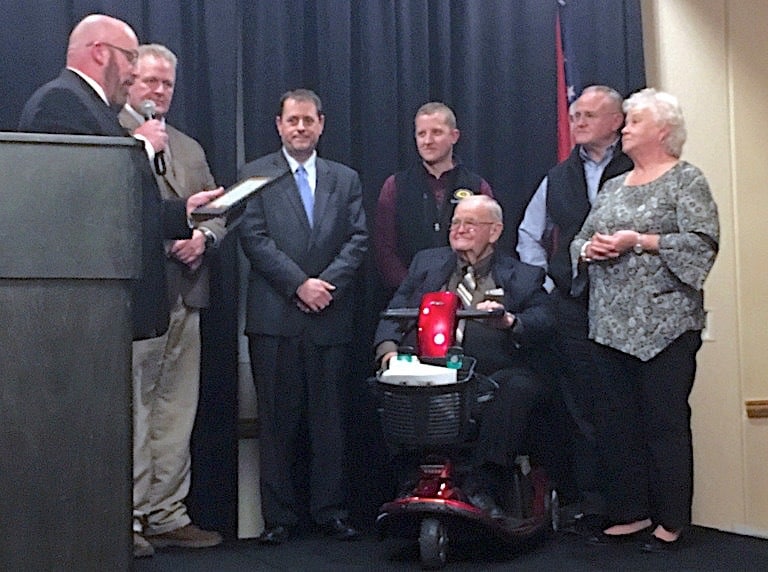 George Sontag, Jr. received the first-ever OAPT Lifetime Membership Award on March 19, 2018. Shown are George (front) are his wife Barb and son George, plus Centerville's Asst. Transportation Supervisor Andy Trick, Dir. of Business Operations Jon Wesney, and Asst. Business Manager Mark Dahm.
Sontag recently announced his retirement, scheduled for July 31, after serving in the industry for more than 59 years. He has served as a school bus driver, mechanic and director over that span of time. Shortly after he retires, he said he plans to take wife Barb on a cruise, along with their two sons and their wives.
At the age of 13, he began working on school buses in a small privately owned bus garage. He began his career driving school buses when he was 18, in 1957. He received his early education from Milford schools and studied economics at the University of Cincinnati. He worked several school districts during his career, including 16 years at Mildford Board of Education and 16 years at Indian Hill.
He told the Dayton Daily News that he recalled at the beginning of his driving career other bus drivers smoking cigars while behind the wheel and with students on board. The first bus he ever drove was a 1951 Dodge, 60-passenger Wayne body, with one mirror attached to the left driver's side and one for the driver inside the bus.
Today, Sontag says he would recommend that all school buses have lap and three-point lap and shoulder belts. Plus, the seating should provide for only two students on a 39-inch seat bench. And he prefers diesel with DEF or propane.
"I would like to see the improvement of technology to keep up with school bus standards," he stressed. This should be "more friendly for mechanics to correct with computers, by using programs supplied by the manufacturers."
His son, also named George Sontag, reported that his father currently works with Centerville City Schools in a Dayton, Ohio suburb, transporting about 8,000 students daily, and where he will end his last 25 years of service. He came out of retirement to take his current position of transportation supervisor there.
"George's institutional knowledge and contributions to the industry (are) well-known and respected," noted the Ohio Association for Pupil Transportation website.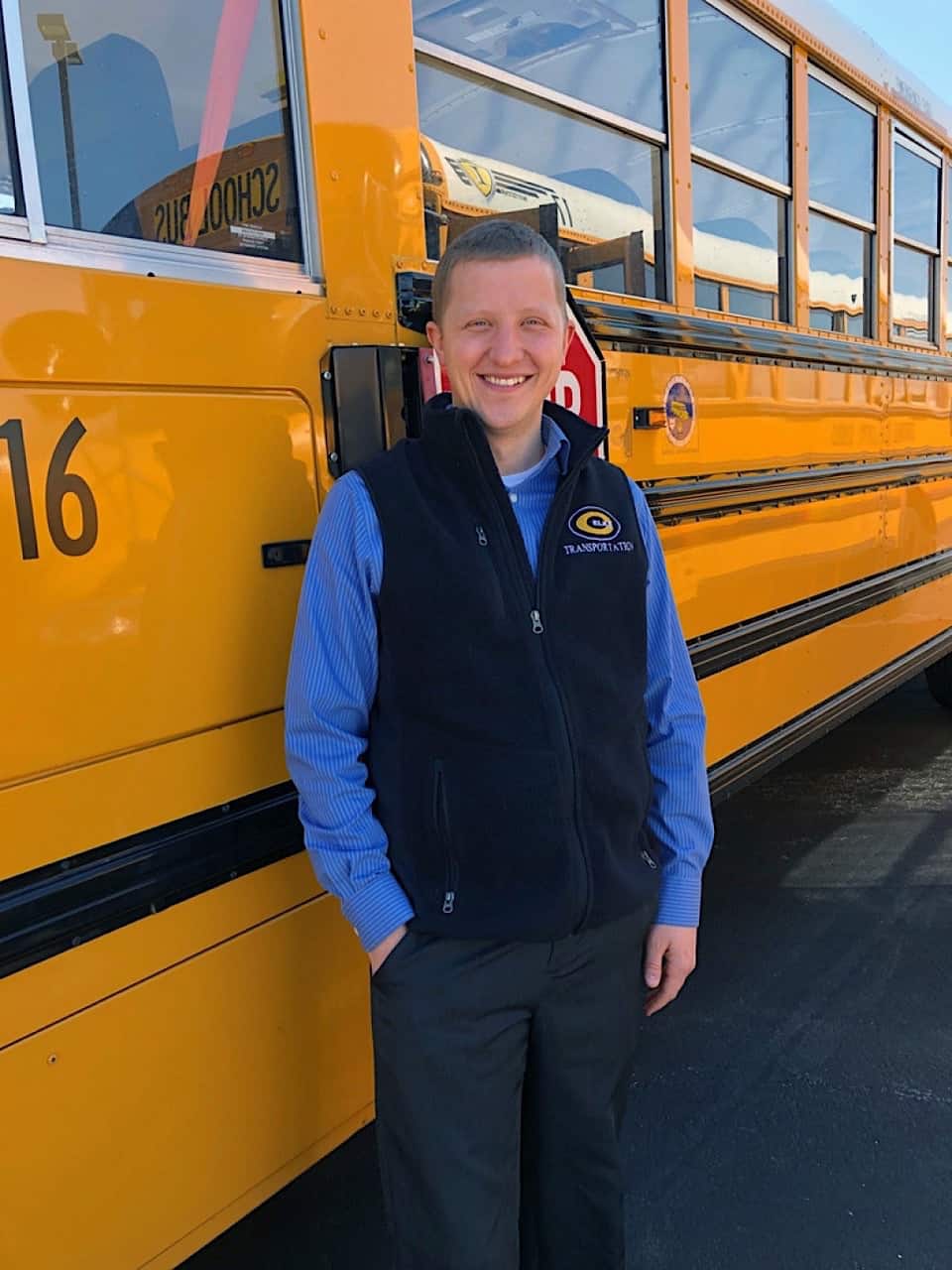 Centerville City Schools has named Andy Trick as the district's next transportation supervisor. Sontag has worked as a consultant in the field and served as an expert witness in court trials involving student transportation. Additionally, he has held offices and assisted with conference planning for both the OAPT and the National Association of Pupil Transportation.
Andy Trick, currently the assistant supervisor of transportation for the past four years, is being promoted to fill the vacancy created by Sontag's retirement. Trick received a bachelor's degree in education from Bowling Green State University, and has been employed in public and school transportation for 13 years.
The younger George Sontag said that his father has also "worked on school bus safety standards, and helped more future supervisors, including myself, than anyone will know."
George Sontag the son, who is also a transportation supervisor at Worthington Schools, added, "We have a joke in the family, that he needs to hurry up and retire before I do. … He is indeed a legend in Ohio and an instrumental part of our nation's school transportation professionals for many years."
The OAPT website notes that Sontag the elder is "dedicated to making sure that every child gets the opportunity to be the best they can be, by starting and ending each day with a caring word from their school bus driver."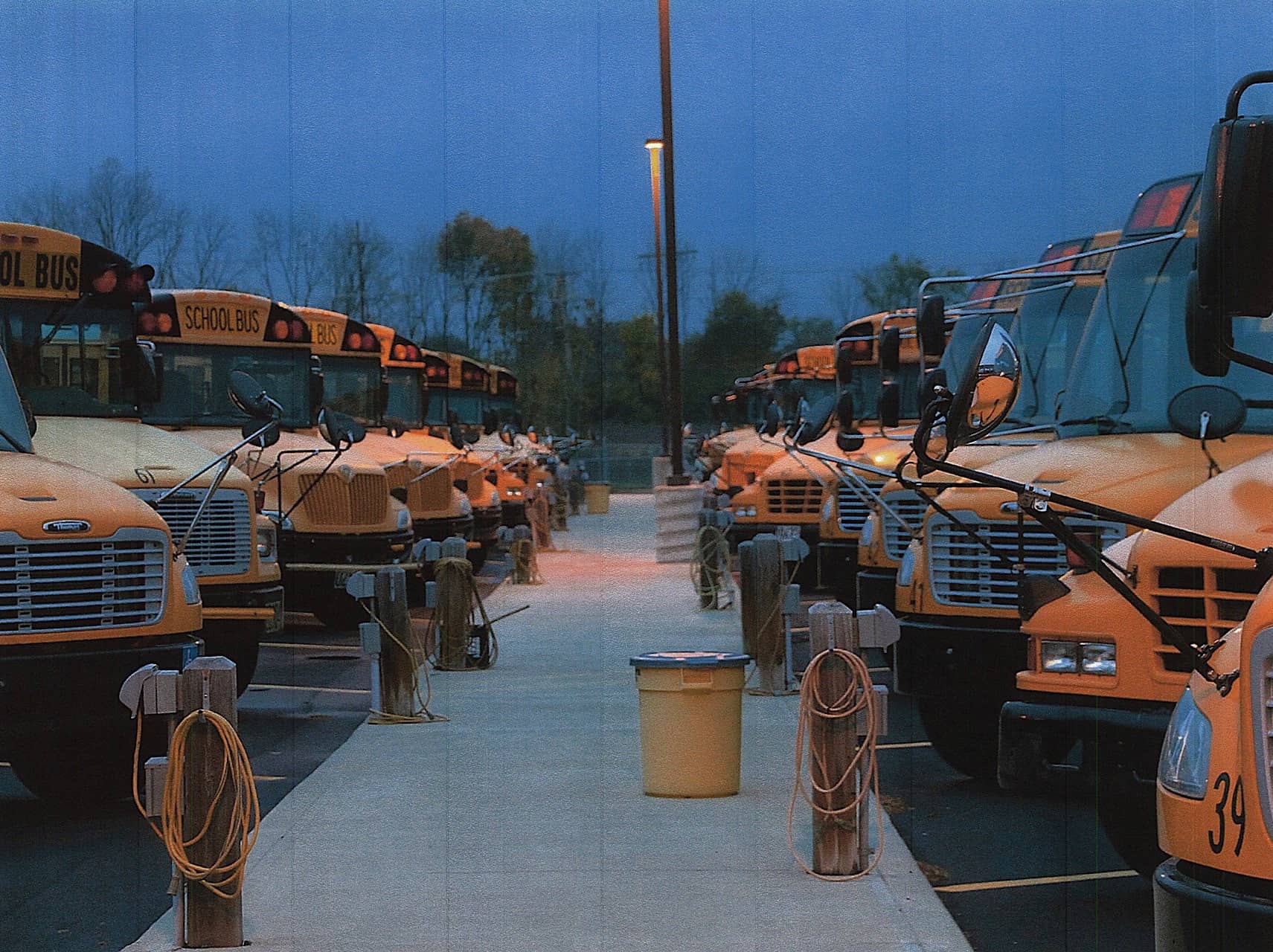 School transports in Ohio.