The TSD Conference & Trade Show added a new member to its National Board of Advisors this week when Miriam Manary accepted an invitation presented by Tenured Faculty member Sue Englert Shutrump. Manary is the senior engineering research associate at University of Michigan's Transportation Research Institute and has been a regular speaker at the TSD Conference over the 25 years of its existence.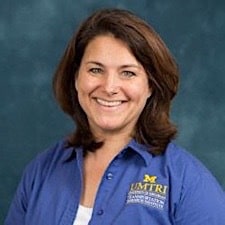 Miriam ManaryOver the past two decades, Manary has conducted biomechanics and human factors research for the automotive industry and federal government. A NHTSA child passenger safety technician and instructor, she has also led several studies focused on improving safety and independence of people who use wheelchairs as seats in motor vehicles, including school buses, and is a principal investigator for the RERC on wheelchair transportation safety.
She also supervises sled impact evaluation of child restraints, transit wheelchairs, wheelchair securement systems and wheelchair-occupant restraint systems.
Manary will return to the TSD Conference next March in Louisville, Kentucky to once again share the latest wheelchair crash testing research as well as to discuss the obstacles facing student transporters of complying with revised wheelchair standards for use in school buses.
Be on the look out for the latest conference news including workshop topics, confirmed speakers and more!