MADISON, Ind. — Competitive bidding ensures government agencies, educational institutions and other nonprofit organizations receive fair prices from a range of manufacturers for the products they purchase. But it is a very time-intensive process.
As a result, growing numbers of government agencies are turning to cooperative procurement programs. So, what are "cooperative procurement programs," and how can you put them to work for you? Christine Bilz, government sales leader for Vehicle Service Group (VSG), answers some frequently asked questions.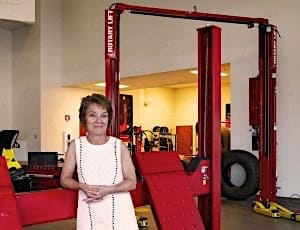 Q. What is a cooperative procurement program?
A. Cooperative procurement programs, also known as "government purchasing" or "government procurement" programs, use shared processes to provide competitive prices, terms and conditions to members, without the need for individual bid solicitation. As a result, Bilz explains, "government agencies and other nonprofit entities are able to significantly reduce administrative and legal costs associated with large-scale purchasing needs."
Q. Why are cooperative procurement programs becoming more popular?
A. Government resources are getting tighter, and some agencies don't have enough personnel with the knowledge and background to understand the complexities of buying the needed equipment or products. Often, purchasing decisions need to be made quickly, in order to maintain productivity and keep taxpayers' dollars at work. That means there isn't time for a long, intensive bidding process.
Q. What are the main benefits of buying through a government purchasing program?
A. There are many benefits for agencies that buy equipment in this manner, including:
• Cooperative procurement contracts are convenient. Instead of seeking quotes, bids or proposals, eligible agencies simply select products and services from the cooperative contract catalog, saving considerable time and effort.
• Cooperative purchasing contracts produce lower prices. Cooperative contracts are especially advantageous for small governments because they benefit from the market share leveraged by larger government consumers.
• Cooperative purchasing contracts provide higher quality products and services.
• With one procurement process and one contract serving multiple governments, cooperative contracts reduce administrative costs because the preliminary work has already been done.
Q. Why is the purchasing process easier for these programs?
A. One of the biggest benefits of purchasing through these programs is that the process is simplified. The purchasing process is easier with government contracts, because the majority of the time, an entity just has to submit a purchase order, instead of the cumbersome paperwork of a bid solicitation. The process is made easier and faster.
Q. When government agencies purchase equipment through cooperative purchasing programs, how does it benefit taxpayers?
A. When cooperatives reach out with an RFP to get vendors on a contract, they are pooling resources to get the best value for all of their member agencies. It is to a vendor's advantage to give the best discount possible, in order to be considered for a contract. Ultimately, citizens benefit from cooperative procurement, through lower total cost of government, better application of resources and more efficient government operations.
Q. Is there more than one cooperative purchasing program?
A. Yes. There are a number of cooperative purchasing programs available both regionally and nationally. Rotary products are available through the following programs: GSA, NASPO ValuePoint (formerly WSCA-NASPO), Sourcewell (formerly NJPA), HGACBuy, CMAS, TXMAS, KCRPC and OGS. To learn more about purchasing Rotary products through a government procurement program, visit: rotarylift.com/Government-Purchasing-Assistance
About Rotary
Rotary is the leading brand of vehicle lifts and wheel service equipment in North America. Rotary was founded in 1925 by the inventor of the first automotive hydraulic lift and now offers the broadest line of lifts and wheel service equipment for use in professional automotive service, commercial truck and transit applications. Its products include two-post, four-post, inground, scissor, mobile column, parallelogram and platform lifts, as well as alignment lifts and instrumentation, tire changers and wheel balancers.
Rotary is a Vehicle Service Group (VSG) brand. VSG is a strong, diverse and dynamic global leader in the vehicle service industry. It comprises 13 major vehicle lifting and collision repair brands: Rotary, Chief, Forward, Direct-Lift, Revolution, Hanmecson, Ravaglioli, Elektron, Blitz, Nogra, Butler, Space and Sirio. With its American headquarters in Madison, Indiana, VSG has operations worldwide, including ISO 9001-certified manufacturing centers in the U.S., Europe and Asia.