School bus wheelchair securement manufacturer Q'STRAINT held School Bus NTS, its National Training Seminar, during the same week as America's Safe Schools Bus Safety Week and National School Bus Safety Week. Seminar attendees included safety trainers and public school transportation directors, to name a few.
Q'STRAINT National Training Manager Darren Reaume instructs attendees at the company's 2018 School Bus NTS.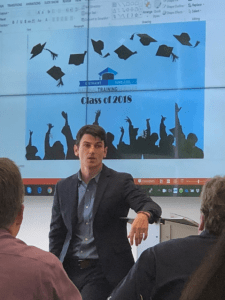 Over several days, seminar attendees were provided with knowledge, skills and resources, to successfully operate wheelchair passenger securement systems.
The seminar provided comprehensive training on all aspects of wheelchair transportation. Those include: Regulations and best practices, understanding and reducing liability, securement equipment options, securement principles, specification writing and securing difficult mobility devices.
The main focus of the training seminar was to have attendees apply the knowledge they acquired, to problem-solve real-world securement and transportation issues.
But don't take our word for it. Here are some safety takeaways shared by school bus attendees.
"While securing difficulty-designed wheelchairs can be a nightmare because you simply can't find a place for a hook to be fitted—don't despair. I learned how to use a wheelchair tie-down webbing loop. Webbing loops add a variety of possibilities to connecting wheelchair tie-down systems to the wheelchair frames. These helpful wheelchair securement accessories allow tie-down hooks to be used in places they wouldn't otherwise work in."

—Paul Baxter, dispatch operator, Handi Bus – Door to Door Paratransit

"I learned about how WC18 differs from WC19 and the benefits of implementing the latest wheelchair securement standards on a school bus fleet."

—Curtis Beasley

"I discovered how to write a more detailed specification. A good spec should provide clarity for the dealer who you are acquiring your school bus wheelchair securement equipment [from]. And not to rely on a dealer to discover mistakes or inconsistencies with the specifications. Otherwise you may be purchasing equipment that is not compatible for your school district needs. Also be careful not to use outdated terminology."

—Dan Walsh, COO, Bussani Mobility

"I learned first-hand WC-18, the legally required best practice standard for wheelchair securement equipment requires stronger, sturdier retractors to accommodate the new wheelchairs with an integrated lap belt."

—Aida Lopez, Greater New Haven Transit District

"I now understand the importance of maintaining a 45-degree angle when securing a wheelchair."

—Craig Russell

"It's great to have the best wheelchair securement equipment, but if your operators do not know how it works and how to use it, then it won't work and can become a major liability."

—Linda Chamberlain, mobility outreach coordinator, Regional Transportation Authority of Northeast Illinois
When it was time for the national training attendees to catch flights and return to their transit jobs, Ron Graves, a Q'STRAINT National Training graduate, summed up the two-day seminar the best: "It's nice to know that Q'STRAINT really cares about their clients by making first-class products and working with the manufacturers to develop standards that put the safety of our clients and drivers first."
And in the spirit of another successful American Safe School Bus Safety Week, Q'STRAINT honors and upholds all the values this special observance represents. Please stay safe in all your school bus mobility travels.