While some transportation professionals do have reservations about mandatory lap-shoulder seat belts, more local school districts are enacting policies that require them.
Federal Motor Vehicle Safety Standard (FMVSS) 222 already requires newly-made school buses weighing less than 10,000 pounds to include either two-point lap or three-point lap and shoulder belts. Requirements for larger buses are left up to state and local legislation. Some states, such as Texas, allow for individual districts to opt out of the requirement—if the school board can convince the community that it can't afford the occupant restraints, and there are no other options to fund them.
Lake Travis ISD near Austin, Texas, has a full fleet of three-point equipped buses—thanks to a $253 million bond passed last fall, $10 million of which was allocated toward purchasing 51 new buses with lap-shoulder belts and retrofitting another 50 existing buses. The district is seeing improved student behavior as a result.
"Our drivers say they have fewer discipline problems with the elementary students, because they are buckled into their seats," said Director of Transportation Rhonda Davis. "With secondary students, drivers are walking the bus before leaving school and strongly recommending that students buckle up. Most don't, or they take them off as soon as the bus pulls out. We are working on our disciplinary plan, but as our elementary students move through the grades, eventually we'll have all students accustomed to using seat belts."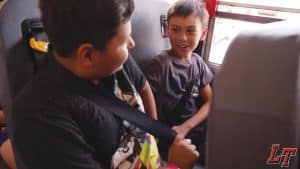 WEIGHING COSTS VS. BENEFITS
In a recent STN survey, readers said the average price to add the seat belts on a new bus purchase is about $7,000. While some districts balk at the added expense, three-point belts remain a small percentage of the total cost of a new bus, especially when compared to the cost of other technology, which includes engine, emissions and fuel systems.
But the cost of not adding lap-shoulder belts could actually be much higher. An industry consultant who provides expert testimony on school bus safety issues told STN that school districts, as well as bus manufacturers, could be required to pay escalating damages litigating liability cases in court, as a result of not providing lap-shoulder seat belts.
Indeed, public awareness of the "Great Seat Belt Debate" is only increasing, as seen by fatal school bus crashes such as the one in New Jersey on May 17. By August, Gov. Phil Murphy made New Jersey the fourth state in the nation to require three-point seat belts on new school buses, beginning in early 2019. '
Meanwhile, California Gov. Jerry Brown signed a bill that will require all school buses in the state to comply with the state's three- point law by July 2035. California became the first state to require the three-point belts for large school buses in 2005, but because no statewide replacement cycle exists, the California Highway Patrol found that just over half of the state's 25,000 buses were equipped with the lap-shoulder belts, as of 2016.
But then last month's fatality in Mesquite, Texas happened. A school bus driver apparently lost control of the bus (likely making the vehicle a good candidate for electronic stability controls that are becoming standard equipment in the industry) and it rolled over in a ditch. It also struck a utility pole, downing an electrical wire in the process.
That sparked a fire. While 39 students evacuated safely, 12-year-old Jazmine Alfaro died on board, though it remains unknown if her death was caused by the crash itself or the fire. One student told reporters that Alfaro appeared unconscious as she hung suspended in her lap-shoulder seat belt.
Evacuation concerns—and the cause of the Mesquite driver's crash—notwithstanding, do three-point seat belts offer more safety by reducing driver distraction?
"School districts with defined and enforced lap/shoulder belt usage policies report notable improvements in student behavior and reduction in behavioral incident write-ups," wrote NASDPTS in a February 2014 position paper. "Driver attention is less focused on student behavior, allowing for greater attentiveness to driving matters."
REAL-WORLD DATA SOUGHT
The National Highway Traffic Safety Administration (NHTSA) is looking to qualify that statement. In March, it issued a Request for Proposals to select a contractor to study the indirect effects of three-point belts.
Last month, NHTSA spokesman Jose Ucles said a contract will likely be awarded this fall. "Then, after study is over, it has to be analyzed and put into a report before we can release anything to the public," he explained. "That process might take two or three years."
In the meantime, many districts that have adopted three-point belts, either voluntarily or in response to a state law, say they are experiencing bus routes with less horseplay, less driver distraction and fewer disciplinary issues.
Fayetteville Public Schools was the first district in Arkansas to adopt lap-shoulder belts. Last year, the state passed a law that required districts to initiate a local ballot measure to secure funding, if 10 percent of taxpayers signed a petition seeking lap-shoulder belts. "I don't know if a district would ever get 10 percent of the constituents to sign a petition, but this is sparking conversations," said Director of Transportation Mike McClure, adding that Fayetteville found the money in its general operations budget. "Many other districts are looking at voluntarily getting them."
McClure said his drivers are having a positive experience with three-point seat belts. While hesitant at first, he said they have witnessed a definite improvement in behavior.
"The lap-shoulder belts have definitely been a positive experience for us," he added. "We had one of those notorious routes that no one wanted. But we put a bus with seat belts on it, with a straight forward driver, and the behavior changed dramatically."
While not all of Fayetteville's buses are equipped with three-point seat belts, McClure purchased 10 buses last year with the occupant restraints and is adding more this year. He pointed out that the district's administration has yet to decide on an exact usage policy. Until concrete consequences are in place, bus drivers are encouraging usage, with younger students complying more readily than older ones.
In North Dakota, Minot Public Schools has two 72-passenger school buses with lap-shoulder belts purchased out of concern for rural, mountainous routes. Transportation Director Barry Brooks agreed that occupant restraints improving student behavior because it forces the children to remain seated. Still, he said the district won't purchases additional school buses with the occupant restraints unless it is required to.
"I'm preparing an evacuation training, and I just measured the aisle of a new bus. It's 12-inches wide," he said, adding that his students wear layers of clothing during winter months. "In an emergency, how quickly are kids in heavy coats going to be able to move down that aisle, especially if they have seat belts to contend with?"
The National Specifications & Procedures passed at the 2010 NCST reduced the aisle width to 12 inches from 15 inches to align with NHTSA's 2008 updated to FMVSS 222.
Should the state ever pass a law requiring school bus lap-shoulder belts, Brooks said he would be interested in purchasing Lion buses, which offer an 18-inch aisle. The Lion Electric Company said it built the industry's widest bus body at 102 inches to better accommodate lap-shoulder belt usage. Brooks said he would be interested in purchasing a bus with an aisle width of 24 inches, but that would require 39-inch an 30-inch seats and would decrease passenger capacity.
Charles Vits, market development manager for IMMI's SafeGuard brand, pointed out aisle widths measured from the tops of all school bus seats have decreased regardless if they are equipped with lap-shoulder belts or not.
Driver liability also concerns Brooks, he said as the higher seat backs required by FMVSS 222 make it difficult to tell if students are wearing their lap-shoulder belts properly or at all.
"If seat belts become mandatory, then the seat backs should be lowered, and drivers not held liable for improper use by students," Brooks said. "Do seat belts improve safety? Of course. But before seat belts, the kids learned to stay seated. It was called discipline."
Brooks keeps a list of infractions and their consequences, the latter including a 30-day suspension of bus rider privileges. If the student incurs another infraction during the same academic year, they are removed from the bus for the remainder of the school year. "Some have tested that and wound up getting a ride from parents," he said.
New York's seat belt law dating back to 1987 requires two-point lap seat belts. NHTSA, however, now says lap belts don't restrain the entire torso against the seat and can lead to abdominal injuries and/or whiplash during a crash. Students can also use them as weapons.
Some New York districts have added the three-point variety.
"I like to stay ahead of the legislation, as well as have students sitting better so the drivers aren't distracted," said Elizabeth Berner, transportation director for the Ithaca City School District. "We've definitely seen a decrease in the number of referrals drivers write."
She said three-point belts are easier to buckle, adjust and keep clean than lap belts and they provide additional safety. "It is all part of teaching [students] to be safer on the bus," Berner said. "Students stay in the seats better, facing forward. There are also fewer injuries, since the kids can't use them as a weapon like [with] lap belts.
Recently, a student in a neighboring district was hit in the head with the buckle on a lap belt and needed stitches.
Berner also noted that students don't trip over them or hook them across the aisle, as can be the case with lap belts
As reprinted from the November 2018 Issue of School Transportation News.