After only about 18 months in the position, Federal Motor Carrier Safety Administrator Raymond P. Martinez announced he is resigning by Oct. 31. He reportedly plans to remain an employee of the larger U.S. Department of Transportation.
According to news reports, Martinez said he is stepping down so he can work closer to home and spend more time with his family. He shared that he plans to oversee a DOT construction project at the FMCSA's John A. Volpe National Transportation Systems Center in Cambridge, Massachusetts.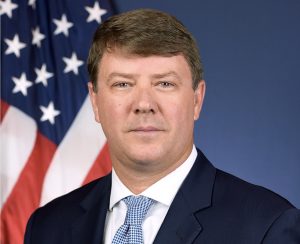 FMCSA Chief Counsel Jim Mullen will become the deputy administrator and is expected to assume the role of acting administrator, officials said. Several other departments within U.S. DOT will also have some key personnel changes. Current Deputy Administrator Alan Hanson will fill the position of chief counsel.
DOT noted that as the agency's top lawyer, "Mullen has a strong track record of engaging with all relevant government and industry stakeholders on significant rulemakings that FMCSA is undertaking." Mullen has worked at the DOT since June 2018. Hanson was previously an acting assistant attorney general for the Office of Justice Programs at the U.S. Department of Justice and deputy chief of staff at DOT.
According to Transport Topics, "Martinez has been an active and visible leader at FMCSA. He has held numerous listening sessions to gauge trucking industry concerns. Under his tenure, the agency announced proposed changes to hours-of-service rules and established a pilot program to allow people between the ages of 18 and 20 who possess the U.S. military equivalent of a commercial driver license, to operate trucks in interstate. During a session at the American Trucking Associations' annual Management Conference & Exhibition on Oct. 5, Martinez announced the launch of a project to promote advanced driver assistance systems (ADAS)."
Earlier this month, FMCSA also announced the ability for commercial drivers license holders, their employers, medical review officers, consortia and third-party officials, and substance abuse professionals to create secure online accounts in the new commercial driver drug and alcohol clearinghouse and register at no cost. FMCSA added that the clearinghouse is on target to begin operation on Jan. 6, 2020.
FMCSA has also overseen the implementation of new entry-level driver training. Drivers who currently have their CDL and passenger endorsements they need are grandfathered into compliance. However, those who need to change class or endorsement must meet the new regulations.
---
Related: FMCSA Says CDL Final Rule to Cut Cost of Entry-Level Training
Related: Seatbelt Installation is Starting to Click
Related: Journalist Discusses Production of 'Safe Enough?' School Bus Seatbelt Documentary
Related: Iowa Becomes Fifth State to Require Lap/Shoulder Seatbelts In School Buses
Related: New Federal Bill Adds Fire Suppression Systems to Call for Seatbelts
---
Martinez is the sixth FMCSA administrator since the agency was established by Congress in 2000. Nominated by President Trump and confirmed by the U.S. Senate, Martinez was sworn into office by Transportation Secretary Elaine L. Chao on Feb. 28, 2018.
Immediately prior to his arrival at FMCSA, Martinez worked for eight years as chairman and chief administrator of the New Jersey Motor Vehicle Commission, where he oversaw all aspects of roadway safety. In that post, he managed 2,500 employees, a $330 million annual operating budget, plus over $1 billion in annual revenue.
He was also a member of the New Jersey State Planning Commission, which addressed land use, transportation planning and environmental protection.
During President George W. Bush's administration, Martinez served as deputy chief and acting chief of protocol at the U.S. Department of State, where he represented the President in official matters with 186 foreign Ambassadors in Washington, D.C. He also frequently traveled with the President and other senior-level U.S delegations on diplomatic missions abroad.
Prior to that, Martinez was commissioner of the New York State Department of Motor Vehicles for five years, where he managed a network of 129 offices statewide. He also served as chairman of the State Highway Traffic Safety Committee.