With Hurricane Irma bearing down on Florida, student transporters in at least a half-dozen states are preparing for heavy rains, high winds and flooding from the strongest Atlantic storm in more than a decade. One district in particular is taking extreme measures to prepare.
As reported earlier, Miami-Dade County Public Schools closed school Thursday and Friday in preparation for Irma's landfall, which the National Oceanic and Atmospheric Administration forecasts for 8 p.m. local time on Saturday. Other Florida schools systems have since followed suit.
The storm is expected to take one of two paths. A prevalent forecast is that it will head north and travel the entire length of Florida's Atlantic Coast before skimming past Georgia and again making landfall in South Carolina on Monday morning. That could take Irma right through Brevard County, west of Orlando and along Florida's "Space Coast," site of the Kennedy Space Center. Arby Creach, director of transportation for Brevard County Schools, said he holds out hope, however slim, that Irma will skirt the coast like Hurricane Matthew did last year.
"Chances are that will not happen and we will get the full impact," he added. "In the meantime we are very busy preparing both district resources and our own personal homes and families."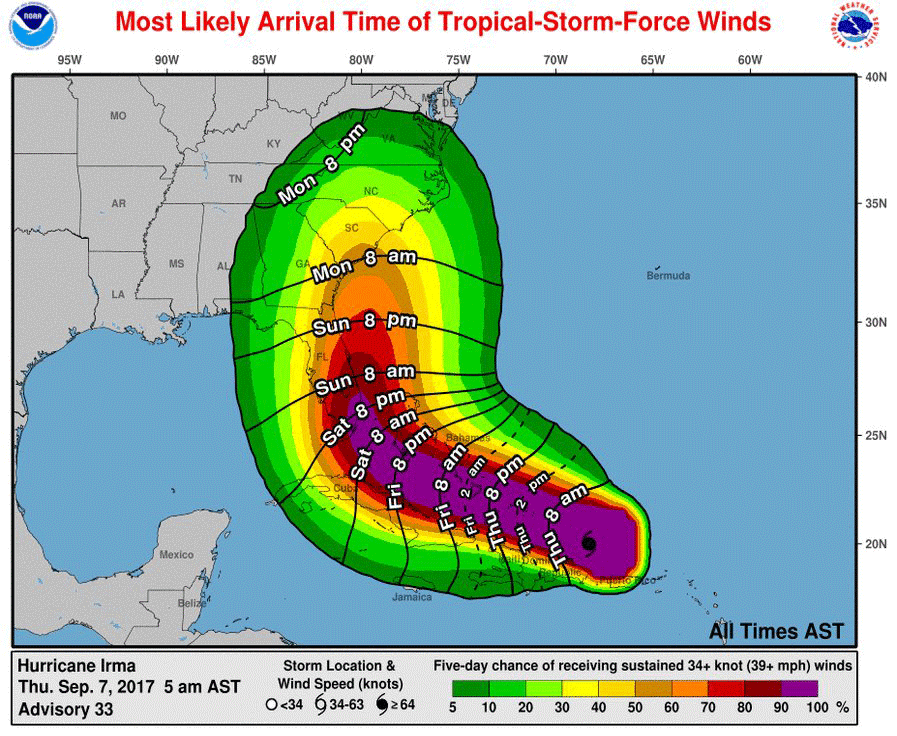 While continuity of operations remains the priority, Creach added that all school buses normally stop running – and likely all school campuses would be closed – when winds reach a sustained 40 mph. The district made the call to close school Thursday and Friday, and Creach said all transportation operations will cease at noon on Friday, at the same time local shelters open to the public.
"We cease routine operations as the buses become very unstable in the high winds, and any sudden gusts in could be disastrous," he explained. "Additionally, we do not cross our six large, high bridges that connect the mainland to the Atlantic barrier islands for the very same reasons."
He added that the school district expects network outages, meaning no email or access to servers as well as downed phone lines during the storm. And while there is no way to predict how long a network outage could last, he said routers are printing out maps and contact information.
Additionally, dispatchers are preparing for two-way bus radios to also be down, so the primary radio system may need to be used.
Creach said other preparations being made include fully fueling all buses by topping them off as of Thursday and ensuring bulk storage tanks are full, which gives the district up to 20 school days' worth of fuel in case of delayed deliveries.
Following is a summary of the hurricane procedures that were put into place in Brevard County as of Wednesday night:
Network
Brevard County counts on network outages during a hurricane, meaning no access to email or to shared files and routing servers. All important contact and routing data is printed ahead of time in case of an extended network outage. All important files are downloaded to external, portable hard drives for access via laptop computers.
VOIP telephone systems will likely be out of service. All key staff know how to reach each other by cell phone.
Two-way bus communications radio system that rely on network access may go down. The district prepares for the possibility that bus route dispatching and operations will have to be performed from each service area office primary radio system.
Fuel
All buses are fully fueled and bulk fuel storage tanks are full when operations shut down. Creach said it is possible that the district would need up to 20 school days of fuel to sustain operations during a recovery period.
Mandatory "topping off" of diesel fuel tanks in buses began earlier this week, with Friday being the district's last work day prior to the storm. "All buses should be fully fueled at the end of the day," said Creach.
In the event of a fueling system failure, district employees are prepared for "manual fueling," or overriding fuel pump computers and manually recording all transactions.
Staffing
All staff contact information is updated and current, with print-outs made in case of network outages.
The district identifies staff who are willing to assist the garages in weather preparation, staging buses, moving equipment, shuttling vehicles, etc.
The district identifies bus drivers in the event of being called to assist with local coastal evacuations.
The district identifies staff who are willing to assist with the recovery and cleanup phase after the event.
Equipment/Infrastructure
As we move closer to storm landfall, we try to protect our critical equipment and infrastructure as much as possible," said Creach. "We shuttle buses from all low-lying parking areas to higher and more protected ground."
All equipment is tied down or removed from areas vulnerable to high winds. These items include trashcans, mops, brooms, and outdoor seating.
"At the conclusion of our operations on the last day of school before the storm hits, we will surround our operations buildings with buses to help deflect the wind gusts and mitigate damage from flying debris in the high winds," Creach added.
All electronic equipment (PCs, UPS, etc.) are elevated off of floors in the event of local flooding. All desktop PCs and monitors are covered with large trash bags.
Appropriate department vehicles are pre-positioned at staff-member homes to help with triage, storm assessment and recovery efforts.
Stay tuned to STN for updates from affected school districts.