The school bus industry is well represented in efforts to oppose an amendment to the House Interior and EPA appropriations bill that would cut funding for the Diesel Emissions Reduction Act, or DERA.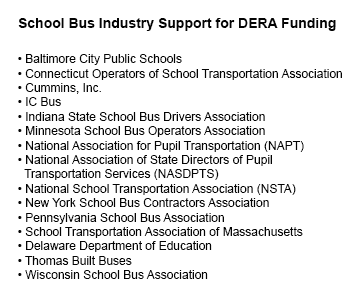 Fifteen organizations including Cummins, Inc., IC Bus, Thomas Built Buses and the three national associations, signed a letter sent to all members of the U.S. House of Representatives on Tuesday that outlines the success of DERA over the past decade.
In all, 44 organizations signed the letter. It opposes an attempt made by Rep. Gary Palmer (R-AL) to cut all DERA funding from H.R. 3354. Meanwhile, Reps. Ted Poe (R-TX) and Doris Matsui (D-CA) have introduced H.R. 3107 that would reauthorize DERA through the fiscal year 2022 and would make no changes to the current program
"(The National School Transportation Association) recognizes the importance of DERA and fully supports reauthorization of the bill," said Tiffany Boykin, executive director of the school bus contractor association. "The transporting of millions of school-aged children across the county has become more environmentally efficient and we are all reaping the benefits of improved air quality. DERA grants and rebates have helped fund equipment for NSTA members which in turn, has had a tremendous impact on school bus drivers and the communities in which they serve."
Specifically, EPA estimates indicated DERA has accounted for approximately $12.6 billion in health benefits from $700 million in investments diesel emissions reduction programs nationwide, including retrofits, repowers, and new cleaner-emission vehicle purchases. The school bus industry has especially benefited, as school districts and school bus contractors had received the largest share of funds since the program began in 2007 and in doing so assumed the previous Clean School Bus USA program.
The Diesel Technology Forum, another letter signer, said DERA has upgraded nearly 73,000 total vehicles or pieces of equipment and has saved more than 450 million gallons of fuel. Additionally, it has reduced 14,700 tons of particulate matter (PM) and 335,200 tons of oxides of nitrogen (NOx).
DTF also pointed out that DERA achieves these benefits by requiring significant non-federal matching funds for projects seeking funding. The association letter to House members adds:
"EPA estimates every $1 in federal assistance is met with another $3 in nonfederal matching funds, including significant investments from the private sector, and generates $5 to $21 in health and economic benefits. Every state benefits because 30 percent of the funding goes to support individual state programs."
DERA has continually received bipartisan support in Congress, said DTF. The program passed the Senate by a 92 to 1 vote in 2005, by unanimous consent twice since then in the Senate, and by voice vote in the House in 2010.
---
Related: EPA Awards Clean School Bus Grants in Several States
Related: EPA Accepting Applications for DERA School Bus Rebates Program
Related: EPA Extends Clean Diesel Tribal Grant Applications Timeline
Related: EPA Announces DERA Funding Recipients
Related: California Lower-Emission School Bus Program Issues Revisions
Related: EPA to Propose New Standard on NOx Emissions
Related: EPA Grant Brings 4 Blue Bird Electric School Buses to New York District
Related: EPA Announces Latest School Bus Rebate Awards
---