Editor's Note: This profile is part of an ongoing series on women who have made a significant impact in the school transportation industry.
Laura Chasse received a communications education while at Indiana University, and she has put those skills to work by taking on customer-facing roles over her 24-year career with Cummins, Inc.
Since college, Chasse has worked in nearly all aspects of Cummins on-highway engines. Then six years ago, she became the general manager of the North America bus business for Cummins.
"I really like customer-facing [roles], and I figured that out about 15 years ago," Chasse said. "That is something that I am very passionate about—just to be in or around our customers."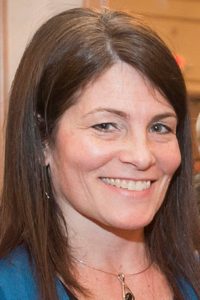 As the general manager, Chasse's teams are responsible for markets in three key Cummins business segments: School buses, transit buses and coach buses. Her staff also focuses on distribution networks. That group is more involved in working with dealers and supporting end-user customers.
"Whether its OEMs, dealers or end customers, I enjoy being able to help them, support them and make them successful, so I have a blast," Chasse said. "I can see myself [staying] here for another six years. It's just been really fun."
Chasse believes the school bus market "is unique, because there are so many different aspects or markets, whether it's a big school district or [a smaller one], like my local one here in Columbus, Indiana."
Chasse loves working with the whole spectrum of customers, from the big school districts with thousands of school buses in their fleets, to some of the surrounding counties that have fewer than 100 school buses. Regardless of the size of the client, her role is all about supporting the customer. That's something that she loves doing, and what keeps her engaged in the school bus industry.
"If you think of the flow of the channel, my account managers are selling engine systems or electrification products to the OEMs," Chasse said. "The other half of my team is then supporting those folks who are either installing those products in their vehicles, or running them and supporting product updates and product issues."
Chasse added, "We are supporting it from beginning to end if you will. That's what my group is made up of. We are a small army, but mighty."
Before being appointed to her current role, she worked in the Volvo and Mack OEM business for Cummins. Prior to that, she worked in the transportation field. She has also served on the board of the American Public Transportation Association as the Cummins representative.
Chasse said there are two particular aspects of her current job that keep her in the school bus industry. The first is being able to support customers and assist them with the new technology Cummins has to offer. The other is being able to work with her teams, which she said are comprised of fantastic people.
This year is Cummins' 100th year anniversary, and while the company traces its origins to supplying diesel and gasoline engines, she is excited to see all of the new markets that Cummins is exploring. While Chasse wants to see Cummins be successful in diesel and gasoline, she is also excited about the new all-electric product the company is manufacturing.
"It's not easy," Chasse commented. "But it is very rewarding when you are able to support that customer, fix a product issue, or help them decide on whatever their next round of buses is going to be powered with. You then get to see the reward of your hard work and investment."
Chasse is proud to be a part of the team at Cummins and part of a company that has been in the gasoline market for 100 years. She also likes being a part of a company that is still working on improving and providing solid products to customers.
"The B6.7 diesel engine is still a rock-solid product for the school bus market and celebrating our 100 years this summer is really exciting," Chasse commented. "[The milestone] brings up all of the nostalgia and history within the market, the way it was 50 years ago."
Chasse added, "It's bigger than me. I'm just proud to be a part of it, and have it continue to be a really good option for the school bus market with our different powertrain options."
Chasse is especially proud of Cummins and her team's work as a consultant to the customers and the OEMs. Her team studies the routes and terrain the buses will be driving on, and helps clients decide what the best fuel choice and technology are.
"Sometimes we may not have the right answer, but at the end of the day, we have the best service network out there," Chasse observed. "We need to be that consultant for those customers, whether they are choosing our products or not."
While working in a position of leadership, one of her challenges has been making sure everybody on her team has the resources they need. Another is prioritizing projects in an increased workload.
As she looks ahead, one of her goals is for Cummins to continue to offer great products for its school bus customers and OEMs, based on the changing technology and fuel infrastructure.