A new FBI report on active shooters nationwide over the past decade found that nine out of 10 perpetrators were male, and three out of four suspects knew their attack site beforehand.
The 30-page document, "A Study of the Pre-Attack Behaviors of Active Shooters in the United States Between 2000-2013," was released earlier this month. It includes provocative new details about mass shooters that may help schools and local police departments in their threat assessment and prevention efforts.
The FBI concluded in its highly-detailed analysis, "suspects that future active shooters themselves are looking for ways to avoid detection and maximize damage as they plan and prepare for their acts of violence." Preventing those future attacks "will depend on our ability to remain agile and recognize evolving pre-attack behaviors."
Who is Moving Rapidly Toward an Attack?
The new study continues a 2014 FBI study that focused primarily on basic benchmarks of active shooting events (location, duration and resolution). The new study focuses on motivations, timelines, answering the "why" question, and providing pre-attack behaviors of each shooter. It "turns from the vitally important inquiry of 'what happened during and after the shooting' to the pressing questions of 'how do the active shooters behave before the attack?,"' and if it can be determined, 'why did they attack?'"
"There is cause for hope because there is something that can be done," the report notes. "In the weeks and months before an attack, many active shooters engage in behaviors that may signal impending violence. While some of these behaviors are intentionally concealed, others are observable and—if recognized and reported—may lead to a disruption prior to an attack."
However, the FBI researchers added that well-meaning bystanders, often friends and family members of the active shooter, may struggle to appropriately categorize the observed behavior as malevolent. "They may even resist taking action to report, for fear of erroneously labeling a friend or family member as a potential killer," the report continues. "Once reported to law enforcement, those in authority may also struggle to decide how best to assess and intervene, particularly if no crime has yet been committed."
The report states that, "By articulating the concrete, observable pre-attack behaviors of many active shooters, the FBI hopes to make these warning signs more visible and easily identifiable. This information is intended to be used not only by law enforcement officials, mental health care practitioners, and threat assessment professionals, but also by parents, friends, teachers, employers and anyone who suspects that a person is moving towards violence."
Key Findings
1. The 63 active shooters studied were not uniform in any way—so they could be easily identified before attacking—based on demographics alone.
2. Active shooters take time to plan and prepare for the attack—77 percent spent one week or longer planning their attack, and 46 percent spent a week or longer actually procuring the means for the attack.
3. Most active shooters acquired their firearms legally. Only a very small percent obtained a gun illegally.
4. The FBI could only verify that only 25 percent of these shooters had ever been diagnosed with a mental illness. And of those, only three shooters had been diagnosed with a psychotic disorder.
5. These shooters were typically experiencing multiple stressors (an average of 3.6 separate stressors) in the year before they attacked.
6. On average, each active shooter displayed four to five concerning behaviors over time that were observable to others surrounding each shooter. The most often occurring concerning-behaviors regarded the shooter's mental health, problematic interpersonal interactions, and leakage of violent intent.
7. For juvenile shooters (under age 18), nonfamily members picked up on warning signs more often. Thus, school peers and teachers were more likely to observe concerning behaviors than the shooter's family. For shooters above 18, spouses/domestic partners were the most likely to see concerning behaviors.
8. When concerning behavior was observed by others, the most common response was to communicate directly to the active shooter (83 percent) or do nothing (54 percent). In 41 percent of the cases, the noteworthy behavior was reported to law enforcement. Therefore, just because concerning behavior was recognized, did not necessarily mean that it was reported to law enforcement.
9. In those cases where the shooter's primary grievance could be identified, the most common grievances were connected to an adverse interpersonal or employment action against the shooter (49 percent).
10. In 64 percent of the cases, at least one victim was specifically targeted by the active shooter.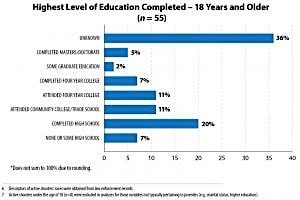 The educational levels of the shooters varied widely, researchers were able to confirm.
The new conclusions showed that the incidents:
■ Had a higher number of victims killed on average during each shooting.
■ Were more likely to end before law enforcement arrived.
■ Were more likely to include offenders who had Asian and Caucasian ethnicity, with shooters identified with African American and Hispanic ethnicity generally under-represented as compared to Phase I of the study.
■ Were more likely to occur in an educational facility or a house of worship.
■ Were more likely to end with the active shooter committing suicide.
Few Surprises Discovered
The FBI concluded that "these 63 active shooters did not appear to be uniform in any way such that they could be readily identified prior to attacking based on demographics alone." For instance, the youngest active shooter was only 12 years old, with the oldest being 88, and the average age was 37.8 years.
Also, the youngest (school-age) shooters (ages 12-17), comprised only 13 percent of the shooter population.
For race, 63 percent were classified as white, 16 percent were black (African-American), 10 percent were Asian-American, 6 percent were Hispanic, 3 percent were Middle Eastern, and 2 percent were Native-American.
The education background held a few surprises, with none of the youngest shooters (ages 12-17) having finished high school, while one 12-year-old hadn't even reached high school yet.
For the adult-aged group of shooters, the educational levels varied widely, researchers were able to confirm. Unfortunately, over one-third (36 percent) could not be verified, so for those remaining, the largest group had at least some college education or post-high school trade school (36 percent). Out of that 36 percent, 5 percent had completed graduate school or received a doctoral degree, while 2 percent had some graduate work completed, with 7 percent having graduated from a four-year college.
Not surprisingly, all of the underage shooters who were 17 or under, were students. Slightly more shooters that were 18 or older had a job than did not (44 percent versus 38 percent).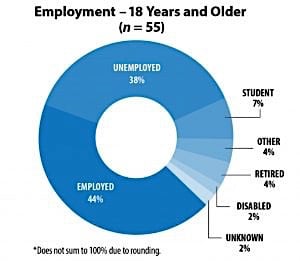 About one out of four (24 percent) who were 18 or older had at least "some military experience, with 6 having served in the Army, 3 in the Marines, 2 in the Navy, and 1 each in the Air Force and the Coast Guard."
Most shooters were single (57 percent) at the time of the incident, with 13 percent married, 13 percent divorced, and 11 percent either partnered but not married, or separated (6 percent).
About 1 of 3 shooters had adult convictions prior to the shooting incident (35 percent), but juvenile crimes were not included in the data.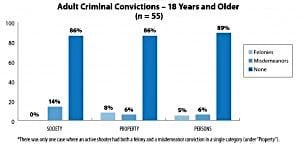 No active shooter was convicted of more than one crime against a person.
The report found that "active shooters had a limited history of adult convictions for violent crime and a limited history of adult convictions for crime of any kind," and it also stressed was that "there were very few demographic patterns or trends (aside from gender) that could be identified, reinforcing the concept that there is no one 'profile' of an active shooter.
Furthermore, there was no clear violent criminal history in an overwhelming majority of the adult active shooters.
The FBI warned law enforcement and threat management professionals not to rely on "demographic characteristics or on evidence (or lack thereof) of prior criminal behavior in conducting their assessments."
Attack Sites & Weapons
About three of four shooters were familiar with the attack site, the report found. "There was a known connection between the active shooters and the attack site" in most cases (73 percent, n = 46), "often a workplace or former workplace for those 18 and older (35 percent, n = 19), and almost always a school or former school for those younger than 18 (88 percent, n = 7), indicating that in most cases the active shooter was already familiar with both the attack site as well as the persons located at the site.
But conversely, "those active shooters with no affiliation to the targeted site behaved differently. Active shooters with no known connection" to the attack site "were more likely to conduct surveillance (p < .05) and research the site (p < .01). With routine contact, pre-attack surveillance could presumably be conducted concurrent to normalized activity and eliminate the need for a more formalized or detectable reconnaissance of a chosen target."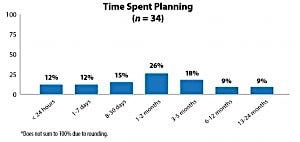 Surprisingly, most shooters acquired their guns legally. "Most commonly (40 percent, n = 25), the active shooter purchased a firearm or firearms legally and specifically for the purpose of perpetrating the attack."
Only one shooter bought his firearms illegally (2 percent, n = 1), and only 4 stole the firearm (6 percent, n = 4). Some shooters (11 percent, n = 7) borrowed or stole the firearm from a person they knew. About 1 of 3 shooters (35 percent, n = 22) already had a firearm and did not appear to have obtained it for the specific purpose of launching that shooting.
Mental Health Issues & Concerning Behaviors
Mental health stressors were found to play a major role. Overall, these shooters were "typically experiencing multiple stressors (an average of 3.6 separate stressors) in the year before they attacked. For example, in the year before his attack, one active shooter was facing disciplinary action at school for abuse of a teacher, was himself abused and neglected at home, and had significant conflict with his peers. Another active shooter was under six separate stressors, including a recent arrest for drunk driving, accumulating significant debt, facing eviction, showing signs of both depression and anxiety, and experiencing both the criminal and civil law repercussions of an incident three months before the attack where he barricaded himself in a hotel room and the police were called."
Concerning behaviors was the next issue investigated, which were acted out in many ways. There was an average of 4.7 concerning behaviors seen per shooter. The behaviors in most cases regarded the shooter's mental health, interpersonal interactions, leakage (communication to a third-party of an intent to harm someone), and the "quality of the active shooter's thinking or communication."
In addition, "At least one person noticed a concerning behavior in every active shooter's life, and on average, people from three different groups noticed concerning behaviors for each active shooter. As shown below, classmates (for those who were students), partners (for those in relationships), family members and friends most frequently noticed concerning behavior, followed by co-workers, other, and law enforcement."
About 3 of 4 shooters clearly had a grievance (79 percent) that they acted on. "Of course, the grievance itself may not have been reasonable or even grounded in reality, but it appeared to serve as the rationale for the eventual attack, giving a sense of purpose to the shooter," it was noted.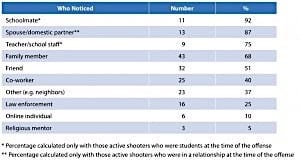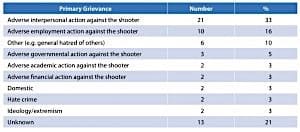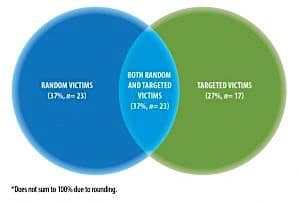 The report's conclusion noted in part, "As an active shooter progresses on a trajectory towards violence, these observable behaviors may represent critical opportunities for detection and disruption."
Successfully preventing an active shooting "frequently depends on the collective and collaborative engagement of varied community members: law enforcement officials, teachers, mental health care professionals, family members, threat assessment professionals, friends, social workers, school resource officers…and many others. A shared awareness of the common observable behaviors demonstrated by the active shooters" may help.
*All percentages in this report are rounded to the nearest whole number.