This week, the Propane Council of Texas (ProCOT) attended the Texas Association of Pupil Transportation (TAPT) Expo & Conference at the American Bank Center in Corpus Christi, Texas, for a chance to connect with school transportation departments and educate them on the growing popularity of propane-powered school buses.
Schools nationwide are turning to cleaner propane autogas to power their buses: 840 school districts in 48 states, including Texas, have upgraded to greener propane school buses. There are over 15,000 propane-powered school buses on our nation's roads that transport nearly 1 million students daily. Texas is leading the charge and has more propane school buses than any other state, with 2,870 buses and growing.
What makes propane buses so popular? New low NOx propane school buses produce significantly fewer emissions than modern diesel buses, and are up to 75 percent cleaner than the current emissions standard.
Plus, there is usually a high price tag with going green, but that isn't necessarily the case with propane. With lower fuel costs, reduced maintenance expenses and the shrinking cost of propane school buses, school districts do not have much to worry about high investments to go green.
School districts operating propane school buses are saving up to 50 percent on fuel costs when compared to diesel. Propane does not just cost less at the pump for school districts, but propane school buses have significantly less maintenance than a new clean diesel school bus. That equates to fewer expenses to the district. Propane school buses make sense for budget savvy transportation departments that are looking to save their school district some money.
In addition to reduced fuel and maintenance expenses, the incremental cost of a new diesel school bus and new propane school bus is shrinking. To help school districts with the small upgrade cost, there are many alternative fuel grants that are available from many sources from the state and sometimes nationally.
"There is some funding out there for school districts in Texas. It can be tough for school districts to keep track of all the alternative fuel grants that may be available to them. That's where the Propane Council of Texas comes in," states Jackie Mason, education & marketing director for the Propane Council of Texas. "We are a nonprofit. We are here to help districts, whether it is providing general education on propane school buses, or help to find funding for propane buses."
To find out more about propane-powered school buses and to contact the Council, visit: FuelingTexas.com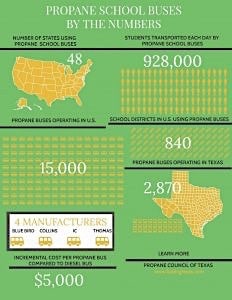 About the Propane Council of Texas
The Propane Council of Texas (ProCOT) is a nonprofit 501(c)3 that educates the public and the propane industry on safety and on the newest clean-burning propane technologies. ProCOT is the state entity that represents the Propane Education & Research Council (PERC), which was authorized by the U.S. Congress with the passage of the Propane Education & Research Act (PERA) of 1996.