Above everything else, Kristen Billingsley lives by the mantra that success stems from first loving yourself. In spite of personal setbacks that shook her and the school bus industry to its core, she has emerged triumphant and fully in charge of her own destiny.
For over 50 years, the Billingsley family has made it a goal to provide dependable pupil transportation products by selling safe and reliable parts in its home state of Texas and beyond. L.B. Billingsley started Billingsley Parts & Equipment in 1968, and 28 years later, his son Don Billingsley opened Heavy Duty Bus Parts (HDBP). Don's son Brandon also joined the business and rose through the ranks to become the company president.
Brandon married Kristen in 2004, and with Brandon's guidance and enthusiasm, their love blossomed into a dual passion for the yellow school bus. It was in 2006 that Brandon became the president.
By 2012, Heavy Duty Bus Parts had expanded its product offerings across multiple commercial fleet industries. Brandon Billingsley also opened UltraLED that same year, due to the increase in demand for LED lighting products.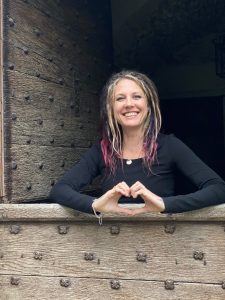 Kristen started with HDBP in the accounting department in 2006 and became vice president in 2011. Brandon and Kristen founded a dynamic working relationship, tremendously enhancing their lives on a personal level as well. Kristen said it was not an easy climb but it was well worth it for the business and their family.
The sky had become the only limit for the young couple. With a growing family, Baker being born in 2006 and Emma Lou in 2009, it was quite a growth spurt.
Then life quickly changed. Brandon, 42, died of a heart attack during a fishing trip in Mexico on Oct. 21, 2014. All too suddenly, Kristen found herself a young widow, single mom, and the new president of both HDBP and UltraLED.
---
Related: NAPT Summit Capped by Special Needs Award
Related: Brandon Billingsley of Heavy Duty Bus Parts Passes Away
Related: Brandon Billingsley: A Bear in the Best Possible Ways
---
"Brandon was the type of person with everything in place. He had an entire team of people to provide guidance for me settling into my new roles," Kristen explained of her husband's succession planning. "Especially Branden Smeltzer, our general manager. His patience and support have been a [great] ease to our transition personally and professionally. We're a small company, and dealing with the loss of such a pivotal member was difficult for all. Smeltzer and I have experienced some rocky times but have found mutual cooperation and worked hard to find success."
She noted she had to learn where her place was within the company. It wasn't her job to come in to micromanage and tell everyone how to do the jobs most of them had been performing long before she arrived. Instead, she realized she needed to step-up as a leader and give her employees the direction and the tools they needed to be successful, all while learning how to navigate her new reality at home.
While reinventing herself and her family, she said she galvanized her and her companies' roles in the pupil transportation industry. Kristen remains so committed because of a love for what she does and the legacy the Billingsley's family has built.
"Once you bleed yellow, you bleed yellow," shared Billingsley, whose friends also refer to her as KB. "I'm here by default [yet] I have some of the closest friendships from this industry that have carried me through the last five years of establishing a new normal after Brandon's death."
On top of those friendships, Billingsley said it's the common goal of safety that keeps her involved and united with everyone else in the industry.
"It's a big industry, but it's also small. It's family-like," she explained. "We all have our differences, but ultimately we are there for the same goal: to make it safer for the kids and to continue to make the school bus the safest form of transportation."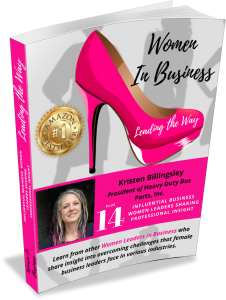 Heavy Duty Bus Parts is also part of the Women's Business Enterprise National Council (WBENC), which asked Billingsley to contribute a chapter to the upcoming book "Women in Business—Leading the Way." She will describe how she has gotten to this point in her life and the trials she overcame. The book is scheduled to be released in early spring.
"It's [about women] standing in our own power in a positive light without ego, and the lessons and steps we have taken to be in the positions we are. Us women being recognized as intelligent people, as vital members of the function of all industries. I am excited to journey with these wonderful ladies, sharing our stories to provide tools to empower women to find their inner beauty and strength to be successful in every aspect of their lives," explained Billingsley, who is also a member of the industry Facebook group Women in Transportation, or WIT. "We all bring things to the table, whether you are the [school bus] driver, director or on the vendor side manufacturing products."
Billingsley added, "It all comes together as women having the confidence in themselves to do these things that are in front of us. To help us rise-up individually, because then it makes our job, what we are putting out there, makes a bigger difference in the world."
But Billingsley wants to advocate for all people and is in a continuous search for new ways to unite communities. She recently opened KB's CommUNITY, which is an eatery and a health and wellness event center located in Historic Montgomery, Texas. Her goal is to help all people, not simply women, with providing tools to assist along their journey.
KB's CommUNITY features a farm-to-table eatery, cannabinoid (CBD) and retail products, an event center with live music, energy work, yoga studio and salon services. Billingsley is also in the process of partnering with another woman to implement a "Finding your Beautiful" campaign, which focuses on providing tools in improving physical, mental and emotional health by helping the individual realize their true inner beauty.
"What I am doing is bringing the community together and unifying us," Billingsley said. "I do all these different things to unify, because why do they have to be separate when we're all one? We all need to find our love for ourselves, feel beautiful and experience life in a different manner and at a higher vibration."
Through Heavy Duty Bus Parts, LBB Memorial Scholarship and her company KB's CommUNITY, Billingsley also offers several scholarships for the pupil transportation industry that provides educational growth opportunities for both adults and children.
In 2015, a year after Brandon's death, Kristen Billingsley also started the LBB Memorial Fishing Tournament that provides scholarships to multiple transportation entities. This project, as with most, is an evolving idea, she said. Billingsley is currently thinking of ways to change the dynamics from a local friends-and-family affair to involve the transportation industry on a different level.
Brandon Billingsley's Role as President 

Brandon remained at the forefront of safety in the transportation industry, performing the research and development himself for all new products. He worked diligently with in-depth research and development on a local and global level, said Branden Smeltzer, general manager for the company.

Smeltzer added that a little known fact is that Brandon in 2014 developed the first Federal Motor Vehicle Safety Standards (FMCSS) conforming LED 8-Way warning light, which was featured at the National Association of Pupil Transportation (NAPT) conference the same year, with press coverage on this product. Unfortunately, a large competing company was able to finish production on a similar product before UltraLED could go to market. In the middle of 2014, UltraLED secured a master distributor Prevost, a major motorcoach OEM and a subsidiary of Volvo.
She provides two scholarship awards through the Texas Association of Pupil Transportation (TAPT). The Billingsley Memorial Scholarship is in honor of family patriarch L.B. Billingsley, a contributor to the TAPT bylaws, and adds additional college support to graduating high school seniors. The LBB Memorial Scholarship, in honor of Brandon, provides the opportunity for TAPT adult members to attend the annual conference, classes and trade show.
She offers a similar LBB Memorial Scholarship for members of the National Association of Pupil Transportation, and for the past several years, she offered it at the School Transportation News (STN) EXPO in Reno. This year, Billingsley felt the STN scholarship would be better used at the Transporting Students with Disabilities and Special Needs (TSD) Conference in Frisco. The Billingsley Memorial Rainbow Scholarship celebrates the collaboration between the school bus driver and attendants.
On top of all that, Billingsley continues to raise Baker, 13, and Emma, 10. That, she added, is the biggest leadership role she's been gifted. Meanwhile, her day-to-day business operations change, but she said the most important thing to her is to remain present in the moments.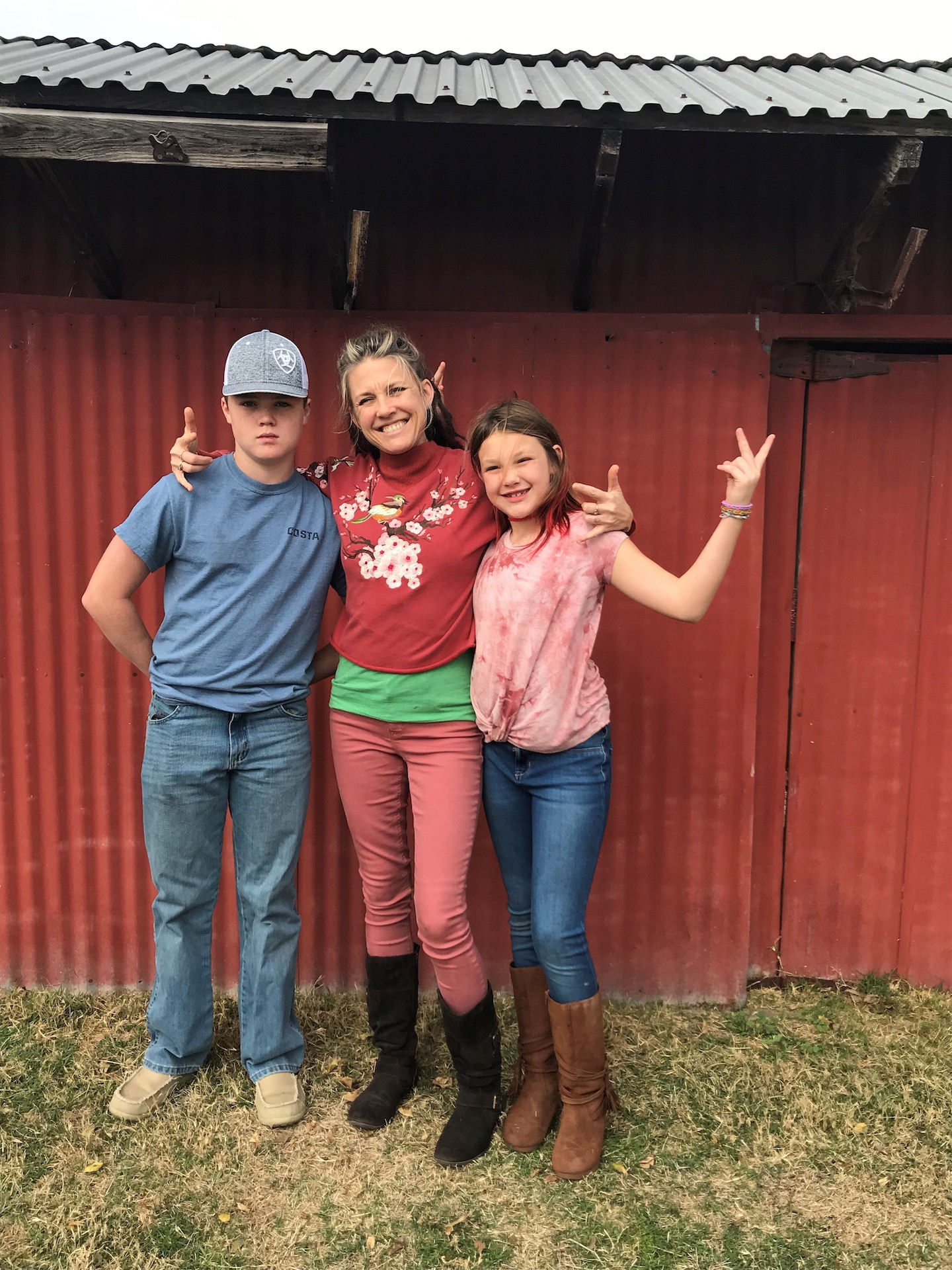 "So instead of being all over the place—because as you can tell it's a lot of things—it's about setting the intention at that moment and remaining focused on one project at a time," Billingsley explained.
Going forward, she shared that she plans to continue to "be in the flow of life" by improving herself and providing tools for others to do the same.
"As we better and love ourselves, it all comes together," Billingsley explained. "It starts there and you become a success, your family is a success, and then your business follows. It starts with me. It goes right back down to the basics. It starts with me loving myself and staying in alignment for what is my highest goal and all else with fall into place."