Tens of thousands of females nationwide are school bus drivers, routers, dispatchers, trainers, supervisors and directors. But few work in the garage. For the past 30 years, Aneliese Hessekiel has helped grease the wheels of student transportation in Los Angeles' San Fernando Valley.
Unlike the ladies we meet on page 48 in our March magazine, she doesn't actually work on the buses but keeps the garage running smoothly and the mechanics happy. She is an auto shopkeeper at Los Angeles Unified School District's Sun Valley garage. We sat down with her at her office in January.
School Transportation News: How did you get started in the industry?
Aneliese Hesseskiel: I needed to have some kind of parts background in order to take the test. The guy I was dating back then in 1978 worked in a garage (Monty's Autoparts in Sylmar, Calif.) and I went with him to the parts house. They asked me if I knew the job, so I started working as a delivery person. I worked there a couple of years, learned the books, learned the counter. My stepfather worked for the (Los Angeles) board of education at the time and told me when the test came up for parts. I took it and got in. I lucked out and got this location because I live locally in the Valley.
STN: How has the school bus industry changed over the past 30 years?
Hessekiel: When I first started here, everything was on paper. Then the computers came in and we got inventory control and a better knowledge of what's used and what's not used, and how much is used, and what we need to keep, the history on the vehicles. We were getting rid of the smog vehicles, the heavy diesels. Those were going. It's all evolved. Everything is computerized now, for the most part.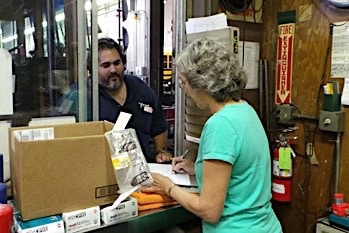 STN: Is it more efficient now?
Hessekiel: It's definitely more efficient because you couldn't tell what was used on the vehicle before the computers. Now you can look on the computer and find out what was used on it within a certain amount of time or in light vehicles, what was used on it to get a feel of what this bus would use.
STN: Do you wonder how you ever survived before?
Hessekiel: We didn't know any better; we just did it. The electronic age has been a good thing. It has its ups and downs. When the computer is down, power outages, updates. It is slow but better than it used to be.
STN: What does your job entail?
Hessekiel: I make sure the mechanics have what they need to fix the buses. We order supplies. The computer helps us out a lot on that because we have minimums and maximums set up in there. They kind of help us on what we need to order and when we need to order it. And you can always modify it when the need arises.
(The mechanics) come over here with a repair order and say they need so-and-so. I might just know it and walk to the shelf and pick it up and give it to them. If I don't, the computer comes in handy so I can research what it is. But we still have books and I've looked in the books. The books are easier to carry out to the vehicle if you need to. With a computer, you can't carry it to the vehicle. Just last night I was out on a bus and got on the creeper and crawled underneath it to see what (the mechanic) needed. Buses have to roll; you do what you have to do. The thing is you can have 10 mechanics out there and one part. They all have a different name for that part, so you've got to figure out what it is. Sometimes you come up with a new one so I go out and look at it: Oh, it's this!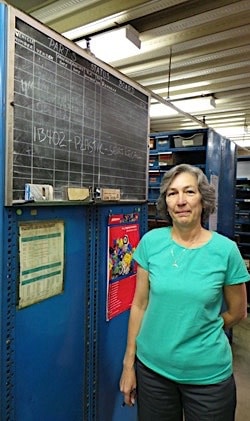 STN: This is your office per se, but it only houses smaller parts. Do you have another location for larger parts or other work?
Hessekiel: Right outside the window we have brake drums. Across the shop are radiators. In another room, transmissions, cylinder heads, differentials and windshields. In another room are the batteries. Another is tires. We just do minor repair. Any major bodywork goes to another contractor shop. We've done engines, transmission swaps. We've got two differentials we're waiting for. We've done radiators. We don't rebuilt engines here, but we could if we needed to.
STN: How do you purchase parts?
Hessekiel: We have contracts, a list of suppliers and people off contract, if the contract can't supply it. We can also go to the other garages. Through the computer system I can see what the stock is at another garage. If they aren't going to use it, we can use it here.
STN: Is it done online?
Hessekiel: Fax machine, telephone and online, depending who the vendor is. Fax is usually the easiest, because if the computer is down, you can still use the fax.
STN: You've been doing this 30 years: Do you think about how your job affects child safety?
Hessekiel: Yes, I do. For one thing they couldn't even drive the bus if they didn't have the parts. Everything is linked together: the parts, the qualified mechanic, the CHP inspection. Everything is all linked together to make it as safe as possible for the students. We also check out tools, too.
There are three of us here, two on day shifts and one on nights. I recently came to nights in July of last year. Days before that: 1:30-10 p.m. with a half-hour lunch. My choice. I can see my granddaughter (age two and a half).
STN: Is she going to be riding the bus?
Hessekiel: I don't know. She might go to a school really close to the house, but she does like getting on the bus when she comes to visit.
STN: How much longer are you thinking of working?
Hessekiel: Three to five years. That's another reason for coming on nights, it factors into retirement.
STN: Have you thought about the next generation? What do they need to know for the job?
Hessekiel: Everything is going to be different. It depends on how they adjust, how efficient they are, how computer savvy they are. I still have to ask questions on how to do some things. I didn't' grow up in the computer age, so I'm still learning there.
STN: Thank you.