COQUITLAM BC CANADA — Seon today announced the launch of Seon PATH—a route operations tool, that captures route maps, and publishes accurate stop times, driver directions and student lists by stop, using GPS and student ridership data.
Seon PATH makes it easier for budget- and resource-strapped transportation teams to capture and publish accurate school bus route maps using data collected from GPS and student tracking hardware. Unlike traditional routing software platforms that can take months to launch, Seon PATH delivers results within days, providing accurate driver directions, stop times, and student lists by stop, with no new resources or in-depth training required.
To celebrate the launch, Seon is offering a limited time free offer of Seon PATH. Customers purchasing a live GPS tracking solution will receive Seon PATH for 12 months at no cost. Existing live GPS customers will receive Seon PATH for the remainder of their annual subscription at no cost.
"In our role helping school bus transportation departments increase student and driver safety, we've had the opportunity to discuss their routing challenges firsthand," said Chris Akiyama, vice president for school buses at Seon. "The most common concern is with implementation teams being tied up for months on program planning and staging."
"These implementations would typically go hand-in-hand with the need for in-depth technical expertise, training, and data input, and would often end with lack-luster results," Akiyama continued. "This identified a clear gap between what these teams needed to achieve, and the functionality of the tools that were at their disposal."
For current Seon customers who already have vMax Live GPS tracking installed on their buses, Seon PATH is implemented in three easy steps: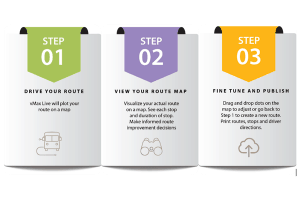 One transportation department is already reaping the benefits of using Seon PATH. "A week after implementation, this department noted a route segment that contained no stops, and took the driver around a small, circuitous way that served no purpose at all," said Kerry Somerville, product manager for Seon PATH. "Further digging uncovered the segment used to include a stop for a student who had long since graduated. Nobody had ever thought to amend the route. This transportation department realized both a time and money savings after removing the segment from their daily routes, equaling roughly $15,000 a year."
Seon PATH is already fully integrated with live GPS tracking and student ridership functionality. The product roadmap in the coming months includes real-time bus notifications and in-vehicle tablets, delivering an end-to-end student transportation safety solution.
"The ease of use and incredibly short time to implement makes Seon PATH the go-to solution to solve daily route management challenges," adds Akiyama. "Even if you have an existing routing solution, or have tried to launch one unsuccessfully, the driver directions and student lists alone are extremely useful and easy to accomplish."
For further details about Seon PATH visit: try.seon.com/path-promo-new.
About Seon
Headquartered in Coquitlam, BC, Canada, Seon is a leading provider of innovative mobile video surveillance and fleet management solutions for fleet vehicles. As part of Safe Fleet family since 2014, the company has a mission to increase safety of drivers, passengers, and pedestrians. Seon's solutions help transportation professionals capture, record, view, and wirelessly download on-board security footage, plan safe & efficient routes, and track vehicles in real-time.