Sixteen school districts across Georgia were recognized with the Pupil Transportation Safety Awards by the Georgia Department of Education. State School Superintendent Richard Woods announced the winners on June 26.
The award is sponsored by Blue Bird, Georgia's school bus manufacturer, and Yancey Bus Sales & Service. The school districts chosen go above and beyond to ensure student safety. The districts recognize the school bus as an extension of the classroom, Woods announced.
The winners were selected in eight different divisions based on enrollment size and were selected by a panel of judges. The eight divisions had a Blue Award Winner, which is the top prize, followed by the Green Award winner.
The factors that were considered included: completing safety training, evacuation drills, other safety initiatives with students, evaluation of accidents and internal practices, plus innovative initiatives that are used to inspire safe practices, hire and retrain drivers and enhance student safety.
The school districts are recognized for their training practices for both employees and students, their workplace culture, driver retention and recognition tactics.
Tracey Walden, transportation director at Jefferson County Schools, retains his drivers by using an incentive bonus for perfect attendance.
Jefferson County Schools received the Green Award in Division 3, for districts with a full-time student enrollment between 1,800 and 2,869.
"If you don't miss any days … they get an extra $150 a month. Between August to December, if they don't miss any days they get $150 a month, plus the $500 we will give them at the end," Walden said. "After Christmas to May, it's the same thing. If they don't miss any days, they get another $500."
Walden added that because they saw great results, this same retention process will be continued next year.
However, Jefferson County schools were also recognized for its safety training for loading and unloading procedures. The transportation department goes to all of the schools and conducts hands-on training for students. They set up a course with three buses showing loading from the roadside, across the road and emergency evacuation drills. The drill is carried out twice a year.
"We have been doing this for around nine or ten years. You are starting to see a huge difference in the older kids in terms of staying off the roads," Walden said.
---
Related: Active-Shooter Training
Related: Free 'Danger Zone' Training Addresses Student Crossing
Related: Alabama School District Provides Submerged School Bus Training
Related: School Bus Driver Training for Dangerous Situations Provided by TEEX
Related: OPTA Winter Workshops on Active Threat Training for School Bus Drivers
---
Marietta City Schools also teaches its students proper school bus behavior and proper riding techniques. Marietta City schools won the Green Award for Division 7, districts with a full-time student enrollment between 8,800 and 19,999.
Transportation director Kimberly Ellis said Marietta City schools uses a positive behavior system to reinforce good behavior on the school bus. They also teach the S.O.A.R. (Safe, Orderly and Respectful) program to all kindergarten through sixth-grade students, which teaches safe riding techniques.
"It teaches them how to be safe, and how to unload and load the school bus safely, Ellis said. "Because that is where so many school bus fatalities happen."
Ellis added that students are also taught proper safety emergency evacuation training, where students are taught how to exit from the rear of a school bus and actually perform it in training exercises.
The district offers CPR and first-aid training for all of its drivers. This year, the district added the "Stop the Bleed" certification and installed the "Stop the Bleed" kit on every route school bus.
Ellis said that at the driver monthly meetings they designate one hour to safety training. Guest speakers and hands-on safety training are stressed.
Marietta City Schools has a good relationship with its fire and police departments. During this time, they might invite those representatives to teach active-shooter training and fire extinguisher demonstrations.
"Safety is everything to us," Ellis said. "That is why we are here. Transportation is a support agency, so we are here to support our schools. But our number one priority is keeping our students safe and for our parents to trust us with that every single day. … [We transport students] to school in a manner in which they are ready to learn."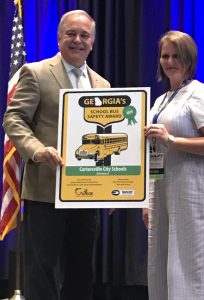 Ellis added that it's with the help of the superintendent and the school board that allows the initiatives to happen. Much of that success is because of how supportive they both are, he noted.
The Green Award Winner for Division 5 (districts with a full-time student enrollment between 3,650 and 5,149), Cartersville City Schools, trains its drivers on bus and student safety.
The district provides smoke evacuation training, "Stop the Bleed," first aid training, and a seizure/diabetic training session.
"We have several students who have seizures and we have several students who are diabetic, so it's just a little extra training," Kim Black, transportation supervisor for Cartersville City Schools said. The training is conducted by Cartersville Medical Center, with the drivers, using a hands-on seizure/diabetic emergency training with a child.
The drivers are required to attend a fire extinguisher training session and also a simulated smoke evacuation training session.
"It was a true honor. This is only the second year that the state of Georgia issued those awards. It was an honor to be recognized so quickly for our extra efforts," Black said.
This is the second year of the Pupil Transportation Safety Awards. See below for a complete list of all the winning districts for 2019.
The 2019 Winning Districts
Division 1 (districts with a full-time student enrollment between zero and 1,260)
Blue Award Winner —     Towns County Schools
Green Award Winner —  Treutlen County Schools
Division 2 (districts with a full-time student enrollment between 1,260 and 1,799)
Blue Award Winner —     Atkinson County Schools
Green Award Winner —  Clinch County Schools
Division 3 (districts with a full-time student enrollment between 1,800 and 2,869)
Blue Award Winner —     Mitchell County Schools
Green Award Winner —  Jefferson County Schools
Division 4 (districts with a full-time student enrollment between 2,870 and 3,649)
Blue Award Winner —    Morgan County Schools
Green Award Winner —  Pierce County Schools
Division 5 (districts with a full-time student enrollment between 3,650 and 5,149)
Blue Award Winner —    Madison County Schools
Green Award Winner —  Cartersville City Schools
Division 6 (districts with a full-time student enrollment between 5,150 and 8,799)
Blue Award Winner —    Thomas County Schools
Green Award Winner —  Ware County Schools
Division 7 (districts with a full-time student enrollment between 8,800 and 19,999)
Blue Award Winner —   Camden County Schools
Green Award Winner — Marietta City Schools
Division 8 (districts with a full-time student enrollment above 20,000)
Blue Award Winner —   Cobb County Schools
Green Award Winner — Gwinnett County Schools