LANCASTER, Calif. — Ray Dalke, a mechanical validation lead at BYD Coach & Bus in Lancaster, is looking to advance his career with the help of a new apprenticeship program that began this fall. Called the Industrial Manufacturing Technician Apprenticeship, the Build Your Dreams (BYD) program will total 16.5 units of college credit.
Classroom work includes OSHA 10 safety training, blueprint reading, manufacturing concepts, machine trade mathematics, lean manufacturing techniques, technical memo writing skills and emerging trends in manufacturing.
Dalke is part of the first group of an apprenticeship program that was created through a partnership between Build Your Dreams (BYD), SMART Local 105 and Antelope Valley College.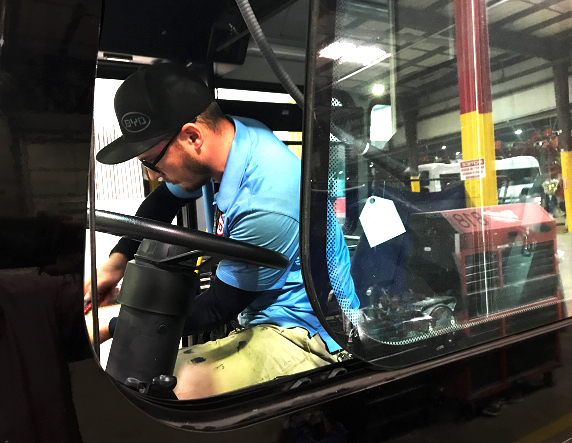 Dalke, who started at BYD just over two years ago, said he joined the apprenticeship program because he wanted to acquire skills to carry out his job better.
"I've been able to get a place of my own," Dalke said of working at BYD. "It's opened a lot of doors. I'm renting now, but I'll be looking to buy a home in a couple of months."
National Apprenticeship Week
BYD reported on its program during National Apprenticeship Week (NAW), which is now in its fifth year. The nationwide celebration gives businesses, communities, and educators the opportunity to showcase their apprenticeship programs, and apprentices, while providing valuable information to career seekers.
"I want more knowledge and more experience," said Bartholomew Taylor, a welder and fabricator at BYD. "When I saw the apprenticeship program, I said I need that. The best investment is the investment in yourself."
BYD North America President Stella Li said, "The program is a win for the company and its employees." According to Li, the employees benefit and gain skills that will help them advance their careers. "The company benefits by having skilled workers who will help improve efficiency in production and the quality of our buses," she stressed.
"This is the best thing to happen to BYD," noted Willy Solorzano of SMART Local 105, one of the program's instructors. "We are giving guys the skills so that they can build the future of the Antelope Valley."
About Build Your Dreams (BYD)
BYD Motors (BYD) is a California-based electric vehicle manufacturing company and a wholly-owned subsidiary of BYD Company, Ltd., the largest electric vehicle manufacturer in China and the largest electric bus manufacturer in the world. BYD Company, Ltd. is publicly traded on the Hong Kong stock exchange (1211.HKE), with approximately 60 percent of its stock owned by North American investors. Warren Buffett's Berkshire Hathaway is the single largest investor in BYD Company, Ltd.
BYD's zero-emission transportation solutions have gained ground in Latin America, and now successfully service markets in many other countries across the region, including Ecuador, Chile, Brazil, Peru, Panama, Uruguay, and Argentina, which join the nations across the world betting on greener, electrified public transport systems to help tackle climate change. Globally, BYD buses, taxis, and other electric vehicles are present in more than 300 cities, 50 countries and regions. https://en.byd.com/bus