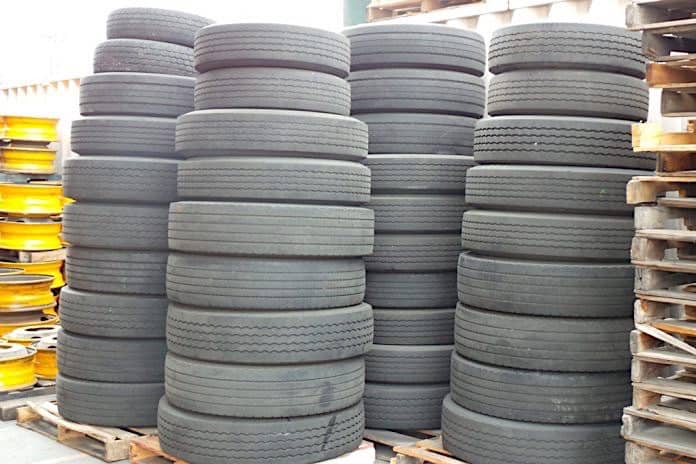 As transportation director for the Detroit Public Schools, Dale Goby was always looking for ways to save money without sacrificing student safety or operational efficiency. In 2005 he looked at the situation literally from the ground up. When a tire manufacturer made claims that it made a tire that would increase fuel mileage, Goby decided to give the tires a try and installed them on the rear of two special needs buses.
The tires were Michelin X One "super singles," tires designed to save fuel with less rolling resistance than regular tires and that weigh less than dual rear tires. Other tire manufacturers make super singles but the brand names vary by manufacturer.
"(Michelin) claimed increased fuel mileage and a change in ride quality," said Goby, now in dual roles as transportation director for Lake Orion Community Schools in Michigan and a transportation consultant for Avon Community School Corporation, located 325 miles away in Avon, Ind. "We installed them on the special needs buses because ride quality is most important on those buses."
Goby said the tires were a perfect fit for his maintenance program. His operations included a provision to test new equipment and products for future use on the fleet.
"We used the continuous improvement model with the understanding that if you continue to do the same things the same way, you will most likely get the same results," Goby said. "Our goal under continuous improvement was to seek to always improve the way we performed and improve the operation."
However, before the performance of the tires could be measured, Goby left the district. This created a void in the advocacy of the tires, which were removed before any data on their effectiveness could be collected.
LOW ROLLING RESISTANCE TIRES
During the past decade the impact that tire design and composition can have on fuel efficiency has taken center stage mainly because of initiatives undertaken jointly by the U.S. Environmental Protection Agency and the National Highway Traffic and Safety Administration. The EPA has set voluntary standards for tire manufacturers to satisfy environmental concerns brought on by excessive fuel consumption. As a result, low rolling resistance tires have emerged as the tire of choice for commercial fleets.
The EPA lists low rolling resistance tires as one of the preferred technologies that provide fuel consumption and emission reducing benefits along with aerodynamic, idle-reduction and retrofit technologies. The characteristics of a LRRT are tread design and tread depth.
"The shallower the tread depth, the better the fuel efficiency," explained Guy Walenga, director of commercial products engineering for Bridgestone Americas. "The less rubber, the lower the rolling resistance, but you get fewer miles from the tire. Does the money you save on fuel offset the loss of mileage? In my experience, it does so it is worth it."
Paul Crehan, director of product marketing for Michelin Truck Tires, explained that a 3-percent reduction in rolling resistance translates into a 1-percent savings in fuel or an increase of .05 miles per gallon.
"As the cost of fuel increases, the importance of fuel economy becomes more relevant," Crehan said. "For most fleets, fuel costs represent the single highest non-payroll operating expense. To this end, rolling resistance accounts for up to one-third of fuel costs."
TIRE PRESSURE MONITORING SYSTEMS
An adjunct to the low rolling resistance tire equation is the tire pressure monitoring system, although these systems are designed to work with a variety of tires. NHTSA requires passenger cars, trucks and buses with a gross vehicle weight rating of up to 10,000 pounds to have a TPMS installed. This does not apply to vehicles with dual rear wheels on an axle, which tips the GVWR over 10,000 pounds. Underinflated tires can be dangerous and costly in damaged tires, down time and wasted fuel.
Vanessa Hargrave, director of marketing for Advantage PressurePro said tire pressure monitoring systems instantly warn the driver when a tire is losing air pressure. It also gives temperature readings in real time.
"This information allows users to keep tires at optimal pressures, bringing significant savings including reduced fuel use, extended tire life, reduced maintenance, lowered emissions and safety," Hargrave said. "We help ensure that a driver or maintenance manager knows there is a problem as soon as one is developing before it becomes costly or crippling to operations."
PRACTICALITY FOR SCHOOL BUSES?
While Goby could be hailed as a "super single" pioneer, manufacturers say that getting more low rolling resistance tires on school buses may not be as simple as requesting them or even as practical. They also say TPMS may be just too expensive for school districts and that the nature of how school buses are used may make the low rolling resistance tires less practical.
"Though our technology is available in all markets, including the school bus industry, the pick-up has been higher in the commercial markets," Hargrave said.
Brian Sheehey, director of Commercial Tire Sales & Marketing for Hankook Tire America Corp., said TPMS may not be practical for school buses because buses are never on extended trips.
"A truck may be on the road and you won't see it for weeks," Sheehey said. "School buses are back every night so it may not be cost effective because of the application. Cost effectiveness for school buses may be difficult to show but the savings for commercial fleets are proven."
Sheehey added that the beating school bus tires take day in and day out make durability as much a concern to school districts as fuel consumption. He said LRRT were developed initially for commercial use for long-distance driving, and the application for buses was a collateral benefit because the technology has improved so much that fuel efficiency can now be measured. Sheehey added that the pickup and delivery nature of school buses could also impact cost effectiveness.
"A school bus in New York City might travel two or three miles a day, while a school bus in a rural area might travel 200 miles a day," he said.
Current technology utilized in the trucking industry allows for automatic tire inflation to temporarily fix a flat while the vehicle is still in operation. A solution from PSI, for example, extends the driving range for approximately 300 miles to increase on-highway safety and to allow the driver to complete the route before service is necessary. This can also save money for the operator. But, except for some long field or extracurricular trips or rural routes, the application has yet to take hold in the school bus industry.
"I don't know of any (school districts that are using TPMS) yet, but hopefully that will be a very different view by next year," added Hargrave.
Meanwhile, Bridgestone's Walenga suggested that school districts use non-drive tires that have been retread as LRRT, place them on up to 10 buses and compare their performance with buses with regular tires for six months.
"If the buses are not more fuel efficient, it might be better to stay with regular tires," Walenga said. "Their supplier will help them work that out. Any tire can be retread as a LRRT design. It lowers cost overall, but the first thing is safety."
Goby offered this for transportation decision makers: "Don't be resistant to change, it is one of the few things that is constant. Don't form an opinion without looking at the data."