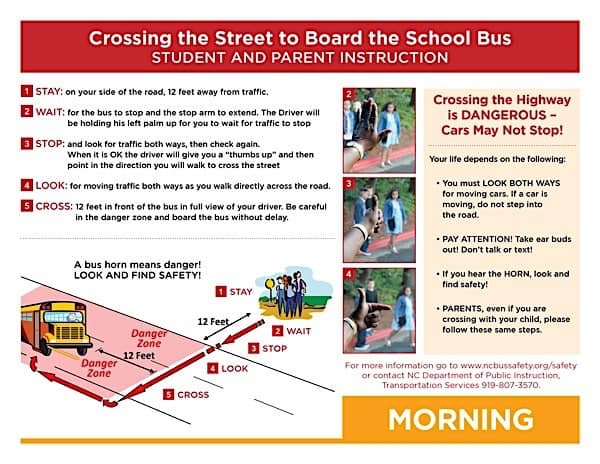 A new North Carolina State Board of Education policy has school bus drivers giving their students a thumb's up, at least when it's safe to cross the street to or from their bus stops.
The policy for the new hand signals was adopted last June and went into effect on Jan. 1 in response to five students being injured last school year after being hit by motorists while attempting to cross the street.
Derek Graham, director of state Department of Public Instruction's Pupil Transportation Branch, told STN that the bus driver hand signal is also referenced in the commercial drivers license manual, and it is included in the National School Transportation Specifications & Procedures, which was updated last May at the National Congress on School Transportation in Des Moines, Iowa.
"We are not proud of our record of injuries and fatalities involving students crossing the roadway at the bus stop. Something needed to be done and we have been trying a number of things," he added. "It only makes sense to empower the driver to help keep kids safe as they are crossing when getting on or off the bus."
The hand signals entail the school bus driver first holding his or her palm out, indicating that students should wait before stepping into the roadway. After the driver has checked following and on-coming traffic to ensure all motorists have stopped, the driver will then give students a "thumbs up," indicating that the students should then check for traffic and then cross the street. The driver will indicate with his or her index finger the direction in which the student should walk.
In addition to the hand signal, local school districts must provide instruction to student riders during the first five days of the school year on basic bus safety rules, evacuation procedures and proper loading and unloading techniques. The latter includes how to cross the street to and from their bus stops and understanding the driver's hand signal. Graham said DPI created training, which includes a video, handouts and a Power Point presentation. The information is available on the North Carolina School Bus Safety Web.
The new policy also states that school districts must ensure all routes do not exceed the official passenger capacity listed for the specific school bus being used. This means ensuring all students are seated fully within their seating compartment while the bus is in motion and no standing in aisles or in the step well.