Three-year-old Olivia Richardson counted the number of school buses she saw on her 25-mile drive to MD Anderson Cancer Center in Houston, Texas.
Olivia, who was declared cancer-free in December, developed a fascination of the yellow buses while traveling to her treatments. Her parents would help her count the buses to ease her anxiety.
"The drive was pretty long and sometimes it was in the mornings, when the kids were getting on the buses," Olivia's mom Kelsey Richardson recounted to School Transportation News. "We would see buses in the neighborhood that we had to drive through, and she just loved it. She just thought they were so big, yellow and cool. We would start counting buses and we would see how many we could count between home and the hospital. I think like our max we got up to was like 11 or 12."
Richardson noted that because her daughter is so young, she didn't fully understand why she was going to the doctor. But counting the school buses gave her a way to keep her mind off of the drive and with a fun activity.
"She would just start screaming out 'Bus,'" said Richardson, who served as a middle school teacher at Cypress-Fairbanks Independent School District for 11 years and resigned when Olivia was diagnosed. Richardson also grew up attending Cy-Fair schools from elementary through high school.
Richardson's sister, Ashley Wright, is a behavior interventionist for the district. She said when she heard about Olivia's love for school buses, she reached out to Director of Transportation Kayne Smith, who she's known for about seven years, to schedule a special school bus ride.
Smith and his department took things to the next level.
"We got to the transportation center and they had a whole set up for her," Wright said of the Jan. 2 event. "They had a welcome Olivia graphic on the [projector] screen. They had Hershey Kisses [her favorite candy], and they had a tricycle for her."
The tricycle was donated by Area Director Charles Johnson.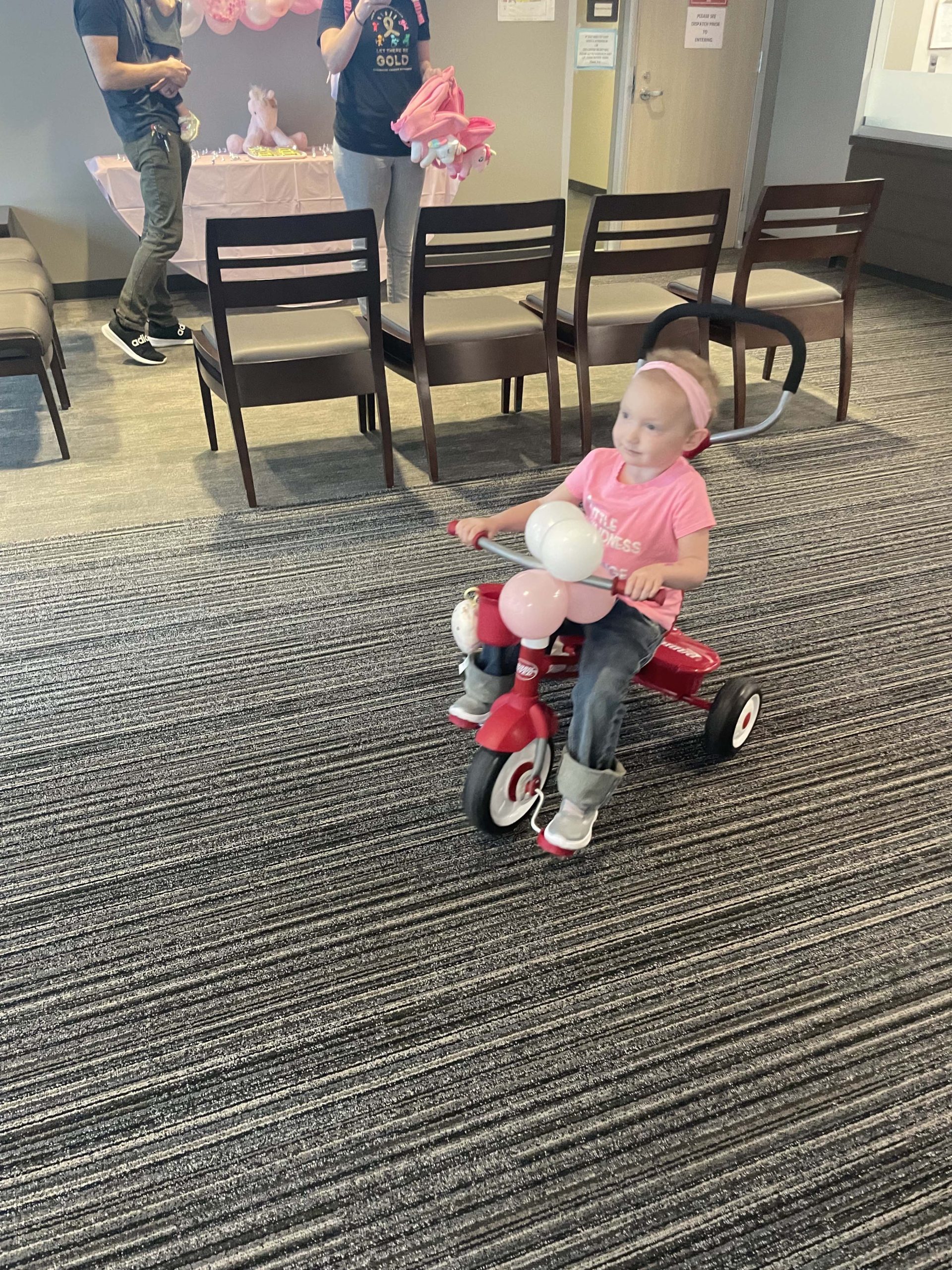 Wright added that backpacks were set on a table for Olivia and her younger sister, Lillian, to feel as if they were attending school. "It was nice for [Smith] and his department to make something out of it. It was a special thing because this is something that [Olivia] had been talking about and looking at and then for it to become something that she could do, was really special for her," Wright said.
Richardson added that her mother, Glenda Wright, who also worked for the school district, printed a bus ticket for Olivia. "She took the bus ticket and gave it to Mr. Kayne, and they welcomed her in, and it was so exciting," Richardson said. "They got little school bus cookies for her it was really cute and then she got to walk around and see the building and then Mr. Kayne took her outside to where all the buses were."
Richardson noted that despite Smith already having buses available for Olivia to ride on, she pointed at different buses she wanted to board, and Smith grabbed the appropriate keys. "He was really accommodating for her, 'It wasn't just like, this is what we have.' It was like, 'Yeah, what do you want to do?'" she explained. "[Olivia] got to ride three different buses and put on her seatbelt and they drove us around the facility. It was so fun. It was really special."
Smith even put Olivia on his lap and let her honk the horn and pretend she was driving the bus.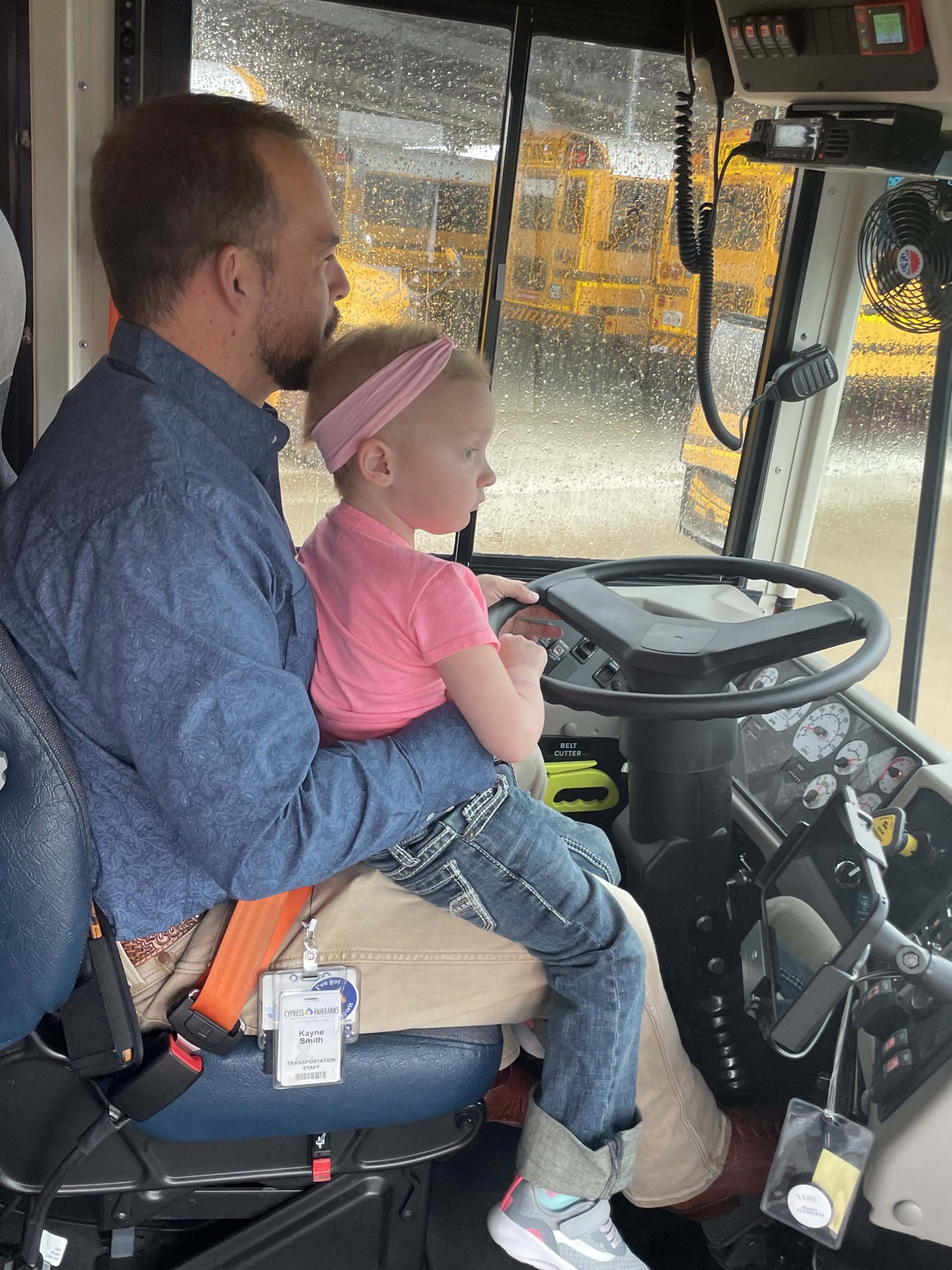 "It really kind of personifies what Cy-Fair is about. It's the people here. You reach out and they help when they can," Wright added, noting that the transportation department didn't do it for publicity but to make a nice moment out of a terrible situation. "It was turning something positive. It was making something come to life that was just a thought. It was just, 'I'm just counting buses,' but then for the district and for Kayne and his department to give back to my family without wanting something in return was nice. It was really thoughtful and that's how Cy-Fair works."
---
Related: Texas School District Celebrates Technology, Green Energy and Positive Employee Culture
Related: Texas District to Transition to all Electric School Buses by 2035
Related: Minnesota Celebrates School Bus Driver Appreciation Day
Related: New York Administrator Wins National Superintendent of the Year
Related: School Bus Driver Recognized for 50-Plus Years Behind the Wheel
---
Meanwhile, Smith added that his staff always look for ways to give back to the community, as it has been very supportive of transportation operations for many years. "When I got the call from Ashley, to hear that one of the simple things that brought a smile to [Olivia's] face was a school bus, I said everyone come over," he recalled, adding that the team at the Westgreen facility did an amazing job making the family feel welcomed.
Smith said it was a great day, a great experience, and one of the highlights of his career.
Olivia still counts buses, Richardson noted, and she can't wait for the day that she attends Cy-Fair ISD and rides a school bus daily.