Shirley Canyon has spent over 50 years dedicated to being as a school bus driver for the San Francisco Unified School District.
"My husband saw a school bus driver ad on the paper and motivated me to try. I was a little reluctant but went ahead and did it. I still remember the date, Oct. 26, 1971, and I have been here ever since," said Canyon as she reminisced about the moment, she became a bus driver. "I just love this job."
Canyon was recently recognized with the inaugural Paul Stein Award from school bus contractor Zum, an award named after a driver that worked in the industry for 50 plus years. The award is presented to San Francisco drivers who "go above and beyond to get kids to and from school safely" said Ritu Narayan, CEO and founder of Zum.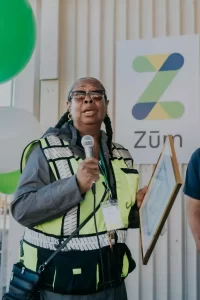 Narayan described Canyon as a selfless, dedicated and passionate bus driver with an excellent record of attendance and an incredible attitude and demeanor.
Zum is currently in its second contract year with San Francisco Unified School District. The district contracts out all of its 200 routes to Zum, which utilizes school buses and vans to ensure students get to school.
However, prior to that, Canyon was a driver with First Student, which previously serviced SFUSD. She also worked for Laidlaw before it was acquired by First Student in 2007. Canyon worked for the SFUSD through all the contractual changes.
"Everyone who has met Shirley, knows she exemplifies everything that the district is dedicated to," said Archie Fokin, executive director of transportation for San Francisco USD.
The district aims to provide customer service based on its "hug standards." H is to honor, U is to understand, and G is to guide, which Fokin said Canyon demonstrates well.
Throughout her career, Canyon has been a living example of these standards, Fokin added. Particularly during the evident school bus driver shortage, where Canyon has set a clear example and the bar of having new drivers understand the importance of their position.
For Canyon, driving school buses is what she loves doing. As a driver, she said her greatest strength is getting along with people. "I have met all types of people, some that are happy, others who were not that happy, but in some kind of way I always managed to fit them in," added Canyon when speaking with STN.
A particular memory that stands out to her is of a student who was hearing impaired but could speak very clearly. The student and Canyon sang and laughed together while on the school bus, she recalled.
The interaction sparked a friendship. The student is approximately 40 years old and remains in contact with Canyon.
There are many aspects of being a school bus driver that Canyon said she loves. However, one of her favorite things was being able to spend more time with her kids. "As a bus driver, you get summers off and if you have children, it's an ideal thing," she said.
She added she never needed a babysitter because her vacation time always matched her children's vacation time.
On March 2, Canyon turns 75 years old, so in the upcoming years she sees herself retired and enjoying time with her family. However, for the time being, she is still fulfilling her duties. She wakes up around 3 a.m., gets ready, makes sure her bus is in good condition to pick up her students and starts her day as a school bus driver.
---
Related: California School Bus Driver Recognized for Dedication to Job
Related: Zūm CEO Ritu Narayan Receives 2023 Power of Women Award for Revolutionizing Student Transportation
Related: School Bus Driver Recognized With State Association Award