This content is brought to you by CowFartBus.
What can you do today with your current fleet of school buses to save money and improve your environmental impact? That was the question that Orange Grove Charter School in Charleston, South Carolina asked itself before coming across the CowFartBus.
As a result, earlier this year, Orange Grove became a pioneer and the first school in South Carolina to power one of their existing diesel school buses using renewable natural gas (RNG) through the CowFartBus pilot program.
The name of the program is meant to be lighthearted with a goal of leading into educational content and conversations around the fact that naturally occurring biodegrading of organic matter from agricultural, landfill and wastewater facilities, and yes, cow manure, can be cost-effectively used as a sustainable transportation fuel. Hence the term "renewable natural gas" or RNG. The technology is real and impactful by enabling school bus operations to take advantage of a near-zero carbon fuel.
The concept is made possible through a partnership between Ingevity®, a publicly-traded company and an industry leader in emission reduction materials for the automotive industry based in North Charleston, South Carolina, and American CNG®, based in Layton, Utah. The CowFartBus was devised as a way to provide an immediate and affordable option to schools looking to reduce their carbon footprint and save on fuel costs.
"We are excited to offer a solution for existing diesel school buses that makes financial and environmental sense," said Robert Friedman, managing director of Ingevity's NeuFuel program. "The use of a low-cost fueling appliance that provides access to RNG unlocks the opportunity for school bus operators to use a more affordable and cleaner fuel, without compromising the vehicle's functionality and range."
Ingevity and American CNG launched the pilot program with Orange Grove in February, upfitting one of their existing school buses with Ingevity's NeuFuel technology and American CNG's DEMI Diesel Displacer™ system to enable it to run on a blend of RNG and diesel. The solution is configured to allow the bus to use a blend of RNG and diesel for a daily school bus route before switching back to diesel-only once the natural gas tank is depleted.
This provides a stress-free, sustainable solution for bus drivers like Steve Arato, Sr. Initially, he was unsure how the converted bus would drive, but ended up being pleasantly surprised. "As it turns out, it drives better! It is definitely quieter, which helps when you have a bus load of kids, and it's quicker – it's got more pick up," said Arato.
The Orange Grove bus refuels on campus using a small fueling appliance that is roughly the size of a college dorm refrigerator and connects into the existing natural gas utility line. The small footprint of the fueling infrastructure makes it easy to find a location to place it in the bus yard or, in the case of Orange Grove, right on school grounds.
Vehicles powered by the system emit fewer greenhouse gas (GHG) emissions than traditional diesel vehicles thanks to the use of RNG which reduces GHGs by 80% or more, and operate more cost-effectively by reducing the purchase of diesel fuel. "Not only is this a much cleaner fuel, but we are also cutting the cost to operate our buses. These are two things we can feel really good about for both our school and our community," said John H. Clendaniel, CEO of Orange Grove.
Why Are Schools Converting Their Buses to CowFartBuses?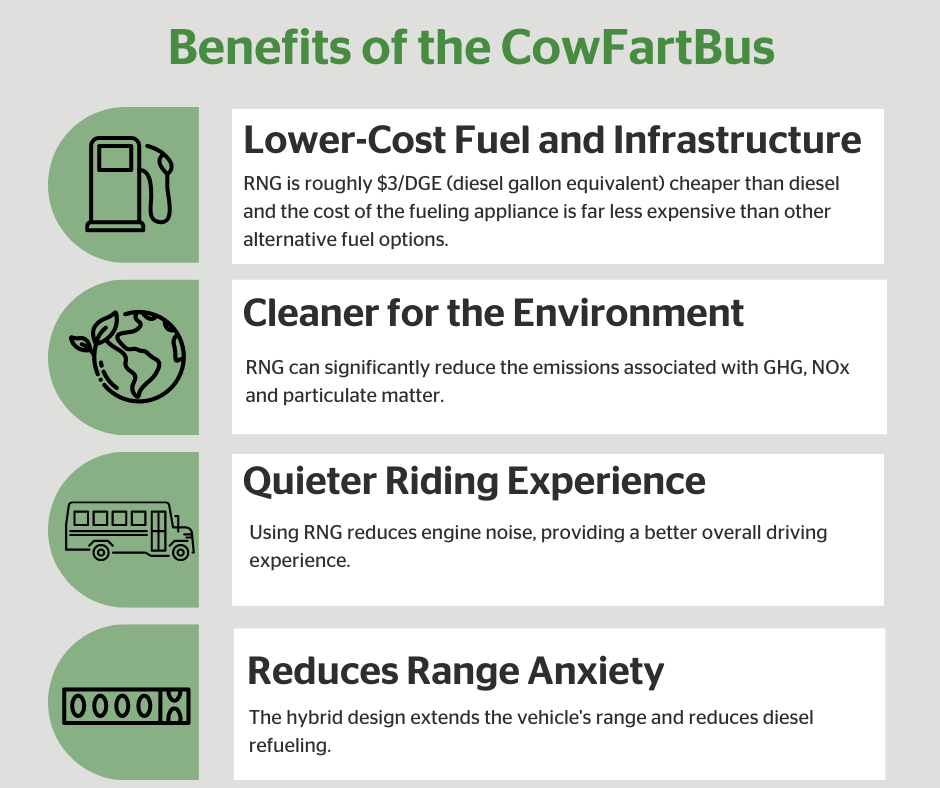 Is a CowFartBus the Right Option for Your Fleet?
As a school transportation decision-maker, there are a lot of factors you need to consider when choosing the right technology for your fleet. With an abundance of options out there – from propane to hydrogen to electric to natural gas – there are pros and cons to every technology. Moreover, the platform is not mutually exclusive and can be part of a dual approach strategy between new school bus purchases while managing the existing, aging fleet of diesel school buses.
At the end of the day, anything a school can do to reduce its emissions and save on fuel is a win for the students, the community and the budget – and finding the best fit for your fleet is the ultimate end goal. For Orange Grove, a school that owns and operates its own buses, the CowFartBus was the perfect fit.
"One comment that we kept hearing over and over again was that schools wanted to save on fuel and reduce emissions but that buses that run on alternative fuels often require outside funding due to the cost," said Nate Thacker, sales director at American CNG. "So, we went to work to see if we could come up with a way to make alternative fuel options more affordable and more widely available."
As Orange Grove witnessed, the team at Ingevity and American CNG are able to address the gap in affordable options by taking an existing diesel school bus and, over the course of just one weekend, upfit the asset to run on a blend of diesel and RNG – making alternative fuels more widely available to schools that otherwise may not have been able to afford them.
Ultimately, the CowFartBus system provides schools with a quick and cost-effective way to make an immediate impact on both the school district's bottom line and the environmental footprint that diesel buses leave behind.
Turning Your Bus Into a CowFartBus – How the Pilot Program Works
So how can you pilot your bus to run on "cow farts"? The no-cost pilot program offered by Ingevity and American CNG is a great way to test out the technology and determine if it's a good fit for your school. You simply need a fleet of at least five buses and access to natural gas.

If you meet that criteria, simply fill out the interest form and a DEMI or Ingevity representative will contact you about how to demo the system – your bus could be running on a blend of RNG and diesel in no time!
And to find out where you can learn more about the CowFartBus in person, visit our "Where is the CowFartBus?" webpage.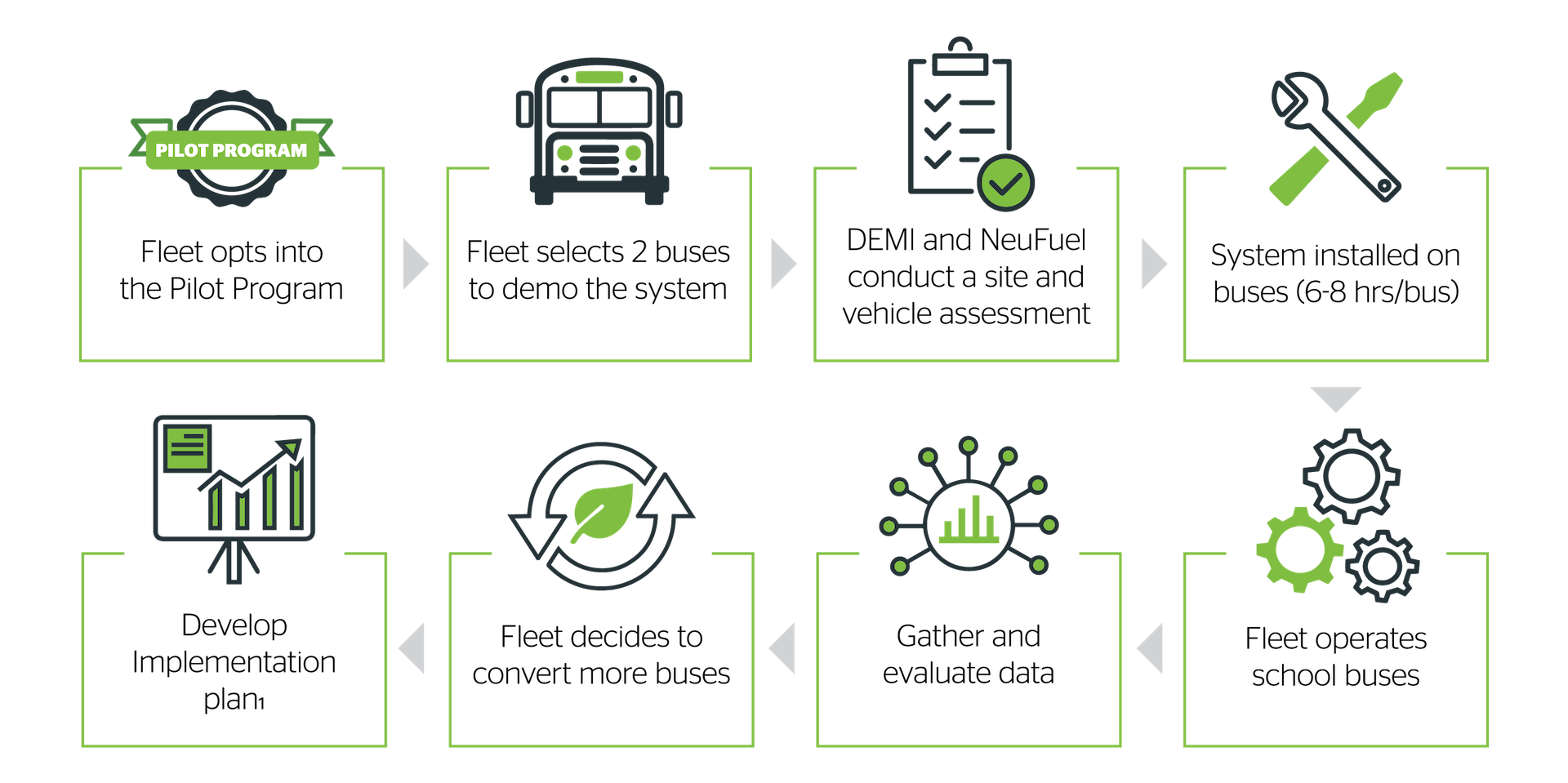 It's clear that when it comes to decarbonization there isn't a one-size-fits-all solution. It's going to take a mix of innovative technology and energy sources to provide students with a safe, clean and healthy ride to school each day. The CowFartBus technology is just another option for schools looking to diversify their fleets with more environmentally-friendly alternatives.
For more information on how to add a CowFartBus to your fleet, visit www.cowfartbus.com or reach out to Russell Schindler (Russell.schindler@ingevity.com) or Nate Thacker (nate@drivedemi.com).