In his keynote speech at STN EXPO, generational expert Jason Dorsey noted that "millenials," or those born after 1980, are the fastest-growing demographic in the school transportation industry.
A new study conducted by SDL plc on this group backs up Dorsey's opinion that this generation is heavily reliant, dependent even according to Dorsey, on technology. According to the study, millenials check their smartphones an average of 43 times per day, ask for advice from friends, significant others, and parents before making technological purchases, and prefer to do their internet browsing on mobile devices instead of desktop computers.
Read more about Dorsey's keynote as well as the different uses of technology in the student transportation industry in our upcoming September issue.
---
And he's at it again! Twelve-year-old Michael Propst, who made headlines this summer for stealing a school bus from a Florida school district—not once but twice—has been apprehended once again. Propst was spotted last week reportedly driving a stolen pick-up truck in Springfield, Florida. "We've got a young man that apparently not only has some emotional problems of his own, but has some issues at home. And doesn't know how to cope with them," said Chief Thorne of Springfield Police.
---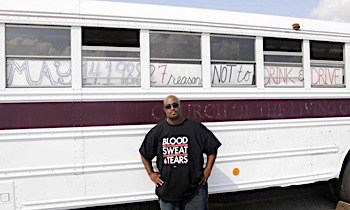 Quinton Higgins, a survivor of a 1988 school bus crash in Carrollton, Kentucky, has bought a school bus he plans to use as a memorial for victims and to remind others of the perils of drinking and driving. Higgins has adorned the windows of the bus with the photos of those who did not survive the crash, with a banner reading "27 reasons not to drink and drive."
The converted church bus was full of students traveling back home from a church-related trip and was hit by a drunk driver traveling the wrong way at a high speed. The bus ignited in flames and 27 passengers died, making the Carrollton crash the deadliest alcohol-related accident in U.S. history. (Photo: Neal Cardin)
---
Today was STN EXPO presenter Mark Swackhamer's last day as senior manager of fleet operations at Houston Independent School District in Texas.He will now be joining Humble Independent School District, also in Texas, as assistant director of transportation.
---
A group of scientists, engineers and artists are working on finalizing the development of a light-up, brain-shaped jungle gym atop a drivable retrofitted school bus. The project is known as Dr. Brainlove and is being developed for use at the upcoming Burning Man festival in Nevada this month after a very successful crowd funding campaign.
---
Be sure to check out our YouTube channel for the latest videos we've posted from the STN EXPO last month.