Ronna Weber is leaving the National School Transportation Association at the end of July, said President Todd Monteferrario in an email to school bus contractor members.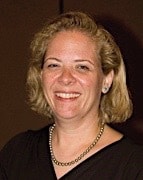 Monteferrario, who is also a senior director at First Student, said Weber agreed to remain on at NSTA through the completion of the association's summer convention held next month in Indianapolis. He added that she is working with SEC, Inc. and RC Kelly Law Associates to transition her executive director and regulatory relations responsibilities.
He wished Weber a warm farewell and success in her "next endeavors," while also thanking her "for her years of dedicated service to the NSTA."
She did not respond at this writing when asked by STN via email about her future plans.
Weber had blogged monthly for STN since earlier this year.
Weber joined NSTA five years ago as executive director after previously serving as a student transportation lobbyist in Washington, D.C. with BKSH & Associates, which is now known as Prime Policy Group and which continues to serve NSTA's interests on Capitol Hill.
In addition to NSTA, Weber represented the interests of the state of Indiana, the United Motorcoach Association and Cummins, Inc. In 2008, she left Prime Policy to join Alsom Power, Inc., as the transportation infrastructure and power generation company's U.S. export control officer.
Weber is also a former aide to former Sens. Bob Dole and John Warner.