BUFFALO GROVE, Ill. — Vapor Bus International, the principal passenger door supplier to the North American bus industry, will represent Stemmann-Technik in the fast-growing electric bus and commercial vehicle charging infrastructure segment, announced John Condon, Vapor VP of sales, North America.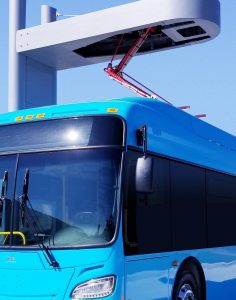 "The addition of the Stemmann-Technik product line to our Vapor sales and service team will enable us to more effectively support innovation and expansion of e-bus and vehicle charging infrastructure in North America," said Condon. "Our goal is to provide interoperable charging solutions with the most responsive support possible throughout the product life cycle and ensure your product satisfaction."
Stemmann-Technik, a Wabtec Company located in Schuttorf, Germany, is a global leader in power collection and transfer systems including bus and commercial vehicle fleet opportunity charging solutions. The ChargingPANTO system, the first to meet the OppCharge standard, provides the fastest e-bus recharge available with an inverted pantograph installed in a charging station and a set of roof rails mounted on the vehicle roof. The ChargingREEL base depot solution is the first intelligent cable management system flexible enough to fit all operating conditions in fleet and depot charging areas with optimal power transfer time for buses, trucks and cars.
For over 57 years Vapor Bus International has served as the major door equipment supplier to North American bus builders and transit agencies. A Wabtec Company with industry-leading reliability, performance and product innovation, Vapor Bus International designs and manufactures equipment for transit and commuter buses, intercity and tour coaches, shuttles, and utility vehicles.
Vapor products include complete automatic door systems as well as individual components, such as actuators, operator controls, door panels, passenger and obstruction sensing devices, door seals, and accessories.
Vapor Bus International and Stemmann-Technik are divisions of Wabtec Corporation, a Fortune 500 company, and part of Wabtec Bus Solutions, a group representing leading product manufacturers in each category that includes Vapor, Stemmann-Technik, TransTech, Ricon, Graham-White, Annax, Faiveley Transport, and Microphor.
About Wabtec Corporation
Wabtec Corporation is a leading global provider of equipment, systems, digital solutions and value-added services for freight and transit rail. Drawing on nearly four centuries of collective experience across Wabtec, GE Transportation and Faiveley Transport, the company has unmatched digital expertise, technological innovation, and world-class manufacturing and services, enabling the digital-rail-and-transit ecosystems. Wabtec is focused on performance that drives progress, creating transportation solutions that move and improve the world. The freight portfolio features a comprehensive line of locomotives, software applications and a broad selection of mission-critical controls systems, including Positive Train Control (PTC).
The transit portfolio provides highly-engineered systems and services to virtually every major rail transit system around the world, supplying an integrated series of components for buses and all train-related market segments that deliver safety, efficiency and passenger comfort. Along with its industry-leading portfolio of products and solutions for the rail and transit industries, Wabtec is a leader in mining, marine and industrial solutions. Wabtec has approximately 27,000 employees in facilities throughout the world. http://www.wabteccorp.com