Thousands of students across the country joined several schools in various weather conditions to celebrate Safe Routes to School Annual Walk and Bike to School Day. For more than 20 years, International Walk and Bike to School Day have helped students stay safe while they travel to and from school.
Safe Routes for Schools stated on Wednesday that it expected more than 5,000 schools nationwide to participate in the event. Students at Columbia School in El Monte, California, celebrated Walk to School Day with its parents, community members and its Eagle mascot.
The Torrance Police Department, located southwest of Los Angeles, posted on its social media images of its team members walking with students on Wednesday, in order to ensure a safety culture.
Many other school districts and local law enforcement promoted the day on social media. Schools celebrated the day with pep rallies, assemblies with the school band and local officials coming out in support.
Happy Walk and Bike to School Day! Thanks to Josie Schneider Tober for organizing – it was also a nice surprise to have the Mayor giving kids high fives! Well done Concord kids! pic.twitter.com/sy51KSXoy3

— Rep. Heather Edelson (@heather_edelson) October 2, 2019
While Wednesday was the official International Walk and Bike to School Day, districts are celebrating throughout the week and choosing a day that works best for their schedule. For example, Clark County School District (CCSD) in Las Vegas is celebrating its Walk to School Day later this week.
Traci Traasdahl is the safe routes to school coordinator for CCSD. She said the district tries to provide incentives to parents and students who walk to school. Traasdahl added that law enforcement becomes involved in the day to provide a positive presence around the schools.
CCSD also conducts safety assemblies to ensure that all of its students are reminded of the laws and rules around the school. Traasdahl discusses safe crossing, stranger danger and the importance of wearing a helmet when biking. Traasdahl also provides this information prior to the Walk to School Day event, so that every student is educated.
---
Related: National Walk to School Day Spans U.S.
Related: Districts Take Part in International Walk to School Day
Related: Walk and Bike to School Day Held Nationwide
Related: Las Vegas Envisions a 'Google Maps' for Student Walkers
Related: Student Health Improved by Safe Routes to School
---
Safe Routes for School posted on its website that walking to school promotes health, allows students to gain independence, confidence and allows students to arrive at school ready to learn.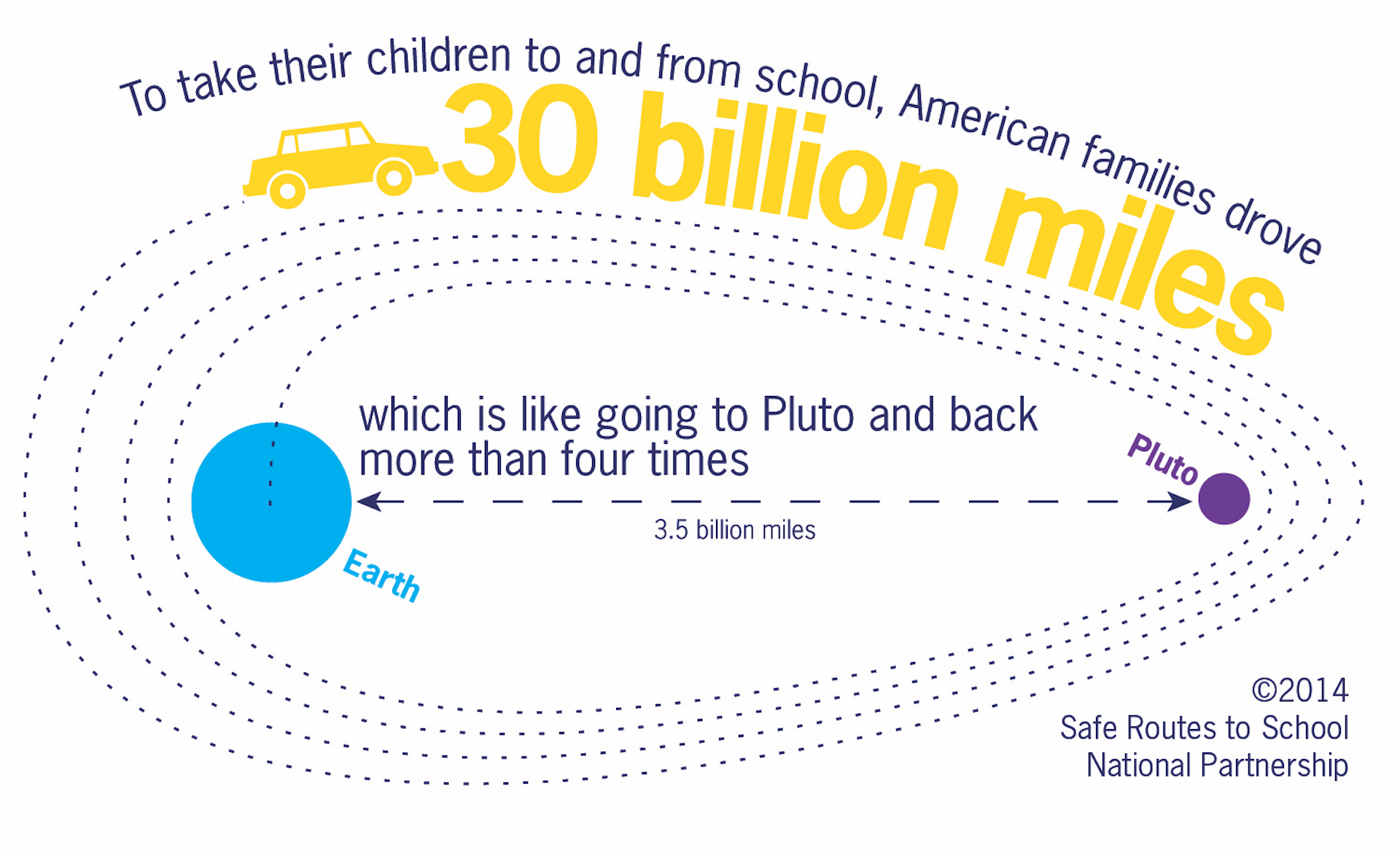 Traasdahl said the Safe Routes for School Program was implemented at CCSD in 2007. CCSD currently has 196 of its schools involved.  The program, which is similar to the National Safe Routes to School organization, focuses on the 6 Es: Education, encouragement, engineering, enforcement, evaluation and equity.
"A lot of parents have concerns about driver etiquette, and too many cars [on the road] and 'that's why my kids won't walk to school. I won't allow my kids to walk to school,'" Traasdahl said. "If you got out of your car and the neighbor got out of their car, and so on, that's three cars that we don't have in front of the schools and [students who] are walking, so you are part of the solution rather than staying in your car. It's an easy formula; fewer cars equal more people walking, fewer cars equal safer streets for us all."
The National Highway Traffic Safety Administration (NHTSA) states on its website that while walking is great exercise, children under 10 years old should always be accompanied by an adult, or someone who will make sure they walk safely.
NHTSA recommends these safety best practices when walking to school:
Watch the road, not your phone.
Walk on the sidewalk or, if there is none, walk facing traffic.
When crossing the street, cross at a corner or marked crosswalk.
Stop and look left-right-left for vehicles, motorcycles and bicyclists. Wait to cross after traffic has passed.
Be sure to push the pedestrian button and wait for pedestrian crossing signals, if available.
Never play, push or shove others when you walk around traffic.