A group of 19 students attending Holly Grove Middle School in North Carolina invented a smart school bus stop sign as a part of the Samsung Solve for Tomorrow Contest. The students came in first place, receiving grant money for classroom resources.
The students developed the idea after their friend was almost hit by an illegally passing vehicle while trying to board the school bus. After researching the issue, they concluded that they wanted to create something that was more than just education and training. They wanted to make sure motorists knew exactly where the bus would be stopping, to ensure they wouldn't miss it.
"Most people ignore the stop-arm, but with our school bus stop sign, the lights will flash so they will notice and not ignore it," said student Caroline Parker, who worked on the project.
The students surveyed parents at their school district, hosted focus groups, met with transportation directors, law enforcement, government officials, and an NC Department of Transportation engineer, to gather as much information as they could on illegal passing.
On top of developing a sign, they also created an app that tracks the bus routes and stops. The app sends a message to the solar-powered LED lights on the sign, indicating when the bus will be approaching. When the bus is 400 feet from the stop, the lights on the sign begin flashing yellow, and at 30 feet away, the lights flash red.
"We coded an app that allows the bus driver to select which route they are taking that day," Parker said. The route will pop up on Google maps. We did use an Arduino micro-controller to help in the process, to make the lights flash on and off."
A prototype was installed at one stop. However, the school district is working on placing these signs at stops with the most traffic. The students are also considering adding audio alerts for the visibly impaired students.
The project began in October 2018, and continued through April of this year. Their project won first place, the community choice award, through the Samsung Solve for Tomorrow contest, so their school received grant money for classroom resources.
"We all felt so excited! It was cool that one email could turn into $110,00 in technology for our school," commented a student involved in the project, Jasper Cekander.
Parker added, "to me, it was excitement and joy to know that we won and can save hopefully many lives."

Video courtesy of Holly Grove Middle School Samsung Solve for Tomorrow Team.
The Samsung Solve for Tomorrow contest challenges students from middle through high school to show how STEM can be applied to help improve their local communities. The contest expands over an 8-month-long period, consisting of several rounds.
The group advisor, Debbie Schelin, was first introduced to the contest after receiving an email in October. She said once she received that initial email, the students started brainstorming and the gears never stopped turning.
"The kids were passionate from the start," Schelin said. "They saw a true need in our community and school. They dedicated much time to researching, collaborating and creating an innovative unique solution. It's truly inspiring to see students so committed to something that would benefit their classmates and our entire community"
Schelin said the kids dedicated a lot of their free time to work on the project. They worked on it during lunch, after school and on weekends. She said some students even worked on it during their 3-week break from school.
Schelin said the project gained widespread attention, and earlier this month, "Stop for School Buses Act of 2019" was introduced in the house on April 10.
The bill establishes a safety program on illegal passing. The bill increases the penalties for illegal passing and requires safety measures to be installed to address it.
"I hope these students get to see their invention become a reality and help save lives," Schelin said.
The students said their goal is to save lives and reduce the number of illegal passers. "We want to reduce the number of stop-arm violations by 100 percent in 2020," Cekander noted.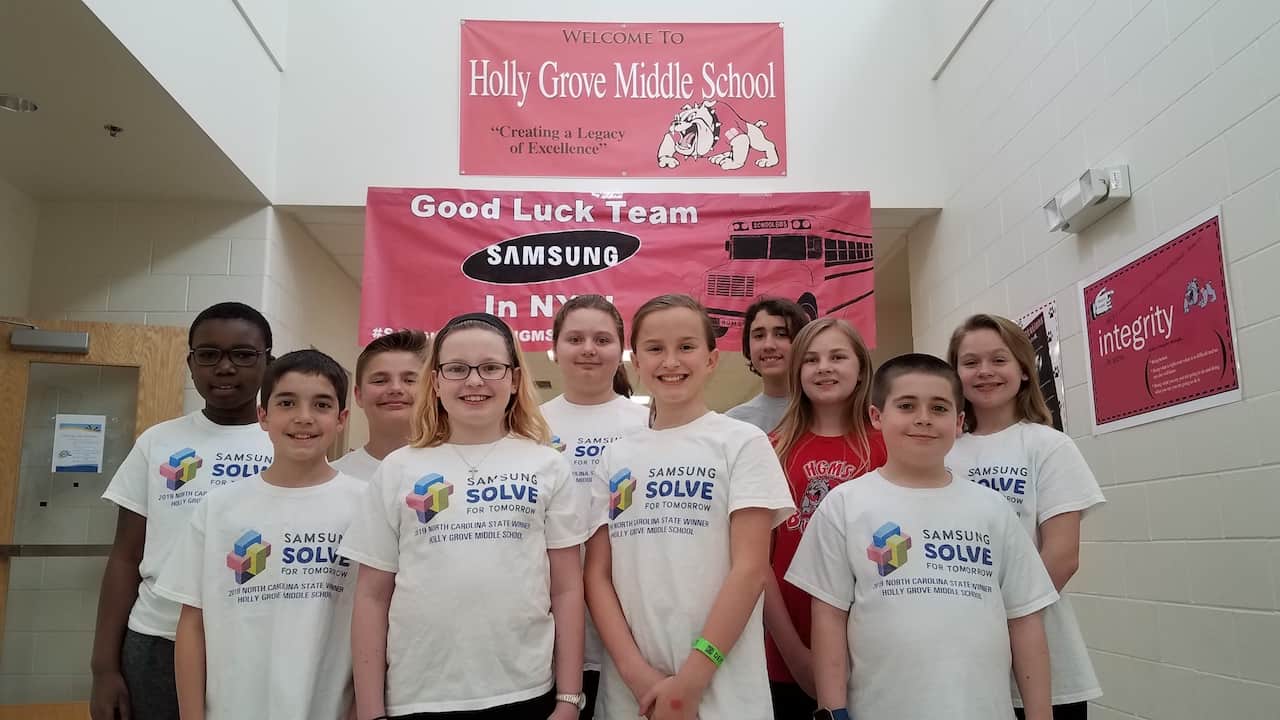 The transportation director for Wake County Public School System, Stephen Sposato, said the students have seen great success in their prototype. He expects the pilot projects that will be implemented soon will benefit school transportation.
"School bus stops have to be located within a walkable distance to where students live," Sposato said. "Sometimes, visibility for approaching traffic in those areas might not be ideal. A dynamic sign like this could better alert drivers and get their attention, as compared to the current static signs that occasionally alert drivers to a bus stop ahead."