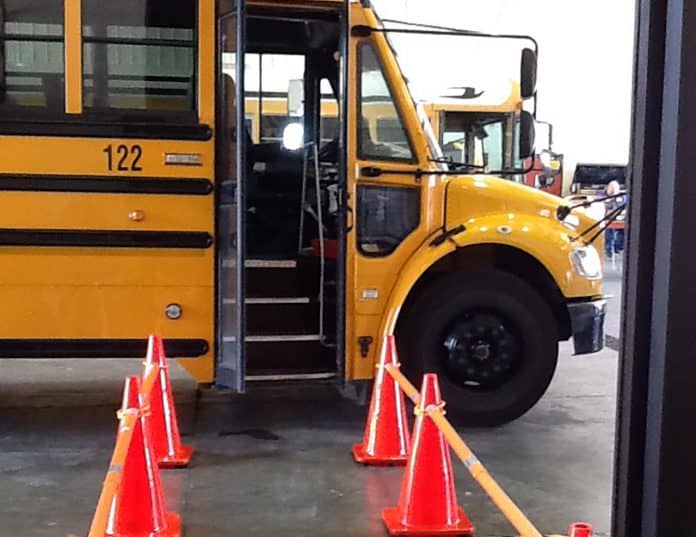 Looking back at an event that occurred, the circumstances around it, and how "it" could have been done better—or in our case, prevented, was memorable.
One early morning in April 2014, our neighboring county experienced a tragedy as a young student was fatally struck by his bus in the unloading zone of his school. The student returned to the bus for a lost object and turned to the left when he disembarked the second time. He was struck by the right front tire as the bus pulled away.
Our hearts were broken for all involved and our minds automatically began racing with all the "what ifs" that began to flood in—just as they do anytime there is news of a tragedy involving a school bus and students, no matter where it is. That is the hard part, or should I say, the "Heart Part" of pupil transportation.
After morning routes, there was a round table discussion in my office with then-Director of Operations Doug Suits, myself, Safety and Training Coordinator Herby Worley, and a couple of our driver trainers. The question on the table was, "How can we prevent this from happening in our school zones?"
Of course, there were the obvious solutions, such as more adult presence in school zones, or administrators checking around each bus and signaling when it is clear for the driver to pull away. But we kept coming back to "forcing" our students to walk straight out, unable to go left or right until they were a safe distance away from the bus.
The Georgia Department of Education's Best Practices and Policy for safe student unloading state that students are to be 12 feet away before the bus pulls away. However, logistically this is not always possible in a school unloading area. There are also factors of vehicles unloading students in the same area, along with pedestrian traffic.
There are often many moving parts in a bus unloading area. With 50-60 students unloading off a single bus, it is nearly impossible for two or even three adults to keep an eye on each one, every second. And all it takes is one second of distraction for a tragedy to happen.
Lines were drawn on paper and on the white board: Buildings, sidewalks, bus traffic flow, distance from the doors, etc. Being from the south—or as some say, the country—the concept of forcing student traffic flow emerged as in a "chute," much like that on many farms to "herd" or separate cattle. Sounds horrible, doesn't it? But an idea was emerging to take PVC pipe and make a narrow barricade from the area where the bus pulls up, doors open inside of the "chute" and students unload and walk straight out to a safe distance away from the bus.
Within hours we had contacted a vendor that supplied our safety cones and were shown an extendable safety bar that slipped over the top of the cones. Six cones and four bars made a chute or barricade that could extend the safe distance of 12-14 ft away from the bus. Cones and bars were ordered, labeled and distributed to each school.
Collaboration began as we worked with school administrators to explain the concept, and to place the chute in each school unloading zone. All of our administrators have worked extremely well, and to this day still do, at reinforcing our bus zones, to make these areas the safest possible according to their property logistics and traffic flow.
Five years later, the chutes are still in place at every school, every morning and adults must be in place before students are allowed to unload our buses. Catoosa County Public Schools has 17 schools: 10 primary and elementary schools, 3 middle, 3 high and 1 alternative school. Primary and elementary schools all have 1 chute in place, unloading only 1 bus at a time. Middle schools and high schools have 1-3 chutes in place, allowing 1 but no more than 3 buses to unload at a time.
Several of our schools even requested an extra "chute" for car rider unloading, again forcing the students to walk straight out, away from moving vehicles. Some schools even load in the afternoons, using the chutes to keep the students in view as they load. Chance Nix, the principal at Lakeview-Fort Oglethorpe High School (1 of 3 high schools served) states, "At LFO high school, the safety chutes help us fulfill our fundamental purpose of ensuring all kids learn, by getting them to and from school safely."
Is it foolproof? Nothing is foolproof in the world of pupil transportation, for as we all know, tragedy can still strike with everyone doing what they have been trained to do to the best of their ability. There can be plenty of adult presence as students load and unload, safe loading and unloading practices instilled in our students each year, and every day, until that one unknown variable takes control of the moment.
"All transportation employees, regardless of their position, responsibility, or title, are also 'safety professionals' responsible for the proper training of their students. Parents who place a child on the school bus each morning should have the peace of mind to know that their child's safety is paramount, and have the peace of mind that their child will come home to them in the same condition they left that morning," states Worley.
Dr. Kent McCrary, principal at Battlefield Elementary, shares the CCPS Transportation Department's daily mission of safe transportation. "You can't walk in a school these days without hearing the word 'safety,'" he declares. "School officials, both district and school level, are constantly looking for ways to keep students safe. Sadly, many times it takes a tragedy somewhere else to draw attention to a need. This is exactly what happened in our county."
He continued, "The Catoosa County Department of Transportation relies on constant training, adequate supervision, and open dialogue, to ensure student safety each and every day. Dialogue and teamwork are what brought about changes to our school unloading zones. By adding the safety chutes, our county has made our morning unloading much safer."
CCPS has shared the concept and practice of our chutes at our annual GAPT Conferences (Georgia Association for Pupil Transportation) during various safety and training tracks of professional learning. Also, with other pupil transportation professionals in networking opportunities at NAPT (National Association for Pupil Transportation), and the School Bus Summit.
Are the chutes being used elsewhere across our state, or even in other places across our nation? That I do not know, but for us here in Catoosa County, the chutes are still being used. They are still doing what they were originally intended to do—assist our system in keeping our students safe during unloading and loading in our school zones.
Dr. McCrary goes on to say, "As both a father, whose kids rode the bus, and as an administrator, I'm proud of our transportation department and their constant stride to always be better. As our county values promise statement says, we work together to ensure 'Every Child, Every Day, Without Exception.'"
________________________________________________________________________
Editor's Note: Jerene Jones serves as transportation manager for Catoosa County Public Schools in Ringgold, Ga. Her photo of the safety chute display was one of two winners of the STN Photo Contest that was held during the NAPT Summit and NASDPTS Conference that was held in October 2018 in Kansas City, Missouri. The chute was on display during the School Facility Planning workshop.