When LEAD Public Schools was founded in Nashville, Tennessee, in 2007, it served a total of 92 fifth- and sixth-grade students. Since then, it has grown to become Nashville's largest charter management organization with six schools serving the needs of more than 2,400 students in grades 5–12 across a 536-mile area.
Over the years, LEAD structured its transportation operation in several ways—in-house, under contract with a local school system, and with an outside contractor. The charter school provider had two primary concerns: fleet optimization and cost. It was well known that the routing was not structured in the most efficient manner and LEAD's costs had risen significantly over time to a point where they were out of line with peer organizations.
Download this Q&A to learn more about LEAD Public Schools.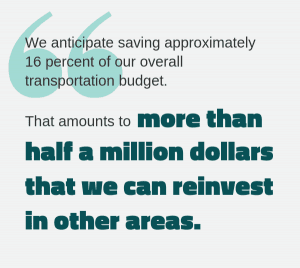 LEAD Public Schools needed to optimize its system and save money, so they began a search for transportation experts to review their overall operations and practices.
"Our goals were to benchmark our transportation operation against our peers and create a bell time system that would optimize operations and save money," said Adrienne Useted, chief financial officer for LEAD Public Schools. Useted chose the School Bus Consultants (SBC) Team, which provides advisory services offered through TransPar, the largest and most experienced consultancy dedicated exclusively to the design, management and operations of school transportation programs.
"SBC has a great deal of experience in reviewing transportation operations and documenting best practices across a wide range of organizations," Useted said. "We run a complex and complicated routing system that has developed over time as our network of schools has expanded. I was impressed with SBC's ability to identify, collect and analyze our transportation data, and with the roadmap they created based on that data."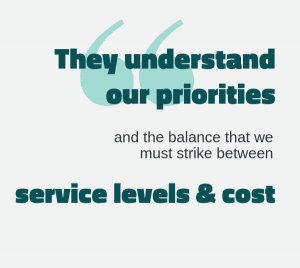 The project between LEAD Public Schools and SBC began in the fall of 2018 with an evaluation of routing and stops, with an eye toward implementing bell time changes in the 2020-2021 school year. An intensive data phase followed, during which the SBC team stayed in close touch with Useted to make sure the team's analysis aligned with LEAD's original specifications regarding timeframes and length of runs, among other measures. This helped to make incremental improvements along the way that resulted in much better final recommendations for specific bell times and specific runs.
"The SBC benchmarking was extremely eye-opening and valuable," said Useted. "We anticipate saving approximately 16 percent of our overall transportation budget. That amounts to more than half a million dollars that we can reinvest in other areas."
Thanks to SBC's comprehensive review of LEAD's transportation policies and practices, the organization will be able to reduce their number of routes from 43 to 25, which also dramatically reduces the number of drivers needed at a time when driver shortages are an enormous issue. "Reducing driver needs by 40 percent also means we can be more selective and hire more reliable drivers, and that will mean better service quality," Useted added.
"Without SBC we never could have gotten this project off the ground," said Useted. "They know everything that is happening in the industry, from the latest in parent communications to routing and scheduling software. All of this was above and beyond my expectations when the project began. Our investment of both time and money in this project is paying off in spades."
"We anticipate saving approximately 16 percent of our overall transportation budget. That amounts to more than half a million dollars that we can reinvest in other areas."

-Adrienne Useted, Chief Financial Officer, LEAD Public Schools, Nashville, Tenn.
For more information on SBC's findings and LEAD Public Schools, read the full Q&A here.
The School Bus Consultants Team offers advisory services to deliver resources and expertise that transportation contractors and organizations often cannot access on their own. SBC simplifies the complexities of your school transportation operation by clarifying and outlining the effect of policies, costs, bus routing and technology on your transportation performance. For more information, please visit us online.