Drivers need constant, keen attention to safely operate school buses. Any distraction inside or outside of the vehicle could lead to costly mistakes of damage, injury and, rarely, death. It is no surprise, then, that distracted driving is increasingly the cause of crashes, as indicated by police investigations, and corporate and government-sponsored studies.
The National Highway Traffic Safety Administration (NHTSA) estimates that nearly 20 percent of all vehicle crashes are attributed to something that distracted the drivers momentarily before the crashes occurred.
While cell phones and smart devices are increasingly a distraction across the board, school bus drivers have unique risks associated with student misconduct while the vehicle is in motion. Driver fatigue is also on the radar as a distraction, since fatigue-related accidents topped the 2017-2018 National Transportation Safety Board (NTSB) Most Wanted List of Transportation Safety Improvements.
United Educators, which provides insurance and risk management services to schools, reports that bus accidents account for 16 percent of the company's total number of public school claims, costing more than $7 million in losses. A notable claim of $2 million involved a school bus driver who reached for a dropped object before running into a parked asphalt truck, killing construction worker and a student, as well as injuring 32 other students.
"When school buses are involved in crashes, it's heightened by national news, even though they are the safest vehicles on the road," said Bill Raab, director of risk control at Glatfelter Public Practice, an insurance provider based in York, Pennsylvania. "We have to have critical conversations about all driving distractions, and commit to saying no when temptations arise."
Actually, school buses have the best safety record of any vehicle on the road. But with so many distractions swirling around school transportation professionals, that's not stopping districts and operators from implementing a number of strategies to enhance bus driver performance.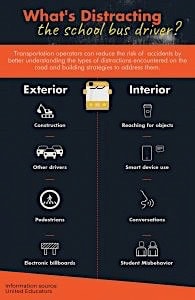 ADDRESSING DISTRACTED DRIVING IN TRAINING PROGRAMS
States require school transportation operators to provide training programs with a varying number of hours. In California, school bus drivers must train a minimum of 40 hours in the classroom and on the road every five years, in order to validate their driving certificate. Additionally, drivers train 10 hours each year on other school bus safety issues, including distractions.
The Fremont Unified School District near Oakland, California, discusses distracted driving in each monthly school transportation safety meeting. Instructors inform drivers on regulations, defensive driving techniques and last-minute responses, as a way to keep the information top of mind.
"It's hard to remove the distractions completely," said Jerri Levy, a training instructor for the school district. "We deal with an increased number of vehicles on the road, and drivers weaving in and out of traffic causing dangerous situations. Students act unruly on the school bus. And all of this takes away from our drivers' focus on the ever-changing activities outside of the bus."
The Bartholomew Consolidated School Corp. (BCSC) in Columbus, Indiana, not only provides driver training, but sticks to best practices on a daily basis, such as prohibiting unnecessary talk on two-way radios and requiring riders to put away cell phones. One of the district's biggest challenges for its 131-bus fleet is retaining drivers after they've been trained, which is an issue nationwide.
"When we do hire drivers, they come for their CDL license and move on to better paying jobs most of the time," said Lisa Wheeler, a driver-trainer who is a member of the BCSC training team.
MAKING EVERYONE STICK TO SAFETY
Many districts adhere to a school bus safety code of conduct that prohibits drivers from eating, drinking and using cell phones while on the road. Twenty-one states and the District of Columbia ban any school bus driver usage of a cell phone, according to the National Conference on State Legislatures. Driver distractions are further reduced when students and parents adhere to conduct and safety policies.
Mandatory lap-shoulder seat belts are increasingly used to reduce student behavior problems that distract drivers, as School Transportation News has tracked among its readers. But Raab said what is just as important as installing safety devices is creating a culture that holds everyone accountable for the policies.
"It's not a one-way street. In order for policies to work, leaders and the whole organization have to support it," he added. "Some districts don't want to discipline students, and the burden becomes harder for the driver."
School districts that need supplemental support for policy adherence should inquire with their insurance providers. Glatfelter Public Practice offers its clients free training as an added resource for operational risk management.
EMPLOYING TECHNOLOGY TO IDENTIFY DISTRACTIONS
Either proactively or reactively, school bus operators aim to eliminate driver distractions with the help of technology. Onboard, smart video cameras integrate into cloud-based complaint management systems that allow operators to quickly respond to reported issues and concerns with buses and drivers. Data generated from camera systems can identify distracted drivers and risky driving maneuvers, giving bus operators an opportunity to coach drivers on improved safety for preventing collisions.
Durham School Services, for example, is installing DriveCam nationwide to monitor drivers in response to the fatal 2016 Chattanooga bus crash.
"It's vitally important for fleets to do whatever they can to ensure the safest environment possible," said Jason Palmer, chief operating officer at SmartDrive, a California-based technology provider that uses video systems and driver data to improve the efficiency and safety of commercial trucks, buses and trains. "With a fully-managed services program, school bus fleets benefit from immediate, actionable insights that help drivers understand what they're doing behind the wheel—and improve their driving skills, so they can make better decisions and protect students."
PROVIDING MEDICAL INTERVENTION FOR FATIGUED DRIVERS
All of the stress that is associated with school transportation could keep people up at night, or interfere with healthy sleep patterns. Fatigue degrades a person's ability to stay awake, alert, and attentive to the demands of controlling their vehicle safely, according to NHTSA.
Most adults need between seven and nine hours of sleep each night for optimum performance, health and safety. Keeping drivers healthy—and awake—during their routes is becoming a higher priority among many school districts.
School Transportation News recently surveyed transportation professionals on their approach to diagnosing or treating sleep apnea among their drivers. Only 11 percent of the nearly 300 respondents said they are currently taking action to address sleep-associated disorders among their drivers, in the form of covering the cost of diagnosis.
"Our physical provider (Pinnacle Medical Management) looks for signs of sleep apnea, because it can be very dangerous if untreated," said Josh Rice, transportation director for New Caney Independent School District in Texas. District drivers are screened for obesity, breathing problems, daytime sleepiness and snoring. If someone is not currently diagnosed with sleep apnea but shows other signs, they may be asked to undergo a sleep study to rule out the possibility. Drivers who are diagnosed with sleep apnea and who use a continuous positive airway pressure (CPAP) machine, are required to provide a 30-day CPAP compliance report that ensures adequate treatment.
Academy School District 20 in Colorado Springs, Colorado, takes sleep apnea seriously. "Since criteria for determining sleep apnea risk is not clearly established, doctors use their own criteria," said Mark Ressel, director for transportation at Academy School District 20. "It all comes down to the individual doctor's judgment whether or not an individual needs to undergo a sleep apnea test or is a risk (on the road)."