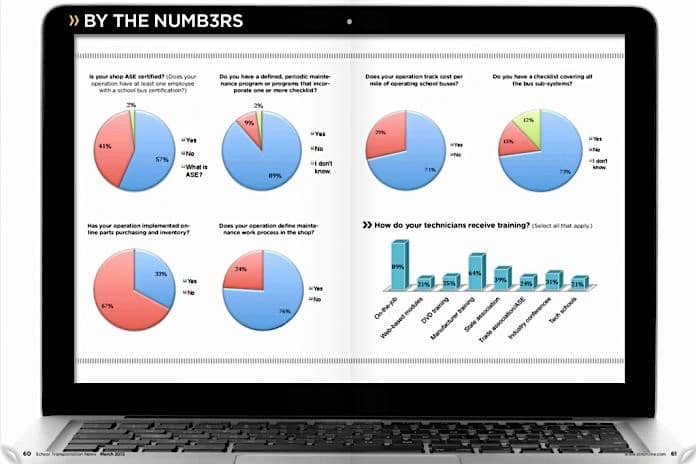 In this month's magazine, readers can find 11 charts and graphs that depict how student transporters responding to a survey in January and February are dealing with a variety of issues in the school bus garage.
School Transportation News asked an additional question to more than 6,200 magazine subscribers who indicated their job roles are that of transportation director/supervisor, fleet manager, technician or shop foreman. Nearly 150 readers responded to this open-ended question, "How does your operation measure productive time in the shop?"
The answer ran the gamut. More than 30 of the respondents said they didn't track productivity of bus techs and mechanics or they weren't sure.
One respondent said, "We don't measure time, we just stay busy," while another added, "When I am able to get it done."
Sometimes there is no choice but to be productive, said a readers from Indiana, where there are only to full-time mechanics and one part-time employee who works three hours a day to maintain 80 school buses and eight support vehicles.
"We don't have any problem being productive," said the reader. "We have no choice."
Another respondent told us: "I am the only tech in the shop. I measure productivity by what I can get done in 12 hours."
Sound all too familiar?
In this day and age of limited staff resources and budget dollars – whether that is in a bus garage, a front office of in a magazine publishing studio – one can certainly empathize. Still, a big push in the industry is to track each and every detail in an effort to gauge exactly how time and money are being spent. Parents to teachers to superintendents and school boards are demanding as much.
While these important metrics, or key performance indicators, aren't being used at these operations, one can still take to heart that the other 81 percent of readers who answered this question are in someway detailing productivity … or at least have an idea of how things are going in the shop.
One of those readers from New York state said his district uses a variety of ways to measure productivity.
"One, we look at our labor hours analysis that is generated on demand from our maintenance software. We also, track and look non-mechanical labor hours, for example we track the time mechanics spend snow plowing, or maintaining our fuel island, or doing any work that is not directly having to do with the bus," the reader said.
Nineteen of the respondents specifically mentioned that the implementation and management of work orders help them track repair times and employee productivity. Several of those added that they utilize time clocks to measure those work orders.
One reader who said work orders are used said additional indicators of productivity – or it could be surmised lack there of – is downtime of buses as well as the number of items uncovered during state inspections.
Meanwhile, only about a dozen readers specifically mentioned that they rely on electronic maintenance software programs to help them get the jobs done right and on time.
For more information on this month's STN maintenance survey, turn to our online digital edition.