Chronic complaints from angry parents about school bus delays in New York City is one issue that hasn't gone away. Now, a New York City Council study with some solid data may help everyone to better understand key parts of the continuing problem, and act soon to improve school bus service.
"Getting to the Bottom of School Bus Delays" is the controversial new study of New York City school bus problems that was released on Oct. 17, almost all of which is posted below, in unedited form. Practically all of its charts, graphics, and tables are featured at the tail end of this article.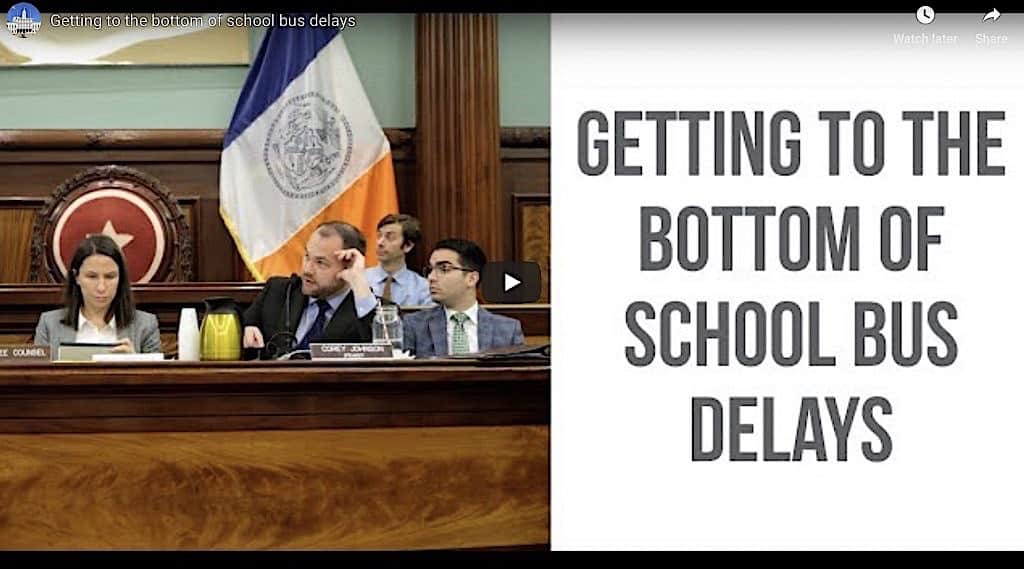 Students throughout New York City rely on a fleet of thousands of school buses to arrive safely at school in the morning, and at home each evening.
But when school buses are delayed, break down, or become stuck in traffic, a host of logistical and safety concerns result.
Students miss important class time, and may be delayed for extensive periods while the source of the delay is resolved.
Daily School Bus Delays
School buses running during September, the first month of school, were delayed by an average of more than 28 minutes, the city council found. Some routes were delayed considerably longer.
Students experienced a total of 27,082 school bus-related delays.
While this number is a slight decrease from June, it is significantly longer than last September, when the average delay was under 25 minutes.
Note: Information provided by the New York City Department of Education (DOE) is self-reported by bus companies. More details on data analysis: Technical Details.
Delay Times
In September, on average, a student riding a delayed school bus could expect to be 28.1 minutes late.
This is a decrease from June, when the average delay was 28.3 minutes, but an increase from last September, when the average delay time was 24.8 minutes.
The most frequent reason for delays, heavy traffic, caused average delays of 23 minutes a day over the past three years.
School Bus Delay Reasons
According to school bus operators, heavy traffic is the most common reason for delays, which accounted for 60 percent of delays in the past three years. On average, traffic delays cause students to arrive at school or home 23 minutes later than expected.
While traffic accidents are relatively rare, they cause the longest delays. Between September 2015 and September 2018, they resulted in delays averaging 39 minutes.
Most Frequent Delay Reasons:
Heavy Traffic                      60 percent
Other                                14 percent
Mechanical Problem            10 percent
Won't Start                          5 percent
Flat Tire                               3 percent
Weather Conditions               3 percent
Late Return from Field Trip     2 percent
Problematic Route                 1 percent
Accident                               1 percent
Delayed by School                 1 percent
Length of Delays
Students are delayed for different amounts of time because of a variety of reported reasons.
Reported accidents, though infrequent, create the longest reported delays. Between September 2015 and September 2018, accidents created, on average, reported delays of 39 minutes a day.
The most frequent reason for delays, heavy traffic, caused average delays of 23 minutes a day over the past three years.
Reasons for Delays Over Time
The number of delays caused by traffic each day (represented by the data points) varies seasonally. The central line reflects the average rise of delays over time, neglecting seasonal shifts.
The data suggests delays caused by heavy traffic peak at the beginning of the school year. Every September, there is a spike in delays, which increase every year.
These preventable delays have steadily increased between September 2015 and September 2018.
Where School Buses Are Delayed
Students face different delay times depending on the school's location.
When delays occurred, those in Queens, for example, faced an average of 29 minutes over the past three years.
Students in Staten Island were only delayed an average of 18 minutes over the same period.
Average Delay Times in Minutes by Borough
Queens:           29.3 mins
Brooklyn:         29.1 mins
Manhattan:      26.9 mins
Bronx:             20.7 mins
Staten Island:  18.2 mins
When School Buses Are Delayed
At least 71 percent of reported delays occur in the morning, as students are being brought to school. While special education buses account for the bulk of delays, they also account for the majority of daily school bus routes.
The "Other" category constitutes:
General Ed Field Trip
Project Read AM Run
Project Read Field Trip
Project Read PM Run
Special Ed Field Trip
________________________________________________________________________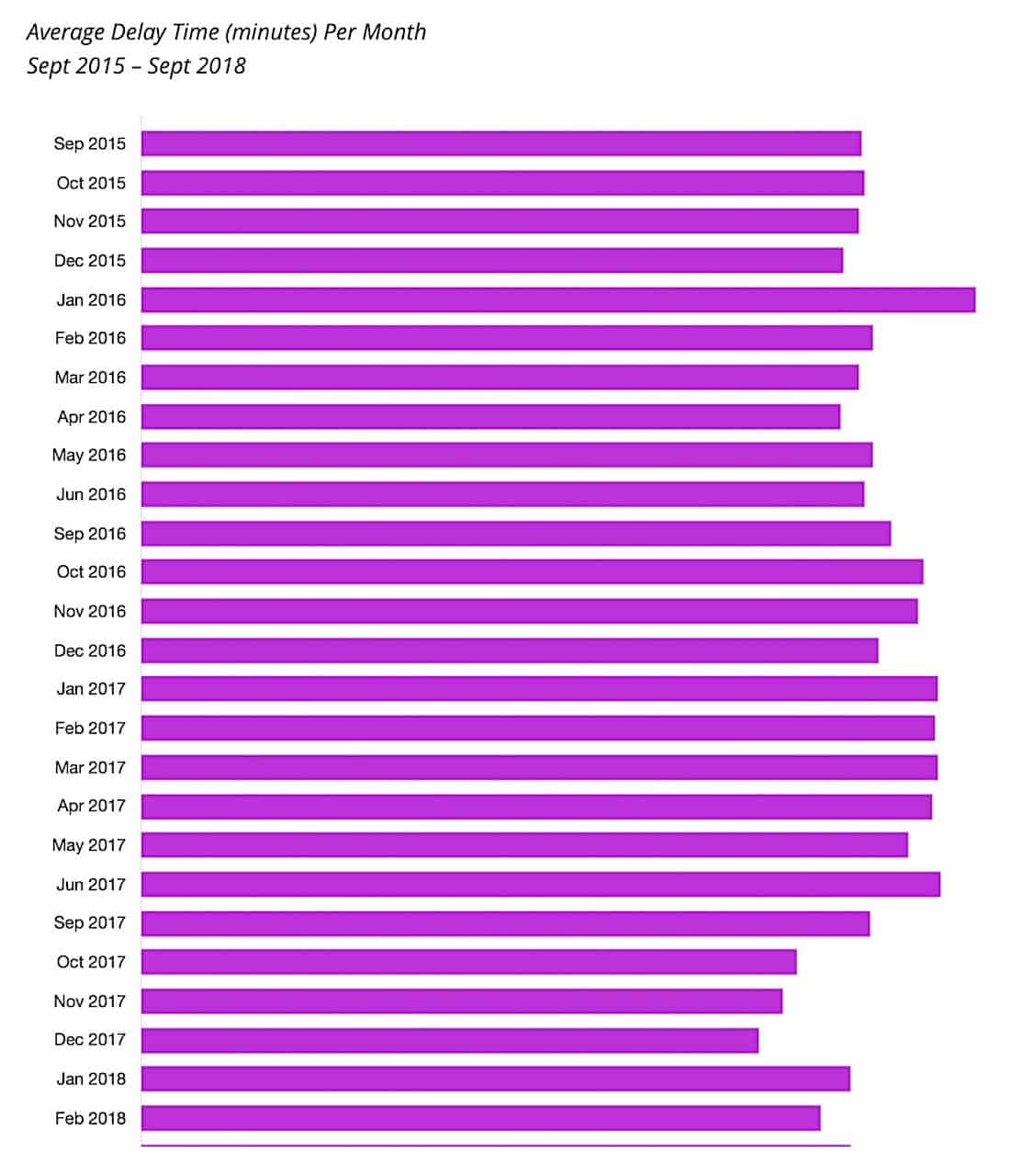 ________________________________________________________________________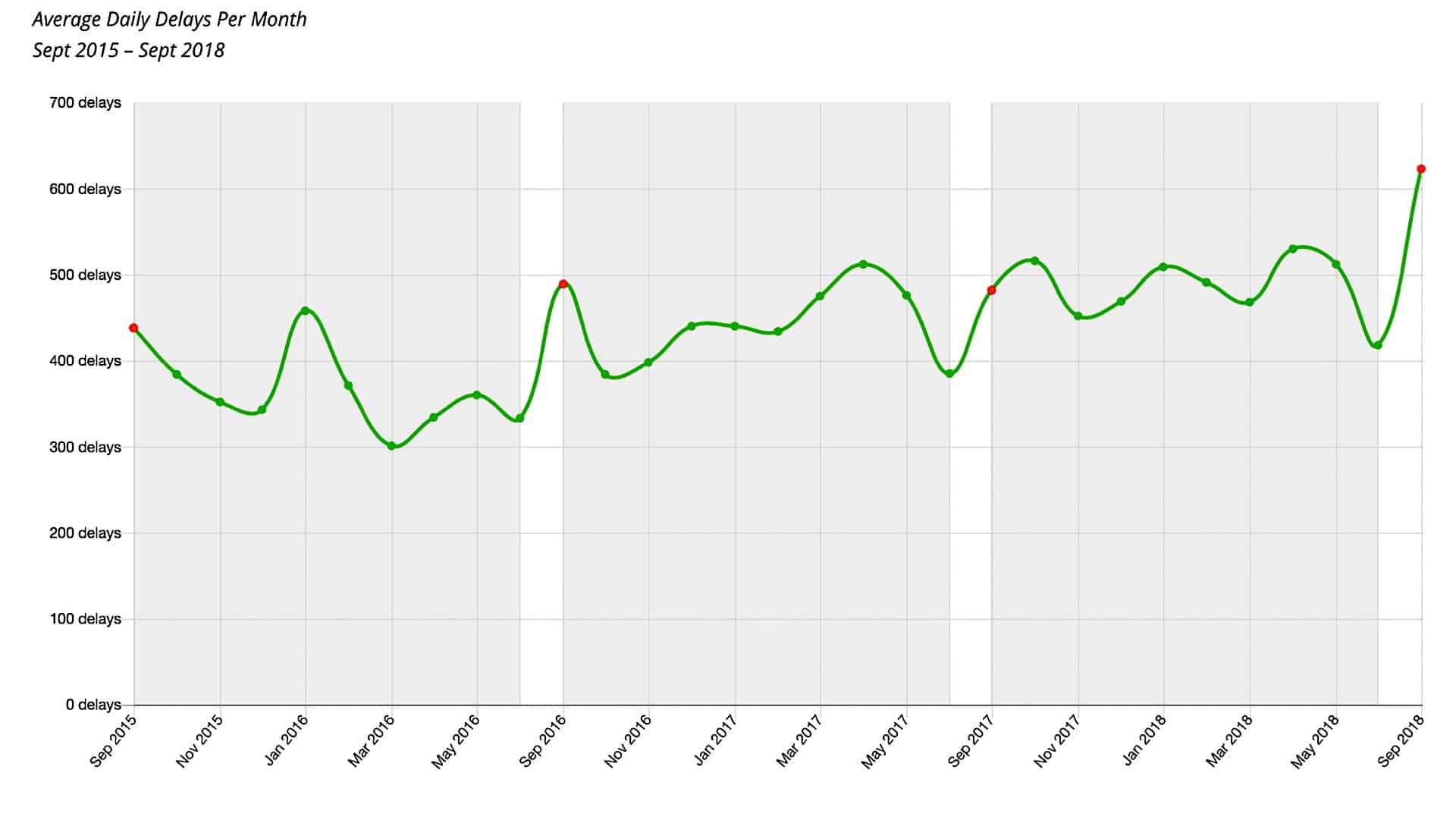 ________________________________________________________________________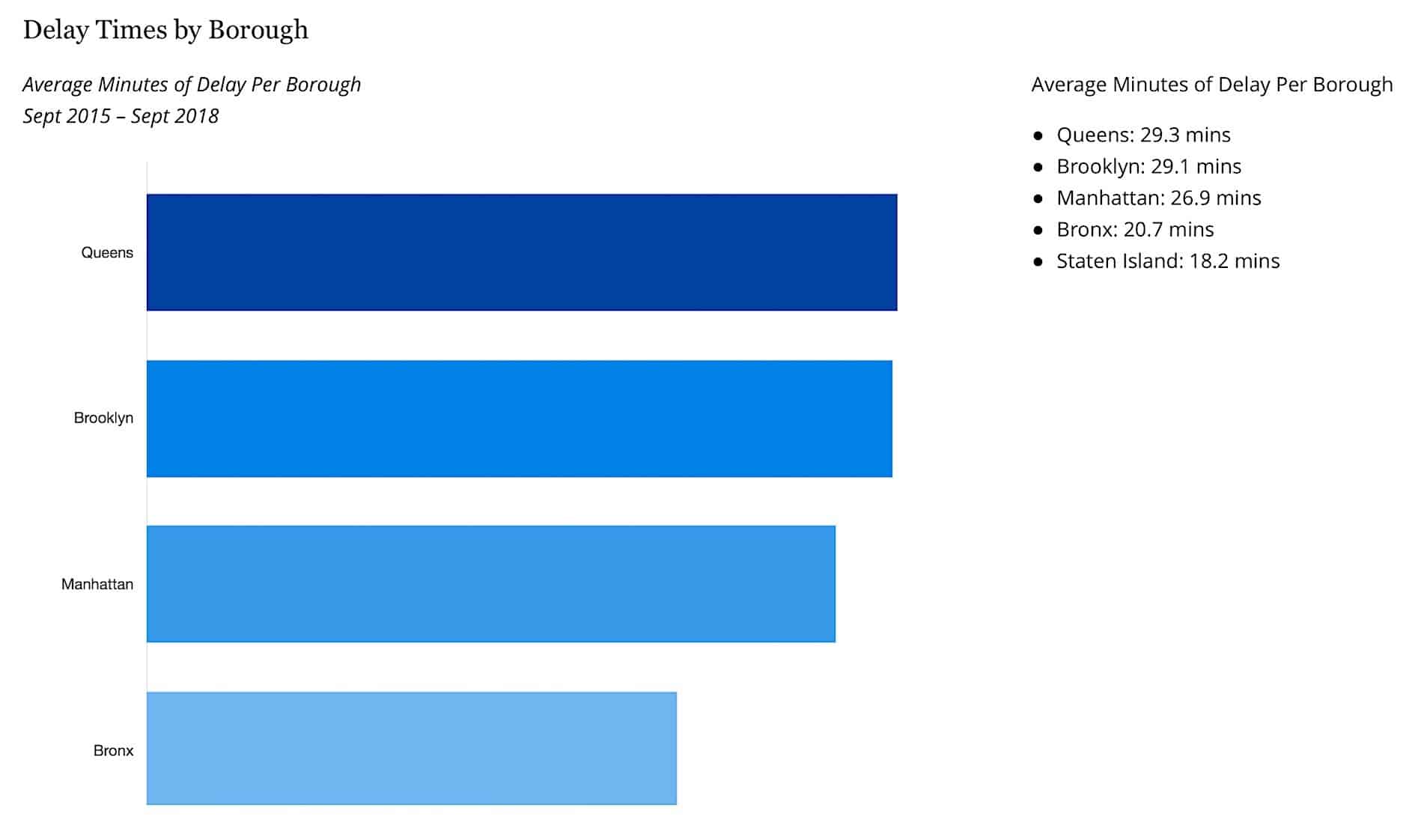 ________________________________________________________________________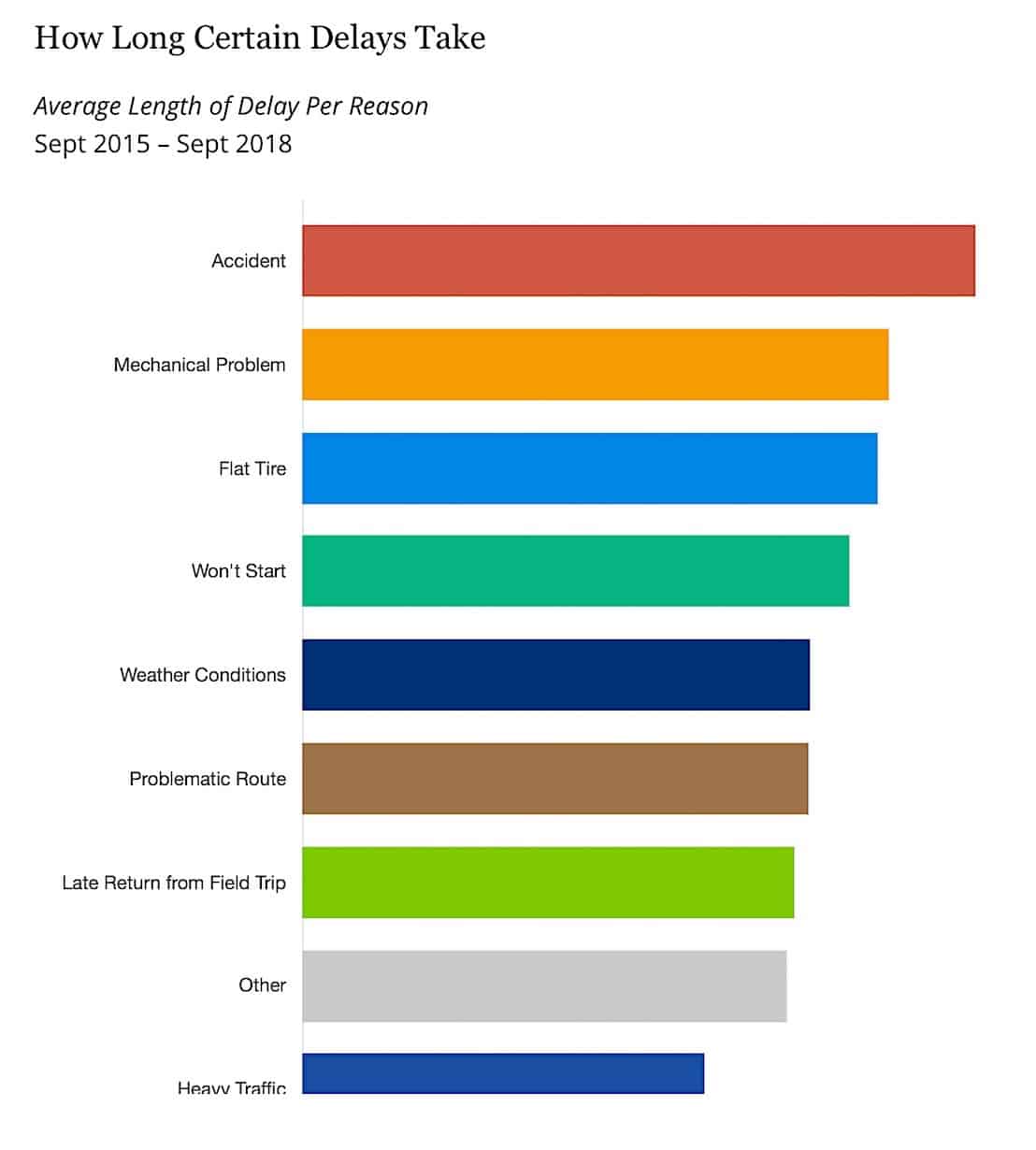 ________________________________________________________________________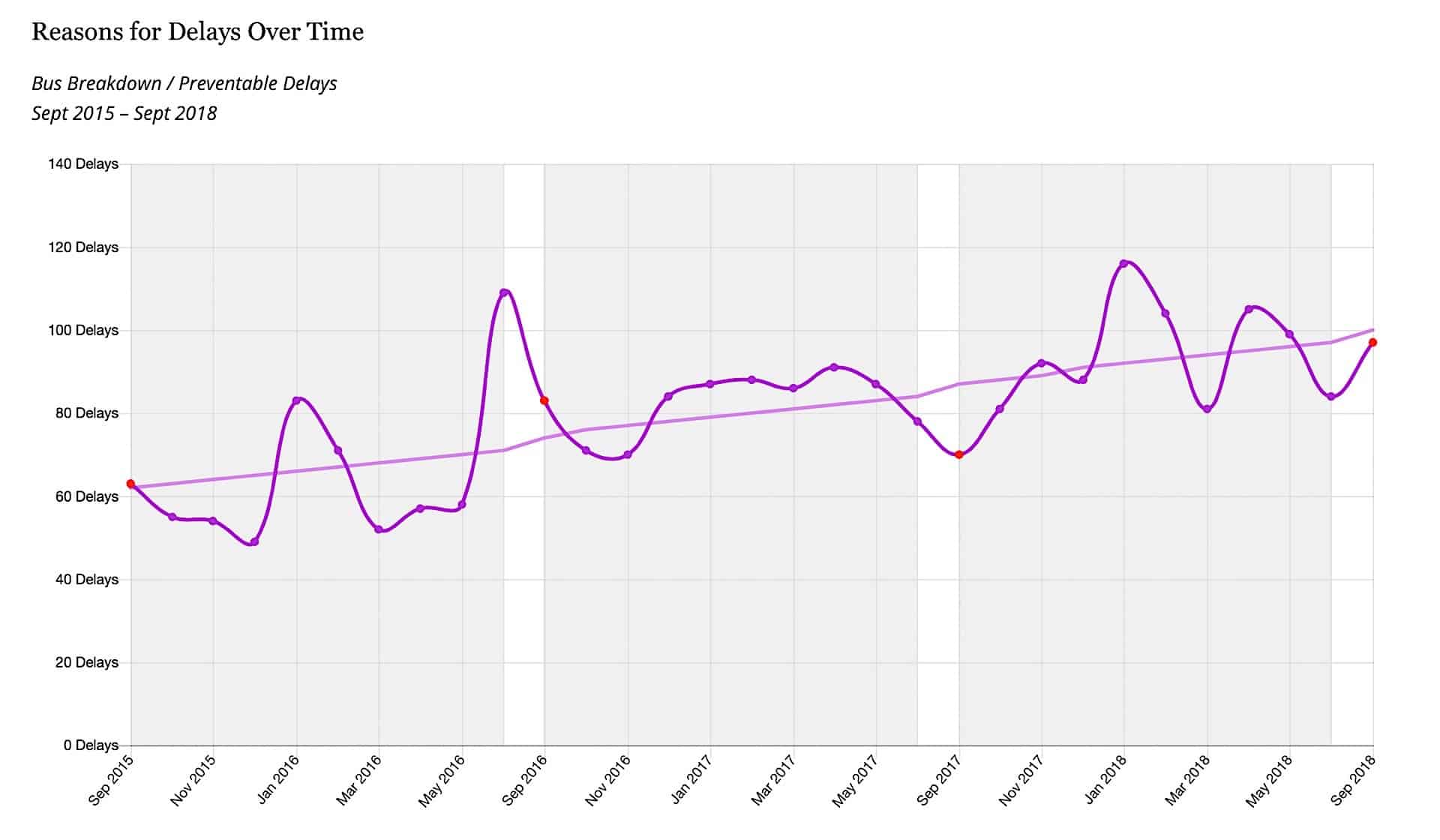 ________________________________________________________________________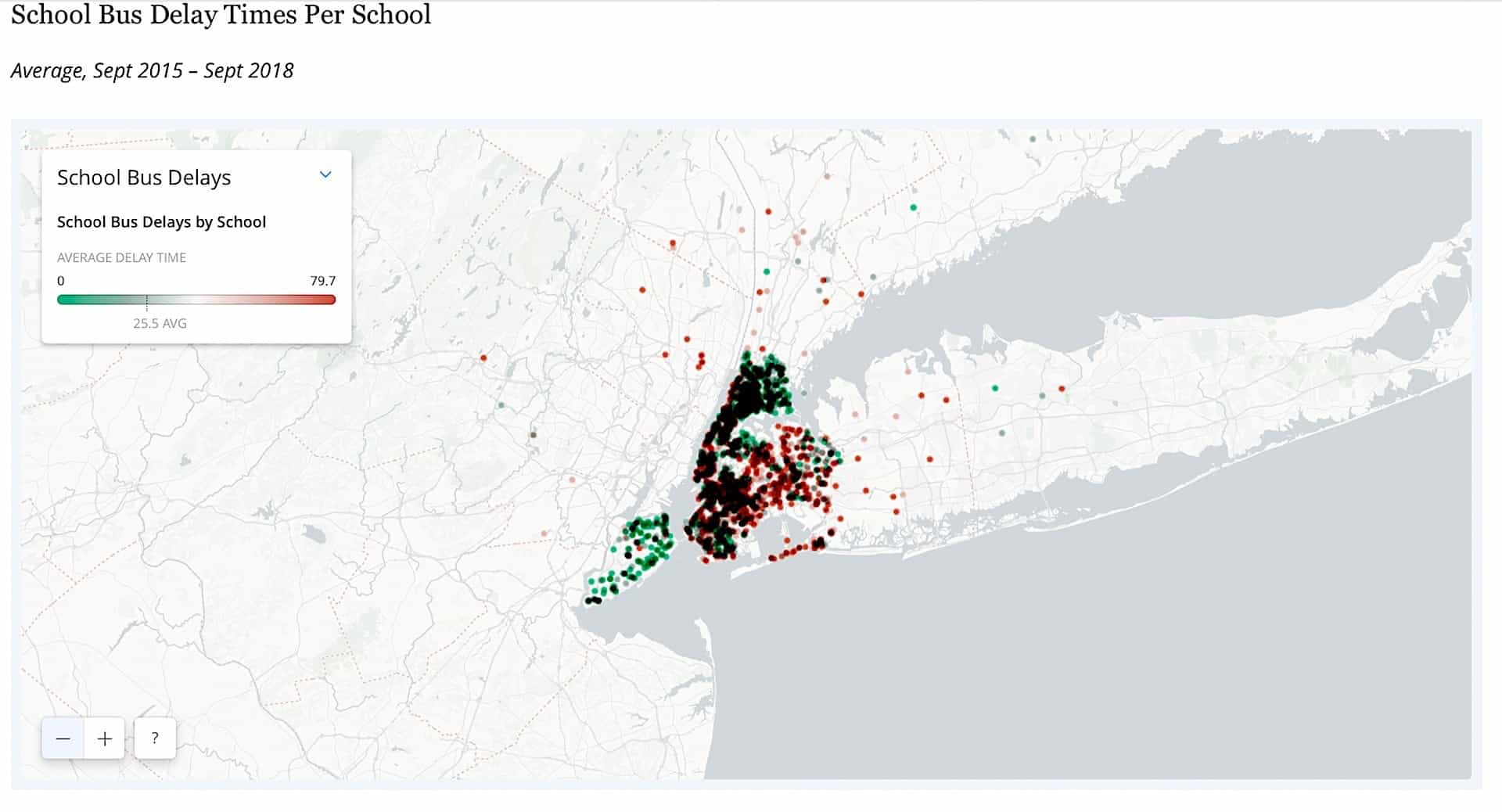 ________________________________________________________________________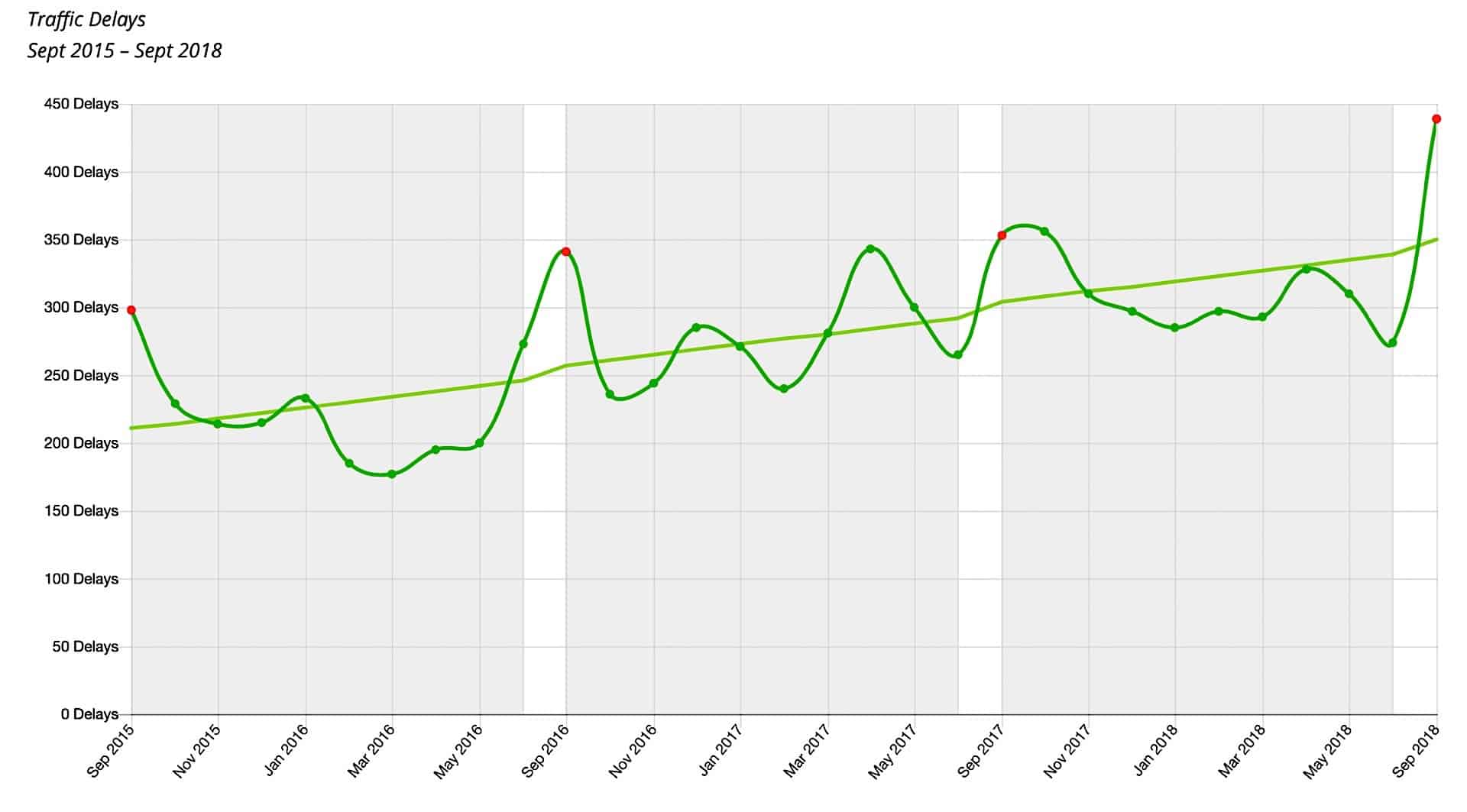 ________________________________________________________________________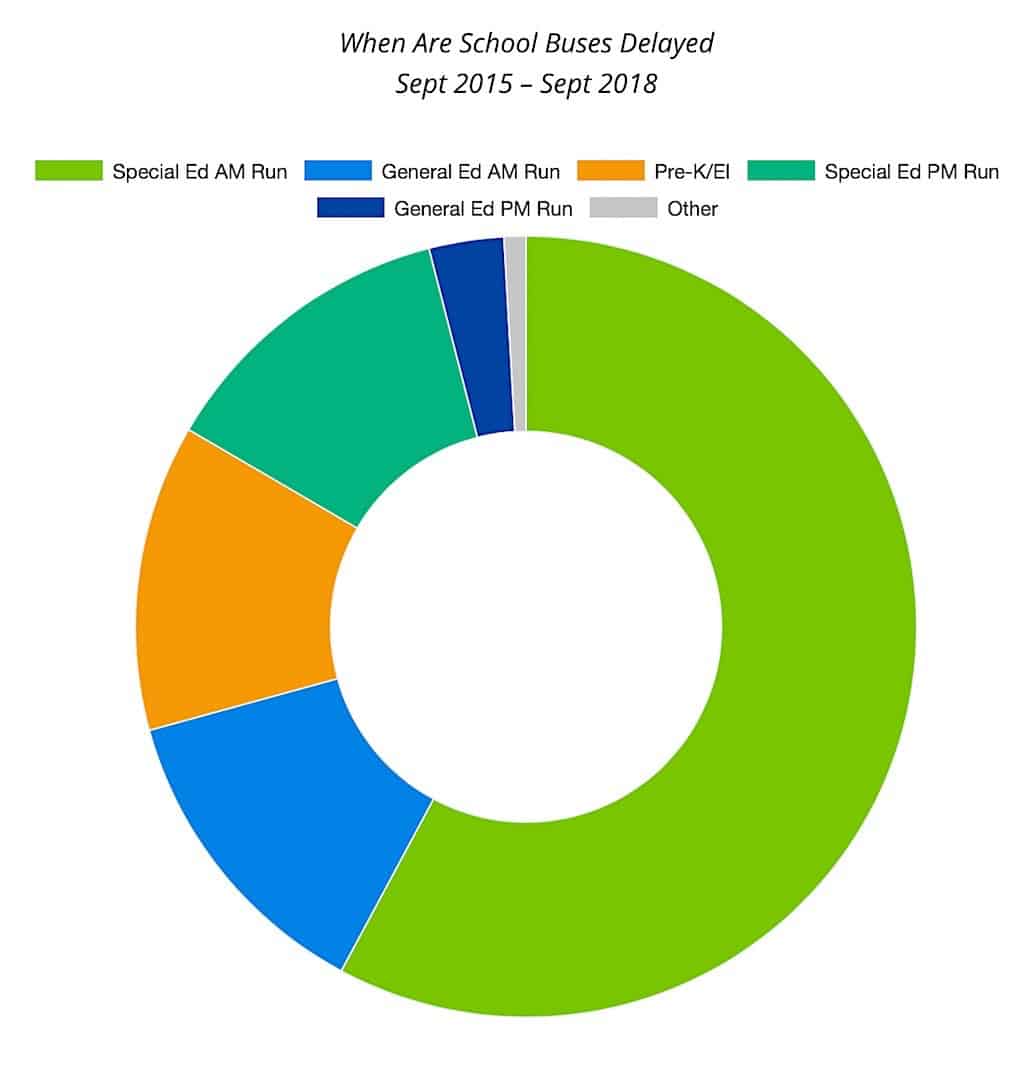 ________________________________________________________________________