An annual grant program started by school bus brake supplier Bendix Commercial Vehicle Systems provides further motivation for company employees who are currently volunteering on their own for nonprofit organizations.
The program originally began in 2015 as a one-time event to celebrate the 10-year anniversary of the company's philanthropic foundation, Knorr-Bremse Global Care (KBGC). The foundation focuses on child education in the developing world, drinking water, sanitation and emergency relief. However, the success of that one-time program became an annual grant program called Get Involved!
Get Involved! is supported through Bendix's corporate giving program. It is offered at all Bendix locations: Headquarters in Elyria, Ohio and manufacturing plants in Acuña, Mexico, Bowling Green, Kentucky, and Huntington, Indiana.
"Because the program was such a success after that first year, the company decided to make it a permanent mechanism of our community involvement program," said Maria Gutierrez, director of corporate responsibilities and sustainability for Bendix. "So, every year we have a budget for each location, based on the headcount and participation."
The idea started as a way to award small grants to nonprofits. Program guidelines were soon established:
The project scope must adhere to the core focus areas of education, environment, health and social cohesion.
They have to take place in the vicinity of one of the company's locations and an employee has to be involved in that recognized nonprofit.
The project must also be implemented within six months of the funding.
The funds are not meant for day-to-day costs or fundraising campaigns.
The grant is completely project-based.
"It's just really cool to see how every year the program keeps growing and we get some employees that are return applicants," Gutierrez said. "We also get new employees that get excited, maybe one year they weren't participating but now they know about it. It gets them motivated to maybe start volunteering for an organization and take advantage of this awesome program."
The program relaunches at the start of each new year with a call for applications. The winning applicants are responsible for making sure the funds are distributed. Before the end of the year, they are required to submit evidence and documentation that the project was completed.
Last year, Bendix approved 48 projects across all locations. Each chosen application can receive up to $3,500, but a committee evaluates each project and can allocate less money to more applicants, to get more mileage out of the annual award budget.
Gutierrez said there are a diversity of projects that are submitted every year.
Several organizations that are currently funded through the Get Involved! program are an after-school education program in Mexico; Bowling Green Microcomputer User Group in Kentucky; Women's and Children's House in Huntington, Indiana; Lorain County Kayak & Paddlesports Group, which focuses on cleaning up Lake Erie and the Black River watershed in northern Ohio; and GiGi's Playhouse in Lakewood, Ohio.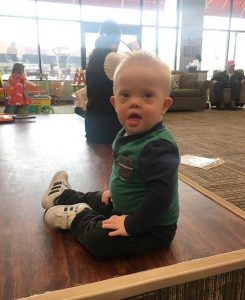 Matt Lombardi, a sales financial analyst at Bendix, submitted an application for the second consecutive year to benefit GiGi's Playhouse, a free national achievement center for people with Down syndrome. The facility in Ohio is one of the 40 locations in the U.S. and Mexico. The organization says it helps 250 families and has over 65 volunteers per month.
"I'm privileged to have a young child under the age of two that has Down's syndrome," Lombardi said. "And so, GiGi's playhouse is one of the great organizations around our area that allowed my wife, daughter and I to come in when my wife was pregnant with my son. We were able to go to some play groups and experience what life was going to be like with a child with Down's syndrome when he was born. And from that point on we have been going pretty often with that organization.
"They do quite a bit of great things, from the minute a child is born, all the way through adulthood, which is unique for a lot of these groups," Lombardi continued. "A lot of times, you'll have groups that cater to a younger child, and then once they get to their teens or adulthood, the support for them tapers off. This organization is great, because they have all ages, from adults to children that they are working with."
In 2017, Lombardi applied for a Math Project Program. The one-on-one math tutoring was created to promote a positive experience and implemented to help children develop a foundation of basic number understanding.
Lombardi said something as simple as exchanging money is a skill people take for granted. Get Involved! covered the cost of the entire program, $2,293.26.
Last year, Lombardi's project submission was for a Speech and Language Program. The program helps children, teens and adults refine and improve their speech and language skills. The program focuses on teaching pronunciation, clarity of speech, word order and message meaning, as these skills help foster self-confidence. The program helps people with Down's syndrome speak and read from an early age, all the way through adulthood. Get Involved! covered 43.5 percent of the total project's cost of $8,054.01.