Cascade Student Transportation (CST), based in Meridian, Idaho, recognized two employees who won separate awards at the Idaho Association of Pupil Transportation (IAPT) conference at the beginning of summer.
Bonnie See was recognized as the 2018 Special Needs Driver of the Year, while Teri Woods received Driver Trainer of the Year Award for 2018.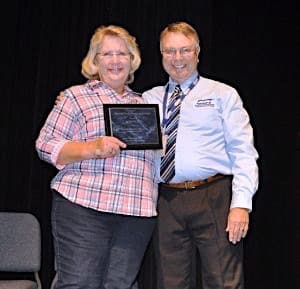 See first started driving in 1984 and continues to be accident free. She is said to be an inspiration to all special needs drivers and assistants, according to a news release from Student Transportation, Inc.
See was on the committee that implemented the special needs transportation program. She took several training classes, expanding her knowledge of sign language and CPR. She also took MANDT certification training, which focuses on humans having the right to personal identity and to be treated with dignity and respect. She helped work with parents and schools as well as other bus drivers on student confidence and an inclusive environment, See said.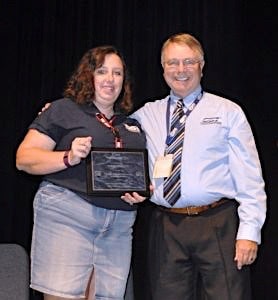 Woods is also veteran driver, driving since 2007. While working as a CST training staff member, something she's been doing for the past year, Woods always helps to look for solutions when problems arise. She works with a training team to help outline and streamline the 18 hour BTW training program, while also helping prepare for the intermediate classroom training sessions, Woods said.
The goals of these employees are still growing, Woods hopes to continue to equip drivers but also to see a decrease in preventable accident rates, with an end goal of zero preventable accidents each school year. Woods wants her branch at CST to inspire others and to be an example of training and safety.
"Winning this award was a shock. I feel that I have learned so much from my fellow trainers and they continue to teach me," Woods said. "I have been humbled to know that my employer places such value on the things that I have brought into the training process. I also am so proud to be a part of a company that is willing to recognize its employees for a job well done."
See said, she tries to go above and beyond her school bus driving duties, but she also would like to see training individualized by cases to better impact the students. Included in the training would be stronger communication between all areas of a school district; schools, parents and transportation. See said she wants to see open dialogue and input across all areas.
These employees were not the only ones recognized at the IAPT conference this year. The conference, held from June 26-29 in Boise Idaho, recognized six different individuals at an awards ceremony.
Nominations for the awards were encouraged through the IAPT website. The open categories included: transportation supervisor, special needs aide, special needs driver, bus driver, secretary/dispatcher and driver trainer.
The other four award recipient winners from the 2018 IAPT conference are:
Special Needs Aide — Inge Currin from Lewiston School District
School Bus driver — JoAnn Ward from Arbon Elementary School
Secretary/dispatcher — Monica Hurd from Blaine Co. School District
Supervisor — Soda Springs School District
"[Receiving this award] meant a lot. I guess seeing my years of service not only recognized but that I was honored, that all my contributions were noticed. It was a very big surprise and humbling moment," See said.
Each winning recipient received a plaque with their name on it and the award title.