Hurricane Harvey has since been downgraded to a tropical storm as it now affects Louisiana, where authorities also remain on high alert. But the deluge and resulting floods in Houston have already claimed nearly two dozen lives and forced local schools to cancel classes and school bus service for at least the next week.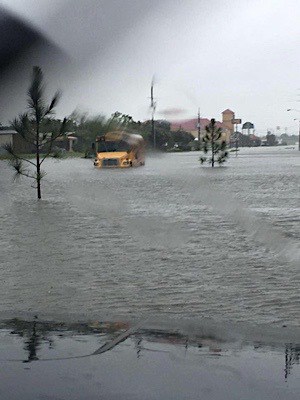 With Harvey passing over Beaumont and heading into Louisiana on Tuesday, some schools in the Pelican State were closed. Orleans Parish Public Schools canceled classes amid heavy rain but said in a statement that classes were to resume on Wednesday, while urging administrators and safety professionals to remain "vigilant."
St. Charles Parish Public Schools west of New Orleans remained open on Tuesday and were scheduled to be open again on Wednesday. The district posted on its website that students who do not attend school during the weather event will receive an excused absence with a parent note.
The district also said changes to school operations will be broadcast there as well as via the Blackboard Connect messaging system, Facebook and Twitter. The district was also in continuous contact with the parish Emergency Operations Center.
Reid Oyster, executive vice president of school bus contractor Apple Bus, told STN that operations at several charter schools in New Orleans were closed on Tuesday but were expected to be up and running on Wednesday.
"According to city emergency management, the city's pumps are running at 92-percent capacity, which they feel like is enough to keep the flooding from being widespread but we are prepared for the worst," Reid said in an email on Tuesday night. "We also have a contract with FEMA that can be implemented at any time to help evacuate the city if necessary. Currently FEMA does not feel like this is going to be necessary but we are on call if it gets significantly worse."
Dozens of school districts in southeastern Texas announced shortened hours or closure prior to the weekend, and Houston ISD announced over the weekend that the start of the new school year would be delayed until at least Sept. 5. A Houston ISD spokesperson told STN on Monday that about 30 school buses were being used to evacuate local residents from all of the district's "Refuge of Last Resort" locations and move them to the George R. Brown Convention Center. STN was unable to confirm the state of Houston ISD's other 800 school buses at this report.
Other Houston-area school districts remained closed all week in addition to canceling sports and after-school activities. On Tuesday, Houston authorities also put the area under a mandatory curfew from 10 p.m. till 5 a.m. local time amid reports of looting and robberies.
Kayne Smith, director of transportation for Beaumont ISD said the storm was "one I couldn't have imagined in my worst nightmares." Despite widespread flooding and being forced from his transportation office to the local civic center, Smith said the district's school bus drivers remained on call throughout the weekend and the last several days to help with evacuations. "I could not be more proud of the team I have at Beaumont ISD and the community we have in Beaumont," he added.
Alvin ISD canceled school on Friday but did not cancel all its weekend sports events; its website stated that the district is "closely monitoring" the situation and will notify parents of developments via email or text. Later the district announced that it would close school until at least after Labor Day weekend. At Galveston ISD, most schools will conclude classes by 3 p.m. Friday, while weekend activities are canceled and "buses and some district vehicles have been relocated at Santa Fe ISD."
Expected to be a Category 3 Hurricane by landfall last Friday but upgraded to a Category 4, Harvey more than doubled in wind speed in a 24 hour period. As the rains continued for several days after Harry was downgraded to a tropical storm, with rainfall ranging from over 20 inches  in some places to over 40 inches in others, resulting floods overran Houston while also threatening Galveston, Corpus Christi and further away cities such as San Antonio and Austin.
Apple Bus' Oyster said that while much of the focus has been on the Gulf Coast, Harvey also affected the company's Austin, Texas operation. "We have moved our buses off of our site and onto school property in anticipation for increasingly rising waters in the low-lying areas that our buses are domiciled."
Editor's Note: STN Editor Ryan Gray contributed to this report.