Thanks to grants from the South Coast Air Quality Management District, the Los Angeles Unified School District will soon have a total of 403 CNG school buses operating across district boundaries, 317 of which will run out of a facility located about 15 miles south of downtown.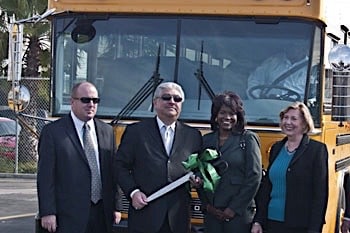 Los Angeles Unified's Gardena bus yard has actually been equipped with a CNG fueling station since 2001. And last year, LAUSD opened a second CNG fueling station at another bus yard located in the San Fernando Valley that is operated by contractor School Transportation of America.
Enrique Boull't, LAUSD's transportation branch chief, said the district has been aggressively targeting the SCAQMD funds over the past three years to leverage new bus purchases as well as CNG infrastructure development. The district held a ribbon-cutting ceremony today to formally introduce the arrival of new CNG buses that will replace 20- to 30-year-old diesels.
"This whole facility and the buses we're purchasing have really come at a minimum cost to our school district," Boull't said. "We're able to focus our resources that the district has on schools and students and instruction while we're still able to modernize our fleet."
Earlier this year, LAUSD purchased 260 new CNG buses via two separate orders of 130 buses each from Blue Bird and Thomas Built Buses. Boull't said said many of the Blue Birds are already in service while the balance of Thomas CNGs will be arriving soon.
This doesn't mean the district has abandoned diesel, as newer engines fall under EPA regulations that over the past couple of years have realized emissions as low as any alternative fuel on the market. But California's unique climate, both geographically and politically, prompted the state to set up rules over the past decade to limit the number of diesel engines in favor of CNG that at the time emitted far less pollutants.
"In the Southern California basin there have been regulatory requirements that are very stringent as to the types of engines that meet the emission standards, not only put forth by CARB but also locally by the SCAQMD. Over the years, diesel engines have not been able to qualify for the funding for these buses, so we've had to focus on other alternative types of fuel to replace our fleet," Boull't explained. "CNG has been an engine of choice because of the size of bus that it is available in. The larger (Type D transit-style) buses obviously allow us to maximize throughout the day the number of trips and activities we can use the bus for."
But he agreed that today's clean diesel engines burn just as clean as any alternative and are don't emit dirty black soot of yesteryear. But he also pointed out that the district is also saving on fueling costs with CNG. Still, he admitted that the district's maintenance staff would prefer to continue working primarily on diesel engines. He added that if diesel engines receive the necessary qualifications through regulation that "we would be happy to take another look at that."
"But at this time we're working with what we have," he continued. "[SCAQMD is] funding 90- to 95 percent of the price of the bus, so those are dollars we can ill afford not to take advantage of."
Those funds also include a 10 percent infrastructure grant reimbursement. Still, CNG certainly takes a time investment as well, as Boull't said "intense planning and designing" was necessary to get the district's CNG stations up and running. But with the grants, infrastructure came at nearly no cost to the district. He also said CNG currently costs about $1 per gallon diesel equivalent while diesel was retailing locally at about $3.20 per gallon, although school districts pay less than that because they are exempt from state and federal excise taxes. Boull't also expressed hope that Congress would soon extend natural gas rebates of $.50 cents per gallon.
But amid the pomp and circumstance courtesy of the Gardena High School marching band, a natural gas representative said plenty of work remains to get the federal government to recognize the alternative fuel.
Last month, the EPA and the U.S. Department of Transportation published proposed rules for implementing Corporate Average Fuel Economy or CAFE standards for medium- and heavy-duty commercial vehicles, which include school buses. But absent from the language were any incentives for CNG or propane. However, there incentive provisions made for electric, hybrid and fuel-cell vehicles.
"We are talking to [the feds] about that to try and make it a level playing field," said Kolodziej prior to LAUSD's CNG ribbon cutting ceremony at its transportation facility in Gardena south of Los Angeles. "They need to measure emissions all the way back to the source."
What this amounts to is emissions from "well to wheels," or taking into account the full life cycle of vehicles such as school buses to determine emissions. This includes manufacturing, fuel sources.
"You just can't look at the tailpipe," that Kolodziej, who was on hand to present LAUSD with the 2010 NGV Achievement Award for its green efforts.
For the remaining LAUSD diesel buses and white fleet, Boull't said the district is implementing a five-percent blend of biodiesel, B5. An increased bio-blend of B20 is preferred, he added, but the fuel cannot be wet-lined like B5. First regulation on underground storage in California would need to be addressed. Boull't said the district will also soon receive 18 new Type C conventional buses that run on propane, again thanks to a SCAQMD grant.
According to LAUSD Chief of Staff Michelle King, the district's total fleet of 1,300 school buses transport about 50,000 students one way each school day on 1,740 routes as well as 17,000 students during summer school.