The National Transportation Safety Board released a recommendation to boost school bus safety Monday in response to a Southern California bus crash two years ago that left 11 children injured, four severely.
In April 2014, an Orange Unified School District bus carrying 11 El Rancho Charter Middle School students veered off the road and crashed into a tree, injuring all students on board. Four students sustained major injuries, including a shattered spine and amputated toe.
Investigators discovered that the bus driver, 25-year-old Gerald Rupple, was unconscious when the bus left the road, later discovering that Rupple had purposely failed to disclose to district officials that he suffered a medical condition that causes dizziness, seizures and blackouts.
He was subsequently charged with one felony count each of child abuse and endangerment, perjury by declaration and causing great bodily injury.
Last Monday at the NAPT Summit in Kansas City, Mo., the NTSB released a statement recommending to the various national student transportation associations that they "inform school bus drivers of the impact their health may have on the safe transportation of school children, of their responsibility to accurately and completely report their health history and medications and of the legal consequences of dishonesty on the medical examination report."
The recommendation now awaits a response from the National School Transportation Association, the National Association for Pupil Transportation and the National Association of State Directors of Pupil Transportation Services.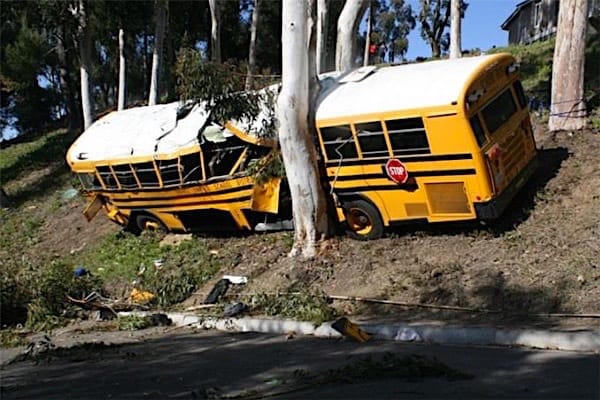 The NTSB also reiterated a previous recommendation that these associations provide educational material on lap and shoulder belts offering the highest level of protection for passengers, and how states and school districts should consider the added safety benefits of purchasing seat belt-equipped school buses.
NASDPTS Executive Director Charlie Hood said the association has already responded to this particular recommendation, informing a NTSB representative at the 2016 NASDPTS Annual Conference also in Kansas City. NAPT added it, too, has already responded.
"This recommendation reiterates a recommendation that NAPT received previously from the board and satisfactorily completed approximately three years ago," added NAPT in a Facebook post.
NTSB's recommendations on lap-shoulder belts is a followup to one issued in response to the 2012 collision between a school bus and a container truck at a New Jersey intersection that killed one student.
As for the fallout from the Orange County crash, Pam McDonald, director of transportation for Orange Unified School District, said lawsuits brought by two of the injured student's parents are still pending.