The latest survey from School Transportation News explored the various aspects of transporting special-needs children, including wheelchair safety, fire suppression technology and the growing rate of students diagnosed with autism. 
The survey was sent to more than 7,650 readers who indicated they are either transportation directors or supervisors, of which 120 responded as of Feb. 14. They said they regularly transport children with disabilities, and safety is a constant concern. Several respondents addressed securement, commenting that they've encountered relatively few problems when securing a child's wheelchair.
Jeffrey Thompson, director of transportation for St. Mary's County Public Schools in Maryland, reported that nearly 20 percent of his 275 school buses are devoted to transporting 400 special-needs children.
Some of those students use wheelchairs; however, Thompson said that there are no challenges with the tie downs to secure them, adding that "the challenge is when a student does not have a wheelchair that is designed for the student to be transported in."
Biloxi Public Schools in Mississippi transports 100 special-needs students and is currently adapting for WC-19-compliant wheelchair guidelines.
"The chairs can be bulky and difficult to anchor in both Thomas Built and International buses," said Director of Transportation Sam Bailey. "Those two buses use short strips to anchor to. Bluebird buses have four long strips widely apart and suited for WC-19 chairs."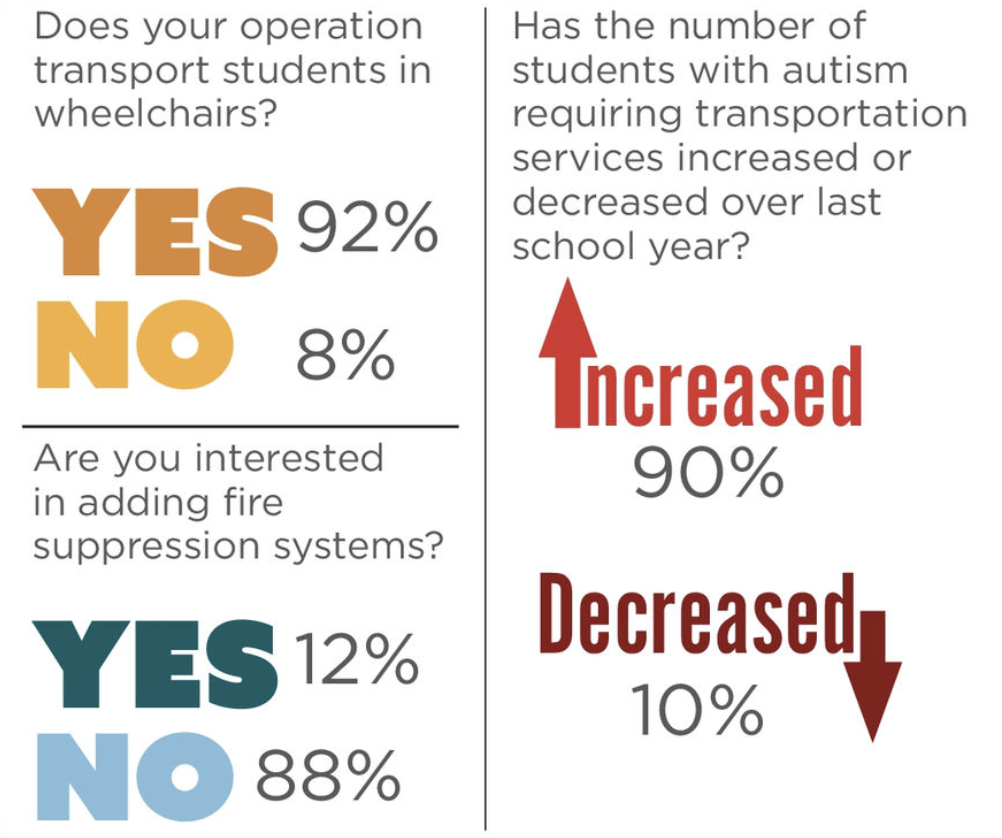 Schools around the country have also seen a rise in the number of children diagnosed with autism, almost all survey responses confirming this fact (90 percent).
Calvert County Public Schools outside of Washington, D.C. transports 250 special-needs students on 40 buses. The students with autism that Director of Transportation Ed Cassidy manages require tackling several logistical concerns, like "training on behavioral and communication strategies for bus staff," he said, adding that, "schools do not communicate enough or update bus staff enough."
Readers also said the numerous news reports of school buses bursting into flames are overblown. While fire suppression systems are touted as providing valuable time to evacuate students, especially those with special needs, Cassidy said the Calver County district has yet to see the issue as a pressing crisis.
"We have only had one bus with a brake problem that smoked or caught fire," he added, saying that he does not see the need for fire suppression technology, especially because of costs.
Instead, he said attention should be focused on crash avoidance systems, adding that, "hurting and killing students in the Danger Zone, in the 10 to 15 feet around the bus, is more statistically a risk than a fire onboard."
Editor's Note: This post was reprinted from the March 2017 issue of School Transportation News magazine.