RENO, Nev. — Keynote speaker Jesus Villahermosa, Jr., founder of Crisis Reality Training and a 30-year law enforcement officer and past SWAT team member,  revitalized attendee spirits with a general session last month on the indispensability of school bus drivers.
STN EXPO's July 9 agenda concluded with Villahermosa's advocacy on the impact school bus drivers have on students by mentoring and ensuring their safety as passengers. Earlier in the day, Villahermosa provided specialized training in defense against onboard violence and identifying and responding to potential active shooter scenarios for student transporters with their students.
Villahermosa's topic later that afternoon focused on celebrating school bus drivers as vital yet under-recognized members of our society.
He prefaced the theme of his presentation by deconstructing the seating arrangement on a school bus. School bus drivers operate at the very front of the vehicle whereas student passengers are seated behind them. He then asked if the public perception of school bus drivers would be different if they were seated at the rear of the bus behind the students.
"How trusting of an environment would it be had a school bus driver operated their vehicle from behind you?" Villahermosa inquired. "Not so much trust, is there? That's why school bus drivers are at the forefront. That's power."
Villahermosa's presentation began with statistics of school bus safety that go unmatched by any other mode of transportation. According to the American School Bus Council, "students are about 70 times more likely to get to school safely if they take the school bus instead of traveling by car."
He also detailed, based on a FARS study of 2005 to 2013 administered by NHTSA, that school buses have a fatality rate of 1 percent per 1 million miles driven during school hours compared to riding with teen drivers (57 percent) or adult drivers like their parents (23 percent).
Aside from reaffirming school bus safety, Villahermosa explored the social relationships found on school buses, specifically the dynamic between school bus drivers and student passengers. He underscored that effective communication is always an important component in any workspace, and the school bus is no different.
School bus drivers are more than transporters for their students, he said; they function as role models for student passengers. As a result, Villahermosa encouraged school bus drivers to optimize their attitude with the 3 R's: Recognition, respect and rapport.
Villahermosa's 3 R's:
Recognition
• Acknowledgment of something's/person's existence, validity or legality.
Rapport
• A close and harmonious relationship in which the people or groups concerned understand each other's feelings or ideas and communicate well.
Respect
• A feeling of deep admiration for someone or something elicited by their abilities, qualities or achievements.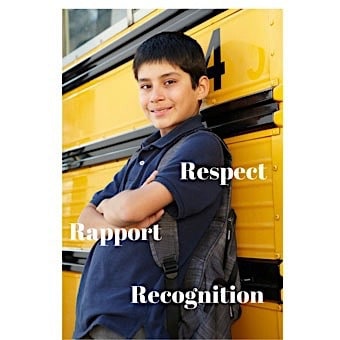 With school bus transportation being underfunded nationwide while enduring the recurring issue of driver shortages, it's not unordinary for school bus drivers to be confronted with many grueling tasks aside from their priority of safely transporting and securing their kids.
But communication remains key in all things. Villahermosa encouraged all school bus drivers to practice the three R's for the most effective communication. This allows all students to secure the belief that they are emotionally safe, he added.
Villahermosa closed his presentation by emphasizing how school bus drivers remain the crux of school bus transportation operations. He provided life examples that detailed anecdotes of school bus drivers going the extra mile to protect the safety of their children.
He encouraged school bus drivers to look at their roles as caretakers and not just as employees tasked with getting students from home to school and back again. Instead, he added, school bus drivers should acknowledge the potentially positive roles they play in students' lives.
School bus drivers are often the unsung heroes that get their kids to and from school. "But it's the thankless jobs that are rewarding. "Appreciation goes both ways, mentally and emotionally," Villahermosa said.