No one is more aware of the dangers of motorists illegally and unsafely passing stopped school buses than Dan Sperry and his family.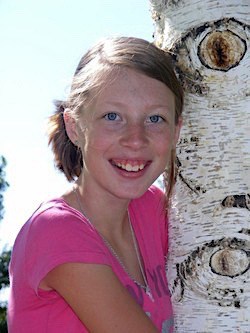 Makayla Strahle would have turned 16 this month.Sperry, a deputy sheriff in Bonneville County, Idaho, and school resource officer, has seen his share of pain and anguish over his career as an EMT and in law enforcement, but nothing compared to what happened the evening of Dec. 20, 2011.
Makayla Marie Strahle, Sperry's 11-year-old step-daughter, was killed by a passing vehicle moments after she exited her school bus and tried to cross a two-lane highway to get home. Sperry and his family lived in Fremont County, Wyoming, when the tragedy happened.
Sperry will share "Makayla's Story" during the opening STN EXPO General Session on Sunday, July 24, in Reno, Nevada. Sperry, who has had the opportunity to share this story with school districts, will talk about how Makayla's death spurred her sixth-grade classmates to push for new Wyoming laws to retrofit all existing buses statewide with stop-arm video cameras and require all newly purchased school buses to be similarly equipped.
"School bus safety has become a passion of ours and especially mine," said Sperry. "We can avoid stuff like this if we change the things we do just a little bit we can keep kids alive."
Sperry said that weather conditions were bad for most of the day. By that evening, the roads were slick, as a light snow had fallen and the cloud ceiling was low, but Sperry stressed that fog wasn't a factor in Makayla's death.
The motorist, William Dean Barnes, wasn't speeding, the police investigation discovering that he was traveling at 57 mph. The posted speed limit along the highway Makalya was struck was 65 mph. The investigation also revealed that Barnes didn't apply the brakes until he hit Makayla.
Barnes was convicted of three misdemeanor charges in Jan. 2013, the judge rendering a 300-day jail sentence for the misdemeanor charge of homicide by vehicle. Barnes was also ordered to pay roughly $13,000 in restitution.
Under current laws, Wyoming motorists convicted of illegally passing school buses can face a $420 fine and up to a year in jail if they do so again within a year.
Learn more about this year's STN EXPO, July 23-27, and read more about Makayla Strahle in the July edition of School Transportation News magazine.