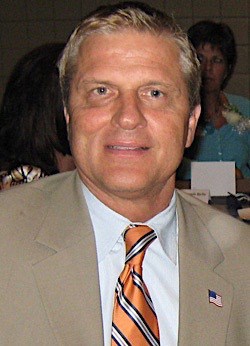 A webinar presented by School Transportation News advised student transporters on the steps necessary to enter into inter-local government agreements with law enforcement and the judicial system to convert illegal passing incidents caught on video into citations — and eventually a reduced number of violations.
The free, recorded webinar "School Bus Stop Arm Enforcement" is available online for 24/7 viewing by registered users.
Speaker Rick Grisham (pictured) is the executive director of transportation for Cobb County School District in Marietta, Ga., a suburb of Atlanta. He detailed for nearly 160 attendees of Thursday's live event how a program launched in 2009 has resulted in a 50-percent reduction in the number of motorists who violate school-bus stop laws. In the past five years, the number of violations has plunged to fewer than 900 per year from the previous high of 1,800.
In Feburary 2009, he said an elderly motorist struck and killed a kindergartner on the right side of the school bus, driving up onto the sidewalk and hitting the student as she was meeting her mother. Grisham also noted that 14 student deaths have occurred statewide in school bus stop zones since 1995.
"We were thrust into a proactive initiative by a motorist running the stop arm on our buses," he added. "We feel like we have a very viable and dynamic program."
Cobb County actually started the program with two cameras before the student's death and then expanded it after a state law was implemented in July 2011, largely due to a movement led by two concerned district parents who were affected by the 2009 tragedy.
The district is the second largest in Georgia and the 17th largest in the U.S. Of the 109,000 students enrolled, about 93,000 are eligible for school bus transportation.
The district met several times with the local police department before entering into the inter-local agreement, or IGA. District officials invited the police to attend school board meetings to brief the community on how a partnership would work. Cobb County then began working with the court system, which Grisham said can be the largest hurdle in setting up a stop-arm enforcement program. The program with vendor American Traffic Systems went live in November 2012.
"The IGA serves as your professional services contract, signed by officials from all three entities," he advised. "Also, you can sign on with an MOU (memorandum of understanding), which I've been told by vendors is sufficient but not as detailed. It works well if you are small group. (But) I highly recommend an IGA because it's more dynamic."
The inter-local agreements, Grisham explained, specifically manage the relationship with the third-party vendor. Several companies consult with districts to purchase and install the cameras, to collect and review video of possible incidents and to verify the violations in respect to the state law. The IGAs also manage the buses equipped with cameras, decide which entity is responsibile for reviewing video for violations and set the court or adjudication responsibilities. The process also determines the requirements for proper enforcement, such as setting deadlines for approving violations, and revenue-sharing percentages.
Grisham pointed out, however, that school districts should be careful to ensure they enter into these agreements as part of their overall safety training and education program and not in an effort to chase potential revenue. While these programs can help a district pay for the cost of the cameras, he said they can also face scrutiny in the community and local media because the programs may be perceived as money-making schemes as well as an infringement on civil liberties.
He also advised that districts "still on the fence" about entering an IGA for stop-arm enforcement or even to implement stop-arm cameras should first perform pilot tests to gain a better understanding of how the technology can increase school-bus stop safety.