Child Check-Mate System (CCM) is pleased to announce the release of its new Universal Programmer. At the touch of your fingertips, you can program your Child Check-Mate Systems to operate within your state, county or operational requirements. Designed with end-users in mind, the programmer is both easier to use and faster than our previous programmer. The latest version supports an OLED display that provides detailed programming and system information as the unit is being updated—so you're always in the know!

School districts, school bus companies and even school bus dealers are all prime candidates that can benefit from the use of the Universal Programmer.
"To tell you the truth, it was the simplest thing I have done in a while."

-Duggan Vehicle Equipment (Cherry Valley, Mass.)
Vehicles are often transferred from one state or organization to another. In doing so, the Child Check Mate System's operating parameters may also be different from one state or organization to the next. For example, some states may require that child check devices activate automatically after the ignition has been on for a period of time. Meanwhile, other states require the activation to occur when the driver uses their eight-way overhead lights (reds) for the first time.
When new vehicles are brought into a fleet, it can be frustrating for school bus drivers because it is possible their Child Check System now operates differently than the one on the last bus they drove. This causes confusion and often leads to false horn alarms, which can diminish the value of a real Child Check horn event.
The Universal Programmer provides the ability to quickly identify the existing operating parameters and will then reflash the unit to the correct or desired operation. (Article continues below picture.)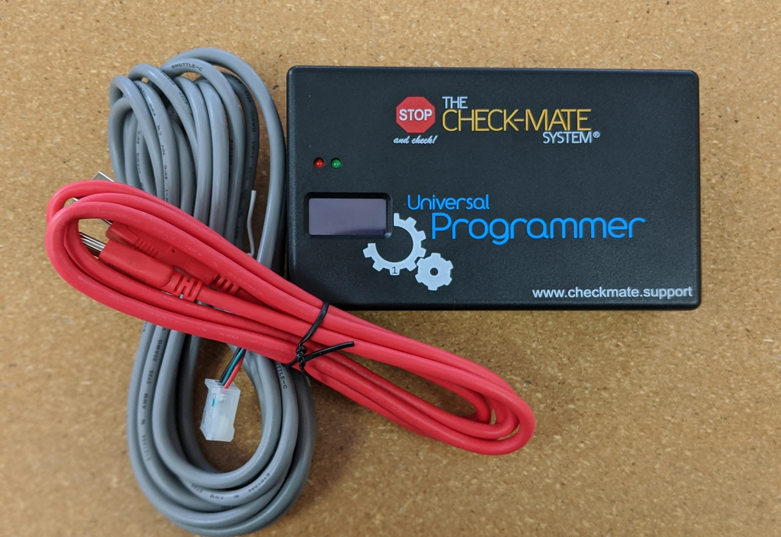 Whether you need your system to operate within your driver's daily routine, within your state/county legislative requirements, or within your organizational requirements, the Universal Programmer is available to support your needs. With a single device, an SD card and a digitally delivered file, you can flash any system either at your desk or in the vehicle itself (even if it's already installed!). This device is versatile, convenient and can be used multiple times.
Simply plug the Universal Programmer into your Child Check-Mate System and within approximately 30 seconds your device will be programmed to your desired operating parameters. The programmer will:
Show you which software iteration was previously installed,
Reflash the module to your desired operating parameters, and
Provide status indicators throughout the whole process
To find out more, check out our programming guide and video to see just how easy it is!
Child Check Mate was designed "by drivers, for drivers." Learn more or contact us.