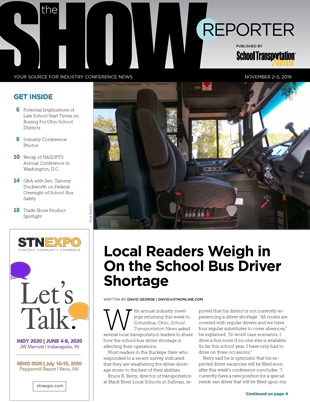 Readers can now review the highlights of the 2019 NAPT and NASDPTS conference in Columbus, Ohio.
Inside
Local Readers Weigh in on the School Bus Driver Shortage
While the national driver shortage impacts states nationwide, school districts in Ohio are weathering the storm as well as possible.
Potential Implications of Late Start Times on Busing for Ohio School Districts
Ohio lawmakers recently introduced a bill to require that all public schools start at 8:30 a.m. Several Ohio districts have already complied and pushed back start times.
Industry Conference Photos
Did you submit pictures to our photo conference this year while you were attending the conference? Check to see if your image made it into STN's printed edition, or check out some pictures taken from around the show.
Recap of NASDPTS Annual Conference in Washington, D.C.
NASDPTS attendees discussed many industry hot topics, including seatbelts, illegal passing, electric vehicles and more.
Q&A with Sen. Tammy Duckworth on Federal Oversight of School Bus Safety
Sen. Tammy Duckworth attended the 51st annual NASDPTS conference to discuss the School Bus Safety Act 2019. She shared with School Transportation News her vision for legislating school bus safety enhancements that echo the recommendations made by the National Transportation Safety Board.