Read more news coverage on school bus safety here.
COVID-19 | U.S. Department of Education COVID-19 Guidance | State COVID-19 Guidance | School Bus Safety Data | Loading and Unloading | U.S. School Bus Stop Arm Laws | Federal Actions | Driver Distraction | Train-School Bus Crashes
---
COVID-19 Resources for Student Transporters
The following external links to federal government, national association and industry websites and FAQs provide information and guidance on responding to the coronavirus pandemic.
---
U.S. Department of Education COVID-19 Guidance
Editor's note — The following excerpt is from pages 15 and 16 of ED COVID-19 Handbook Volume 1: Strategies for Safely Reopening Elementary and Secondary Schools, published February 2021.
Transportation Considerations
Physically distancing students can be a particular challenge on school buses and other vehicles that transport groups of students to school. However, there are several options
to consider to promote safety and increase the distance among students and between students and the driver on school buses:
Opening windows, weather permitting, to increase circulation of outdoor air, as long as doing so does not pose a safety or health risk (e.g., risk of falling).
Maintaining mandatory consistent, correct use of masks by adults and children while on a school bus and at arrival/departure points (e.g., bus stops), except for
individuals who cannot safely wear a mask. Bus drivers should be provided with extra masks to make available in case a student does not have one.
Seating one student per row, alternating window and aisle seating, skipping row when possible.
Seating members of the same household next to each other.
Providing a partial plexiglass partition between driver and passenger sections.
Assigning each bus rider to a designated seat that is the same every day, to promote clear expectations and assist contact tracing, when needed.
Using seat assignments that load the bus from the rear forward (and unload from the front backward) to help reduce student contact.
If a school system provides transportation for students with disabilities as part of their IEP or [Section] 504 plan, including medically fragile children, considering the reservation of specific seats that would not be used for other students during the day and would be subject to special precautions for cleaning. Alternatively, the student's IEP or 504 team could discuss arranging for separate transportation for those students who require this type of transportation in order to receive FAPE.
Installing signage with visual cues on the school bus to encourage physical distancing protocols and to communicate this information to students with vision or reading disabilities.
Developing a communication plan to encourage students and parents to maintain physical distance at bus stops and avoid congregating in groups while waiting for
the bus.
Encouraging families to drive or walk their children to school, if possible, to reduce the number of students on buses. Families could be reimbursed for
reasonable and necessary costs associated with ensuring that their children are maintaining safe physical distancing in traveling to and from school. In certain circumstances, for example, it may be appropriate to reimburse families for mileage expenses related to transporting children if there is insufficient space on school buses to maintain physical distancing, provided schools maintain appropriate documentation and conform with any statutory and regulatory requirements related to the Federal, State, or local funding source.
---
State Guidance on Reopening Schools Post-COVID-19
Forty-nine of the 50 states have developed recommendations for opening the 2020-2021 school year. The guidelines are similar in regard to social distancing and the need for additional cleaning, especially for high-touch areas.
Most social distancing guidelines on school buses restate the Centers for Disease Control and Prevention recommendations, that state students should be seated one per seat, skipping rows. Many states also link to the cleaning and disinfecting guidance issued by the CDC on bus transit operators for cleaning school buses.
Alabama | Alaska | Arizona | Arkansas | California | Colorado | Connecticut | Delaware | Florida | Georgia | Hawaii | Idaho | Illinois | Indiana | Iowa | Kansas | Kentucky | Louisiana | Maine | Maryland | Massachusetts | Michigan | Minnesota | Mississippi | Missouri | Montana | Nebraska | Nevada | New Hampshire | New Jersey | New Mexico | New York | North Carolina | North Dakota | Ohio | Oklahoma | Oregon | Pennsylvania | Rhode Island | South Carolina | South Dakota | Tennessee | Texas | Utah | Vermont | Virginia | Washington | West Virginia | Wisconsin | Wyoming
Alabama
The Alabama State Department of Education in June released its guidance, "Alabama Achieves: Roadmap to Reopening Schools." 
It discusses three different learning modules including remote, traditional and a blended model of the two.  
The roadmap reiterates a CDC recommendation that schools develop a protocol to screen students for COVID-19. It provided a sample screening continuum, starting with the home, where parents would self-report symptoms. Then, transportation should use clearly visible signage to communicate the symptoms students should not have if traveling on a school bus. Finally, the school in which school staff should visually check each student for symptoms.  
However, no other information on transportation is specifically listed. 
On July 29, Gov. Kay Ivey announced that all students in grades two and higher must wear face masks, unless they have a disability or medical condition that makes wearing a covering unsafe. The executive order also encourages the use of face masks by all employees while maintaining a safe distance of six feet.
Alaska
The Alaska Department of Education & Early Development (DEED) issued the "Alaska Smart Start 2020," which is a restart and reentry framework guidance for K-12 schools for the 2020-2021 school year.
Healthy hygiene practices should be promoted throughout all school districts, and all school sites should intensify cleaning. The guidance states that when practicing social distancing on the school bus, siblings or students residing in the same household can sit together.
The guidance also encourages school bus drivers, attendants and older children to wear face coverings when entering the bus and while on the bus, when possible.
Arizona
The Arizona Department of Education released it's "Roadmap for Reopening Schools" in June. The guidance states that limiting the physical interactions of students is one way to mitigate exposure, and social distancing should be considered to the greatest extent possible, but only when feasible.
If physical distancing is not possible on the school bus, cloth face masks and other mitigation strategies should be considered.
Arkansas
The Arkansas Division of Elementary and Secondary Education released its guidance, "Onsite PD Guidance," on June 16, along with a document outlining PPE for staff.
The document is based off the May 18 directive from the governor. While no information specifically discusses guidance for transportation, the document calls for social distancing, additional signage around campuses, and additional cleaning and disinfecting procedures, including hand sanitizer stations at all school entrances and exits.
However, in the document, "Determining PPE Amounts," released in May, a school bus driver is recommended to have three washable cloth face coverings. Paraprofessionals for students with disabilities or special needs, however, should have the three cloth face coverings, gloves, protective eyewear and a disposable gown. The PPE is required to be worn by all adults and students ages 10 and up, at all times when on school campus, including the school bus.
California
The California Department of Education released its guidance on June 8. "Stronger Together, A Guidebook for the Safe Reopening of California's Public Schools" which provides a detailed response to operating transportation for the new school year.
The guidance lists best practices for physical distancing at bus stops and school loading and unloading zones, as well as physical distancing on the school bus. The guidance outlined two options for seating based on physical distancing requirements: one student per row, skipping every other row, or zigzag seating. The guidance also states to mark or block seats that must be left vacant.
Related: One Aide Per School Bus Among California Guidelines for School Reopening
Students should also be prevented from walking past each other by seating students from the rear of the bus to the front, and to board afternoon runs based on the order in which students will be dropped off. The CDE guidance also states that a bus aide should be assigned to ensure social distancing and perform symptom screening.
Colorado
The Colorado Department of Education provides a toolkit listed on its website. The draft guidance will be adjusted over the coming weeks.
The "Bus and Suburban Transportation" guidelines call for employee and student temperature checks and symptom monitoring. The Colorado Department of Health is finalizing bus screening protocols, including parents/guardians certifying that their children are not exhibiting signs of COVID-19.
According to Executive Order D 2020-067 1, school bus drivers and staff must wear masks/face covering. The guidance also states that a 77-passenger bus can fit approximately 10 students to create six feet of distance between students. Students from the same household can be seated together.
The guidance also advises planning for additional routes or dividing up existing routes into smaller/shorter routes. A communication plan should also be provided to students and parents for social distancing while at bus stops. Increased cleaning and frequently should also be considered for fragile or high needs special education children, and their seating equipment, the guidance states.
Connecticut
The Connecticut State Department of Education released on June 29 "Adapt, Advance, Achieve: Connecticut's Plan to Learn and Grow Together."
The document provides information on transportation relating to preparation, pick-up and drop off, family transport, and school bus transportation. The document states that districts should contact families to see if they are planning on using the yellow school bus this school year. It also suggest that districts encourage parents and/or guardians to transport their children to school.
The document says districts should assess if staggered arrival and drop-off times will enhance safety, as well as plan vehicle flow and logistics if there are more family transport vehicles.
However, it divides school bus transportation into status categories of safe, low and moderate, based on the availability of a vaccine or effective treatments. Safe status would mean school bus transportation can operate with no restrictions, as it did prior to the pandemic.
In communities where transmission risk is low, school buses can operate at full capacity and student passengers would be required to wear face masks or cloth covering. The masks would have to be worn prior to boarding the bus and not removed by students until they are completely off the bus. Students should also load from back to front.
When there is a moderate threat of spread, passenger density should be significantly reduced, as schools will be employing a remote blended learning when in this status. Bus passengers should be spaced six feet apart, unless they are family members, and passengers will be required to wear face masks or covering. Students should also load back to front.
The guidance also states that districts need to assess whether a temporary monitor on buses at the beginning of the year will best facilitate successful compliance. Transportation departments should also provide masks if students do not have face coverings and should develop clear expectations for drivers and monitors relating to face coverings. Districts should also have a plan in an instance where a student is showing symptoms associated with COVID-19.
Passengers are also not allowed to change seats, and cleaning and sanitizing for all vehicles should be increased.
Delaware
The Delaware Department of Education's "Returning to School: Planning a Safe, Efficient, and Equitable Return to School for Students and Staff" provides a two-page, in-depth reopening plan for communities with significant spread, minimal-to-moderate spread and minimal spread. However, prior to transportation departments opening, they are advised to conduct an inventory of school buses and drivers to gauge availability, as well as conduct a family survey to determine who would be willing to drive their children to and from school.
If schools are opting for a remote learning only model, school buses should not be in use for traditional transport needs and should only be used to provide food services and instructional material. For minimal-to-moderate community spread or minimal spread, school bus drivers and aides are required to wear face coverings, except if they would inhibit the individual's health. Face coverings could also be required for students in fourth grade and up, with exceptions, and strongly recommended for those age 2 through third grade. The face coverings can be homemade or disposable. N95 masks are not necessary, the document stated.
It also stated that districts should maintain the recommended distance of six feet or greater between individuals, with a minimum of three feet when face coverings are worn. Capacity on school buses should be limited to the number of students who can be seated between three or more feet apart. Students from the same family may sit together in a row. When possible, there should also be a minimum of three feet between students and the school bus driver. Seating should be assigned by cohorts, so the same students sit near each other each day.
The remaining information discusses the use of hand sanitizer, cleaning procedures and communication plans. It also recommends creating a plan for getting students home safely, if they are not allowed to board the vehicle due to illness. It also says to identify, if necessary, one district or bus company employee to accompany the driver and assist with monitoring children during transport, and to help with the public health protocols.
On July 6, Education Commissioner Richard Corcoran ordered all schools in the state to open in August due to education being critical to the success of the state.
Georgia
The Georgia Department of Education released its guidance, "Georgia's Path to Recovery for K-12 Schools," in June. The document discusses three different levels of protections necessary, determined by state and local health officials and based on how much the new coronavirus has spread across local communities, and recommendations associated with transportation.
A substantial spread of the virus calls for school districts to remain closed for in-person learning and only utilize school buses to deliver meals to students in need. Recommendations for minimal/moderate spread areas include providing hand sanitizer to students and drivers, providing face masks for drivers, and allowing students to wear face masks as well as screening students and drivers for symptoms of illness prior to boarding. Other recommendations include eliminating field trips and establishing protocols for bus stops, and when loading and unloading to minimize the congregation of children from different households.
Low or no spread districts, however, can perform limited field trips and are recommended to ventilate buses when they are in use. Buses should also be inspected prior to students returning.
Hawaii
The Hawaii State Department of Education (HIDOE) issued, "Guidance For Reopening Schools," which takes effect on July 1. The one-page preliminary PDF states that anyone on the school bus should wear face coverings, and physical distancing should be maintained. Subsequently, the agency issued its "Return to Learn" plan on July 2. The guidance contains further information on student transportation under the operations category.
Students who ride on the contracted buses must wear face masks and maintain social distancing at bus stops. Once on board, they will be allowed to sit no more than two persons per bench seat. HIDOE will issue an emergency supply of face masks to each bus driver. Students who refuse to remain seated in their assigned seat and students who refuse to wear a face mask on the bus will be referred to the school administrator for possible disciplinary action.
Additionally, HIDOE will work with school bus service providers to implement intensified cleaning procedures between scheduled bus trips across the system.
An online bus pass application and payment system for parents and guardians will be launched this summer to allow for contactless transactions prior to the start of the school year, which is scheduled for early August.
Idaho
The state of Idaho, Gov. Brad Little, the Idaho State Board of Education, the Department of Education and the Idaho Department of Health and Wellness released, "Idaho Back to School Framework 2020" on July 9.
The document discusses three different categories transportation could fall under, based on the community transmission.
Category one, no community transmission, includes implementing standard operating procedures while taking preventative measures such as providing hand sanitizer to those on the bus, encouraging bus drivers and students to wear face coverings, and spacing out students by family groups. This category also includes limiting field trips to areas with no community transmission, cleaning and disinfecting frequently and airing out and deep cleaning buses when they are not in use.
Category two, minimal to moderate community transmission, includes providing and recommending hand sanitizer and face coverings for students and bus drivers, as well as encouraging students to wear the latter. Students and bus drivers should be screened for symptoms of illness and districts should utilize space seating on the bus to the extent practicable. Field trips should be eliminated, and protocols should be established for bus stops, as well as loading/unloading of children from different households. The school bus frequently touched surfaces should be cleaned and disinfected daily.
However, for category three, substantial community transmission, transportation should be limited to small groups of students from the same household that need to come to school to receive required services. School buses should be sanitized between groups of students. Buses should be used to deliver meals and instructional materials to students and families. And districts should schedule delivery and pick-up in ways that reduce contact to the number of students and families.
Illinois
The Illinois State Board of Education along with the Illinois Department of Public Health released "Starting the 2020-2021 School Year" in June.
A section on student transportation states that school bus riders must wear a face covering, no more than 50 individuals should be on a bus at one time during phase four, and social distancing must be maintained to the greatest extent possible. During phase three, no more than 10 individuals may be on a bus at one time. However, the document does not specify what size bus. The document also states that students must undergo symptom and temperature checks, which may include a self-certification, prior to boarding.
Drivers and monitors must wear approved PPE and perform regular hand hygiene. Drivers and monitors must also undergo symptom and temperature checks or self-certify and verify they are free of symptoms before the start of each workday. If they become ill during their route, they should contact their supervisors immediately.
Districts are encouraged to provide visual guides and assign seats. All physical changes to school transportation vehicles must meet the Illinois Department of Transportation and Secretary of State rules and regulations.
Indiana
The Indiana Department of Health in conjunction with the Indiana Department of Education published, "Indiana's Considerations for Learning and Safe Schools, IN-CLASS, COVID-19 Health and Safety Re-entry Guidance," on June 5.
Appendix E of the guidance states that all transportation vehicles should be cleaned and disinfected before and after routes, and drivers should wear PPE and masks. The guidance also states that school districts should determine if physical barriers between the driver and passenger are feasible. The guidance also encourages custodial-arranged reimbursable transportation for McKinney-Vento, foster and medically fragile students.
The document also includes a section on training to ensure drivers, maintenance and cleaning staff are properly trained. The document states eight hours of annual training is required on cleaning topics, such as correct information about COVID-19, how it spreads, symptoms, risk of exposure, how to wear PPE and dispose of it properly, and how to clean the buses.
Iowa
The Iowa Department of Education released its guidance on June 5, "COVID-19 Reopening Guidance: Summer Learning and Activities." However, no information is provided specifically relating to school transportation or school buses.
A separate document, "Summer Sports Transportation," issued on May 28 discusses transporting students for summer sports. The document states that players and coaches should have their temperature checked at home before any trip, and anyone with 100.3 degrees or higher should not be transported.
The guidance states that the bus driver should be the last one on and the first one off the bus, and students should be loaded from the rear of the bus forward. They should unload beginning with those seated at the front of the bus. It also states that the seat directly behind the driver should be empty.
The guidance also encourages the use of face coverings when alternate rows are not possible, allows siblings to seat together, and recommends that passengers sit in the same seat when traveling to and from a sporting event.
Kansas
The Kansas Department of Education released, "Navigating Change: Kansas Guide to Learning and School Safety Operations."
A section on transportation states that hand sanitizer, cleaning and open windows are recommended. Districts should consider assigned seating for students, filling the bus from the back to the front. However, school districts should still be cautious about having students of various age groups sit together due to bullying and other issues.
Students should be spread out as much as possible, and masks are recommended for all students. A plan needs to be in place for if a student shows up to the bus without a mask and they are required by the health department or local school board to wear one. If possible, the document also recommends transporting medically fragile students in a separate vehicle.
Capacity on the school buses should follow all local and/or state health department recommendations as well as school board policy. Through routing, districts should minimize the number of time students are on the bus.
Masks are strongly recommended for drivers and they should participate in a health prescreening before each work shift. Bus modifications are also not allowed, which includes putting plexiglass partitions between drivers and students and between individual student areas.
Kentucky
The Kentucky Department of Education issued its summer guidance on June 25. The nine-page "COVID-19 Considerations for Reopening Schools: Pupil Transportation" document covers optimizing the number of students on the school bus, COVID-19 transmission mitigation strategies, and employee safety considerations. It recommends that school districts evaluate their bell times to allow for fewer students to ride the school bus at the same time and extending walking distances for students.
All student riders in first grade and up must wear face masks "to the extent possible." In those cases, and when temperature checks are conducted, social distancing on the school bus is not required.
If students can't wear masks, social distancing must be maintained.
The guidance provides information on the reduction of students in different passenger capacity buses based on six feet of social distancing for all students, allowing for one student per seat and skipping every other seat, placing one student per seat without skipping seats, and allowing for two students per seat without skipping any seats.
Hand sanitizers may be mounted on the bus where they do not cause a distraction to the driver or hazards to the students. The guidance forbids the installation of driver barriers of any kind inside the school bus.
School districts may utilize bus monitors to screen student temperatures and look for other signs of illness prior to allowing the children to board the bus. The guidance also recommends policies and procedures to isolate students who develop fevers or other symptoms during the school day, adding that any students with fevers should not be transported home on a school bus. Temperature checks are not required for other students when boarding the bus to return home at the end of the day.
All drivers, monitors and other transportation staff will have temperatures checked and complete any district protocol for health screenings as they arrive to work. Employees will wear face masks at all times inside school buses, including during cleaning. Gloves are to be work when working elementary or special needs routes.
School bus garage employees are recommended to maintain social distancing "to the extent possible." They should enter through one door and exit through another door, if available.
Buses must be disinfected/sanitized between routes utilizing the manufacturer's recommendations. It advises to wipe down all seats that were used and high-touch areas of unused seats. At the end of the day, Each bus shall receive a thorough disinfecting/sanitizing and all surfaces wiped down at the end of each day.
Louisiana
The Louisiana Department of Education released "Louisiana Believes" on July 7.
A section on transportation discusses the maximum school bus capacity allowed, including adults during phases one, two and three. During phase one, the school bus may only run at 25 percent capacity and passengers should ride one per seat with every other seat empty. Members of the same household may sit in the same seat, or adjacent seats, with an empty seat between household groups.
In phase two, the school bus may run at 50 percent capacity, and in phase three at 75 percent capacity. These sections state to take the number of seats and multiply the percent of the manufacturer's capacity to determine the maximum number of people allowed on the bus at one time. Districts should space and disperse passengers to the maximum extent possible.
The document also states that facial coverings should be worn by all staff and students in grades three and up. Districts should also consider developing a communication plan to encourage social distancing at bus stops.
The document also lists additional operational standards including opening windows, if possible, staggering unloading of buses at school, and cleaning high-touch areas after each use.
A section on transporting students with special needs is also included. It states to consider reserving specific seats for these children, that would not be used for other students during the day. There should also be special precautions for disinfecting said seats. Another option would be to arrange separate transportation for students with special needs.
Maine
The Main Department of Education released its draft guidelines, "Maine Schools Return to Classroom Instruction Framework," that includes a small section on transportation.
The documents states that school bus contractors should collaborate with school administration units to adopt cleaning and disinfecting protocols. It also calls for supplementing local transportation protocols with the industry STARTS Task Force recommendations that are estimated to be released in July.
The document also recommends the adoption of local procedures for transportation staff and students to wear cloth face coverings and to accommodate students with special or medical needs that may not be able to wear cloth face coverings. It also states that student transporters should work with local special education professionals and with McKinney-Vento staff and families to develop a COVID-10 protocol for each special needs and homeless student.
Maryland
The State Department of Education draft plan, "Maryland Together, Maryland's Recovery Plan for Education," released in May outlines the path moving forward.
One-page transportation guidance states that the state should provide notice to school systems (transportation departments) two weeks or more prior to having to transport any children. School bus drivers will need to attend in-services before transporting students again to be updated on the new policies.
The guidance also states that school systems should be prepared to provide all bus drivers with PPE, and school systems will need to develop policies regarding temperature checks of a child before allowing them on the bus. All children must also wear a mask when on the bus and seats should be marked for social distancing.
The guidance also states that a protective plastic barrier may be installed behind the driver and/or alongside if allowed by the Maryland Motor Vehicle Administration.
Massachusetts
The Massachusetts Department of Elementary and Secondary (DESE) released "Initial return-to-school guidance" as a downloadable PDF on its website.
The document states that masks and face coverings should be provided by the student/family, but extra disposable masks should be made available by the school for students who need them. Face coverings are required to be worn by everyone on the bus during school bus transportation.
While the document states that schools should aim for six feet of physical distancing, with three feet being the minimum distance allowed, there is no information on what that might look like on the school bus.
The document states that screening procedures are not required at the entry to school, but school staff and bus drivers should observe students throughout the day. It also stated that temperature checks are not recommended due to the likelihood of potential false positive and false negative results.
Schools are also required to designate a COVID-19 isolation space, however no information on what that means for school buses was provided.
The document also provides steps for districts to create their own fall reopening plans, which must be submitted to the DESE in August. The first step of the plan is to create a point person and teams. For transportation, the team should cover topics such as bus transportation capacity, safety protocols, management of increased traffic from families, and promotion of alternative transportation modes such as walking and biking. It also states to develop a family survey that questions weather children will need bus transportation.
DSDE also stated that in the coming weeks it will issue additional guidance on transportation specifics.
Michigan
Gov. Gretchen Whitmer released, "MI Safe Schools: Michigan's 2020-21 Return to School Roadmap" on June 30. The guidance is in addition to recommendations issued by the state's COVID-19 Task Force on Education and the Return to School Advisory Council.
The governor's document is broken up into six different phases, with the first three closing schools for in-person learning. Students could return to class with required safety protocols at Phase Four, when the number of cases and deaths have fallen for a period of time. Phase Five would shift requirements to recommendations, and Phase 6 would mean no safety protocols are necessary.
For transportation, these requirements include wearing facial coverings by prekindergarten through 12th grade students, staff and bus drivers. If a student or staff can't tolerate a facial covering, they are not required to wear one. The same goes for anyone who cannot remove the covering without assistance. The document also states that the application of hand sanitizer is required before entering the school bus, and it must be supplied on the bus. The school bus should also be cleaned and disinfected prior to each morning and afternoon route.
If a student becomes sick during the day, they cannot take the school bus back home. If weather permits, school bus windows should be open while the vehicle is moving.
Minnesota
The Minnesota Department of Education released, "Guidance for Minnesota Public Schools: 2020-2021 School Year Planning," in June. A section on transportation discussed two different learning scenarios, one being an in-person learning for all students while the other is a hybrid learning model.
For in-person learning for all students, the document states to evaluate school transportation capacity with the goal of creating as much space between riders as possible. However, six feet might not always be possible. It recommends adding additional routes or reducing capacity to create more space. Family members can sit in the same seat.
The hybrid model of education states that the number of people on school buses is to be reduced by 50 percent, and there should be at least six feet of distancing between passengers at all times.
Other considerations include creating contingency plans to supplement the number of bus drivers as needed as well as identifying procedures for bus drivers and students.
Mississippi
The Mississippi Department of Education released " Considerations for Reopening Mississippi Schools," which describes different learning modules and includes a planning timeline.
Between June and July, the document states that districts should explore scheduling options and the implications each would have on transportation operations. These options include A/B days, morning and afternoon sessions, a hybrid learning model, or full remote online. Transportation departments should also determine if there are enough buses and drivers to adequately operate the preferred schedule decided by the school district.
Districts should also have plans in the event of a driver or a student rider testing positive for COVID-19. Districts should keep a list of student riders who ride each bus daily. If a student on the bus tests positive, districts should notify the parents of all the riders on the bus. Districts should also develop a process and monitoring protocol for daily bus sanitization, and buses will need to be cleaned in-between each route. If video cameras are on board, they should be kept on and recording during cleaning to document sanitization efforts.
Missouri
The Missouri School Boards' Association released "Pandemic Recovery Considerations: Reentry and Reopening of Schools."
A section on transportation discusses cleaning and sanitizing as well as the importance of communicating to parents during this time. Districts should decide if PPE will be used while driving routes, but PPE should be provided for cleaning, disinfecting and sanitizing. Districts should also determine if physical barriers between the driver and passengers are feasible.
If a child or driver tests positive for COVID-19, the document states to wait as long as possible to transport again, with 24 hours listed as the suggested amount of time.
Modifications to transportation operations include assigning drivers to a single bus and route, when feasible, and assigning students. The document states to reduce the number of students on a bus at any given time by encouraging parents to transport their children or encouraging students to walk and ride bikes to school by providing bike racks and locks. It also states to consider minimizing the district's transportation zone and to not provide transportation to students that live within three and a half miles of their school campuses. The document also states to consider additional bus routes arrange to transport medically fragile students in sperate vehicles or pay parents or staff members to transport students separately.
The document also recommends that school districts apply the most current social distancing guidelines and considering closing every other row of seats. The guidance advises allowing one child to a seat, placing floor decals or tape to indicate where students should sit, using volunteers or bus aides to enforce social distancing, and encouraging parents/guardians to monitor school distancing at bus stops. It also encourages parents to add tape marks at the bus stop in six feet intervals.
Other considerations include considering PPE for passengers, installing hand sanitizer stations inside buses, and reserving seats that no other students sit in throughout the day for a medically fragile child.
Drivers and maintenance staff should also be properly trained on COVID-19 and cleaning procedures.
Montana
The Montana Office of Public Instruction released the document, "School Re-entry & Recovery After a Pandemic Event," that discusses the three phases of opening and how they relate to academic programming, physical and structural environment, business environment, and social, emotional and behavior.
The guidance states that all school buses need to be inspected before being placed into operation, as many were parked for an extended period of time. The guidance also states that districts should consider student temperature screenings for students before they enter the school and/or upon entry onto buses.
The state added further guidance in July that recommends districts explore the possibility of providing school bus mobile internet hotspots. It also recommends that districts consider CDC guidelines for creating physical distancing on board, purchasing more school buses or creating alternate schedules as needed. When physical distancing is not possible, schools should consider cloth face masks and other mitigation strategies. School districts also have the authority to use transportation funds through individual contracts with offsite learning students families to reimburse the cost of meals and providing offsite courses.
Nebraska
The Nebraska Department of Education guidance, "Launch Nebraska, Health Guidance for Summer Programing and Beyond," was effective as of June 8.
The last page of the guidance document focuses on transportation. The guidance references the CDC guidance and mostly focuses on proper hygiene for school bus operators. The guidance does state that field trips are not recommended outside the community at this time.
Nevada
The Nevada Department of Education released, "Nevada's Path Forward: A Framework for a Safe, Efficient, and Equitable Return to School Buildings," which discusses key considerations for transportation operations and questions how districts will plan to use bus transportation based on the district's school facility usage plans. Items to consider when developing a plan include frequency of transportation, field/alethic trip transportation, staggering of drop off and pick up times, staggering social distancing on bus stops, and considering developing parent volunteers or district staff to be at the general education stops.
The document also states ways to achieve social distancing on a school bus, which includes minimizing load counts to six to 15 students. If the seatback is considered a barrier between elementary school students, a district can have 24 to 26 students per general education bus. The document also advises t that social distancing is not always possible between the driver and students, especially when loading and unloading students, unless a moveable and temporary barrier is installed on the bus. The document also states there may be a need to ensure students maintain distancing as they load and unload school buses. The document recommends using pool "noodles" (floatation devices) to provide physical and visual examples of what six feet of distancing is for students.
School bus drivers will also need additional training, and districts should develop procedures and review the length of time it takes to recruit and train new drivers. The document also poses a series of questions on responsibility and a checklist for districts to review prior to transporting students.
New Hampshire
The New Hampshire Department of Education released, "New Hampshire Grades K-12 Back to School Guidance," in July.
The document states to review transportation safety and to implement safety protocols that realistic and not overly destructive of the instructional model. Such disruption would occur if students are arriving and departing at varying times, which limits the instructional day.
Strategies should be developed during parent/guardian pick up and drop off, which could include assigning students to different entrances and exits based on grade, no congregating outside of school, and advising parents or guardians to remain in their vehicles while dropping off or picking up their children.
Strategies for bus transportation include parents or guardians screening their children for symptoms of COVID-19 or risk factors before allowing them on the bus. Students with symptoms should not be sent to the bus. Parents should also seek carpool or small group transportation.
Other COVID-19 mitigation strategies for the bus could include assigned seating, drivers wearing face coverings while stopped, and students are boarding or unloading. Drivers should also wear a cloth face covering while driving, if safe to do so. If plastic barriers are installed in the bus driver area, the document states side barriers should only be extended while students are boarding or exiting. They should be pulled back/folder while the bus is in motion so that the driver's side view is not obstructed.
Students should wear a cloth face covering at all times, unless recommended by the CDC not to. Alcohol-based hand sanitizer should be made available at the bus doors, and all students and staff should be asked to sanitize their hands as they board the bus and when existing. Windows should also be kept open, if possible, and the buses' high touched areas should be cleaned after each transportation run.
The document states that because the school bus driver workforce tends to be an at-risk population, they may require additional protective measures, such as a barrier between students and drivers. The document states this barrier could be a Department of Safety approved flexible plastic shield.
New Jersey
The New Jersey Department of Education released "The Road Back, Restart and Recovery Plan for Education" in June.
A section on transportation states that school districts should maintain social distancing practices on the school buses to the maximum extent possible. However, it adds that if social distancing is not possible, students who are able must wear face coverings. It also recommends that school districts adopt best practices for cleaning and disinfecting all vehicles.
The document gave suggestions to social distance on a school bus, including seating one student per seat, skipping rows, and installing physical barriers between seats. A district considering a physical barrier that separates the bus driver from the students must receive approval from federal regulators and the New Jersey Motor Vehicle Commission.
In addition to costs, partitions between rows of school buses may create additional challenges, including additional cleaning. Other guidance includes students should board the bus from the back to the front, transportation times should be staggered, windows opened if possible, and clean and disinfect school buses at least daily.
The document also states signs should be erected that reinforce social distancing. When possible, a staff person would accompany the driver on all transportation routes to ensure social distancing and safety. Bus routes may also need to be added to accommodate the social distancing practices. However, if the cost is too much for additional drivers and routes, the document states that nonpublic school students could receive payment in lieu of a seat on the school bus.
The document also states that the demand of resources placed on transportation for this school year could result in school districts no longer offering courtesy busing during the 2020-2021 school year.
New Mexico
The New Mexico Public Education Department released, "Reentry Guidance," in June. The document provides guidance to transporting students again in a remote, hybrid and full reentry educational model.
In a remote learning model, school buses should be used to deliver meals and transport students with disabilities as well as prekindergarten through third students, if they are still attending school on a limited basis. In this model, the guidance also states to install hotspots on school buses to provide internet access in rural and remote areas for students.
In hybrid and full reentry educational models, the guidance states that students should be assigned seats and spaced apart from each other. A maximum of two students may sit together on a seat, however, schools in a hybrid model should take all responsible steps to limit bus seats to one student per seat, if possible. Therefore, districts should consider staggering bus routes, expanding the minimum radius of eligibility for bus services, and encouraging parents to drive their students.
The document also states to assign bus attendants or other staff to routes to screen students, to the extent possible. Students, bus drivers and attendants should be screened for symptoms, and temperature checks of students prior to boarding the bus is recommended but not required.
The document also advises providing hand sanitizer for all staff and students. Bus drivers and attendants should also be provided face masks and required to wear them. Students are also required to wear masks or shields.
The document states that for hybrid or full reentry education high touch areas should be cleaned at least daily and protocols should be established at bus stops and when loading and unloading students. Buses should be aired out when not in use, and group transportation, including carpooling, should be restricted.
New York
The New York State Education Department (NYSED) released its reopening guidance, "Recovering, Rebuilding and Renewing: The Spirit of New York's Schools Reopening Guidance," on July 13.
The document states that social emotional well-being must be a school's top priority in supporting school transitions. It stated that all staff, including bus drivers, should be given opportunities to heal together, to build strong, mutually supportive relationships and to process their own emotions.
In terms of transportation, it advises that school buses are an extension of the classroom and services need to be provided to all with consistency. Each district will also need to develop its own plan, considering its own geography, community resources and students need. Plans must be submitted to the NYSED by July 31.
The document includes mandatory requirements for regularly cleaning and disinfecting school buses and training all school bus staff. New routes should be considered as well as training student riders to social distance at school bus stops and during unloading times. Student riders must also wear masks.
School site loading and unloading needs to be done safely, with separation and staggered.
North Carolina
The North Carolina Department of Public Instruction released, "Lighting our Way Forward: North Carolina's Guidance on Reopening K-12 Public Schools," in June. The document provides a section on transportation that discusses volume of ridership, modifications of vehicle, preparing buses, reserve/substitute driver roster, pre-board screening and school bus ventilation.
Depending on the different plans chosen by the school district, transportation has outlined requirements regarding school bus cleaning and disinfecting, health screening and hygiene. The document does state that adding plexiglass would likely violate federal motor vehicle safety standards and introduce a risk of injury or death in a collision. It recommends using only modifications approved by the original equipment manufacturers. The document also further discussed PPE usage, and social distancing on the bus.
North Dakota
The North Dakota Department of Public Instruction released, "The North Dakota K-12 Smart Restart Guidance." No information on transportation is provided.
Ohio
The Ohio Department of Education released, "Planning Guide for Ohio Schools and Districts."
The document states that the transportation of students should be conducted in a way that is safe for students and employees. A district's reopening plan should also address school bus logistical issues, including the number of buses required to provide transportation. Districts should also be proactive in obtaining ridership and schedule information.
The document also provides a checklist for transportation officials that questions whether school bus drivers would be available for more shifts, if drivers and students have access to PPE upon entry, and the impact of seating one student per seat. The documents also encourages districts to question what the impact of social distancing will be on the school bus and if bus stops should be monitored to ensure social distancing. It also suggests districts consider alternative means of transportation and cleaning procedures.
Oklahoma
The Oklahoma State Department of Education, released, "Return to Learn Oklahoma, A Framework to Reopening Schools," with a section on transportation and the school bus driver shortage.
The guidance states that drivers are required to attend in-service training prior to transporting students and demonstrate that they understand the new policies and procedures. The guidance states districts should consider using a monitor to ensure social distancing is practiced. School districts should also install a clear protective barrier behind or alongside the driver in accordance with the applicable safety code.
The guidance also states that districts should plan for school bus driver shortages as drivers may be unwilling to put themselves at risk. The guidance states that school districts should build in virtual school days or otherwise plan for contingencies for the possible school closure due to a bus driver shortage. To better protect school bus drivers' districts should be prepared to provide them face masks, gloves, hand sanitizer and disinfectant wipes. If possible, consider providing drivers with no-touch thermometers to take the temperature of students before boarding the bus, the guidance states.
Oregon
The Oregon Department of Education in conjunction with the Oregon Health Authority, released its back to school guidance, "Ready Schools, Safe Learners, Guidance For School year 2020-2021," on June 10.
A one-page section on transportation is divided into requirements and recommendations. It requires school districts to not only frequently clean buses but also develop a protocol for loading and unloading students, to include a visual screening for students exhibiting symptoms and documentation for contact tracing. It also requires school bus drivers to wear face shields or coverings.
If a student displays symptoms, however, the district or bus company should provide them with some sort of face covering and continue to transport them to school. The student would need to remain at least six feet away from others, rather than at least three feet of physical distance between others. Six feet distance is recommended between students and bus drivers, and visual clues should be placed on bus seats to discourage students from sitting in certain spots.
Pennsylvania
The Pennsylvania Department of Education released, "Preliminary Guidance for Phased Reopening of Pre-K to 12 Schools," on June 3.
Very limited information regarding school transportation is included. The guidance says high- touch areas in school buses should be frequently cleaned, and social distancing procedures should be implemented on the school bus. The guidance states that districts should stagger student arrival and drop-off times or locations.
South Carolina
The South Carolina Department of Education released its, "AccelerateED Task Force Summer Learning & Operations Recommendations," on May 26.
A small section on transportation discusses bus capacities and says ridership should be based on guidance from the South Carolina Department of Health and Environmental Control, and that occupancy limits should be placed on school buses for the student population. The SCDHEC doesn't have guidance out specifically for school buses, however, its document, "COVID-19 Interim Guidance for School Operations," states that social distancing should be adhered to whenever possible.
The SCDE guidance states that school bus occupancy limits should be uniformed across school bus types and as determined by the SCDE and the DHEC.
South Dakota
The South Department of Health released, "Guidelines for School Buses," in July. The document provides information on proper hygiene practices, social distancing and information for bus drivers on protecting themselves.
The document encourages proper hygiene for school bus drivers and students. It also states that districts should create as much space as possible between riders. A cloth face covering should be considered when physical distancing may be difficult. The document also encourages anyone who is sick or has been in contact with a person who contracted COVID-19 to stay home and not use the bus.
Those who are at risk for severe illness from COVID-19 should limit use of the bus system. Ventilation should also be used.
The document states that bus drivers could take precautions to protect themselves by asking passengers to avoid sitting within six feet of each other, avoid touching surfaces often touched by passengers, cleaning often and using proper hand hygiene, and wearing a cloth face covering to further reduce the risk of transmission.
Employers could take steps to protect their employees by requiring distance between passengers and the driver by using tape on the floor or a physical partition. They could encourage sick drivers and students to stay home and provide them with the correct information about COVID-19. Other steps include providing drivers with access to soap and water or hand sanitizer as well as gloves when necessary. Employers could also provide disposable disinfectant wipes to drivers to use on high touched surfaces.
Rhode Island
"Back to School RI: Health and Safety Guidance to Reopen Rhode Island's Elementary and Secondary Schools," released on June 19, discusses busing and student transportation for the new school year.
The document breaks its recommendations into three categories: full-in person learning, partial in-person learning, and limited in-person reopening. For full in-person learning, some of the scenario planning includes all students wearing a mask with some exceptions, hand sanitizer available when boarding, students are screened when getting on the bus and are seated to adhere to physical distancing as much as possible.
Students must sit one per seat, unless they are in the same family. Each bus route should be its own stable group and the same students are assigned to the same bus every day. Students should have assigned seats. Additional bus monitors are also strongly recommended to ensure student compliance.
For partial in-person learning the document stated it's the same mitigation tactics as the full in-person learning, expect the overall capacity is reduced by 50 percent. For limited in-person reopening, the document stated that districts should reduce capacity to follow the CDC guidelines. The document also lists additional examples to increase other modes of transportation like carpooling and contracting with non-traditional bus providers. As well as decreasing the demand for buses, like encouraging walking school buses and bike zones.
Tennessee
The Tennessee Department of Education released its, "Reopening Schools: Overview Guide for LEA's," on June 5.
The initial document provides insight into different learning models for schools considering reopening. The document stated that starting on June 8, a series of individual toolkits will be available and will encompass the details and planning guidance, one of which includes a section on transportation that provides checklists and considerations to be made.
A supplemental document released on June 11, "School Reopening ToolKit: Transportation," features a 12-page checklist, best practices and recommendations for school districts to consider when reopening. The toolkit provides information on routing, bus stops and cleaning. It also discusses additional training for school bus drivers and aides, and ways to ensure transportations staff safety.
The document also includes a section on the school bus driver shortage, in which districts and companies should have procedures in place for how the potential driver shortage may impact their operation.
Texas
The Texas Education Agency released its guidance, "Summer Instruction, Activities and School Visits: Guidance for Reopening and Student Interaction," and has since updated it as of June 9.
The "Bus Planning Recommendations" of the guidance states that those living in the same household can sit together on the bus, otherwise social distancing should be adhered to. The guidance also states to encourage families to drop off students, carpool, or walk to avoid possible virus exposures on the bus. The guidance also states that whenever possible bus windows should be open or otherwise work to improve airflow by allowing outside air to circulate in the bus.
Related: Texas Advises School Districts That Barriers Are Prohibited on School Buses
Related: Texas School Districts Discuss CDC Guidelines for Transportation After Coronavirus
The Texas Department of Public Safety also sent out a reminder to all districts in the state that installing a shield or enclosure around the driver compartment is prohibited due to the Federal Motor Vehicle Safety Standards 222.
Utah
The Utah State Board of Education released "Planning Requirements and Recommendations for K-12 School Reopening" on June 26.
With regard to transportation, the documents states that face coverings for all students, staff and other passengers are required. Some expectations might be granted for unique student circumstances. The state also requires strategies be implemented to ensure driver safety and protocols be developed for minimizing the exposure of students from different households and cleaning and disinfecting high-touch areas.
As far as recommendations, the document sates that seats should be assigned to support contact tracing, maximizing physical distancing but acknowledging it is not possible in many circumstances. Students should also not be refused transportation for not wearing a masks and plexiglass is recommended around the driver.
Vermont
The Vermont Agency of Education and the Vermont Department of Health released its guidance, "A Strong and Healthy Start: Safety and Health Guidance for Reopening Schools, Fall 2020," on June 17.
The guidance relating to transportation operations states that a daily health check must be conducted on all students prior to boarding the school bus, and it recommended that an additional adult (bus monitor) ride the bus to conduct the screenings. The guidance states that sick students should not get on the bus.
All school bus drivers, monitors and students on board, with some exceptions, are required to wear face coverings. And the guidance recommends transporting students by cohorts of age, seating the younger students in the front and the older students in the back. Students should all be assigned seats, and school districts should encourage alternatives to busing to reduce the number of students riding.
Cleaning and disinfecting procedures are also outlined within the guidance, as well as social distancing practices for on the school bus and at the bus stop.
Virginia
The Virginia Department of Education released the governor's "Phase Guidance for Virginia Schools," which discusses recommendations for reopening schools in the fall. However, there is no direction specifically relating to transportation.
Washington
The Washington Office of Superintendent of Public Instruction released, "Reopening Washington Schools 2020, District Planning Guide," on June 15.
A short section addressing transportation, food and nutrition, and school district facilities states that operations and contingency plans should align with school district decisions on school calendars. It also encourages districts to review bus and walk policies and encourage families to provide more student drop-offs, as well as more walking and bicycling to school. It also adds flexibility in to the school calendar for short-term closures that can be made up at a later date.
West Virginia
The West Virginia Department of Education released, "West Virginia School System Re-Entry & Recovery Guidance," with different scenarios for learning in the fall. Information on nine focus areas, including transportation was "forthcoming" at this report.
Wisconsin
The Wisconsin Department of Public Instruction released, "Interim COVID-19 Transportation Guidance," on June 19. It discusses employer guidelines, general behaviors and cleaning practices for school buses.
The guidance states that physical distancing is preferred on the school, but if not feasible then the use of facial coverings is recommended. Along with the face coverings, measures should be taken to keep consistency among those riders together, so contact tracing can be more easily accomplished, if physical distancing is not possible. Those in the same household can ride together.
However, in a section on face coverings, the guidance states that cloth face coverings do not replace physical distancing and are most useful when physical distancing is difficult.
When creating space between students, the guidance states to provide guides to ensure that students remain at least six feet, or two arms lengths apart. The guidance gives recommendations to create physical distancing on the bus which includes installing a plexiglass barrier behind the driver compartment, as well as establishing a buffer zone behind the driver where the first row is left empty.
Signs and messages should be posted relating to stopping the spread of COVID-19, as well as information on proper hand hygiene. Staff should also be trained on proper safety and disinfecting procedures of school buses.
The guidance also states to ensure ventilation systems operate properly and to open windows and doors and use fans as much as possible to increase circulation. Districts should also develop illness protocols and train staff for what to do if a student or staff member develops symptoms.
Wyoming
The Wyoming Department of Education released, "Smart Start Guidance" on July 1. The document breaks requirements and recommendations into three tiers depending on the spread of the virus.
For Tier 1, an open school setting, each school district will operate transportation in a way that maximizes social distancing, the use of face coverings and appropriate hygiene measures. If social distancing is not possible, students should wear face coverings, to the greatest extent possible. Other requirements include enhanced sanitation and cleaning measures, students and parents being informed of requirements and protocols, and parents should screen their children daily for symptoms before sending them to school.
Recommendations include encouraging parents to provide transportation, designating an area on the bus if a student is visibly sick and developing protocols for the arrival of the bus at school if a student on board is sick.
Tier 2, requirements and recommendations are the same as Tier 1. However, this section includes considerations consisting of questions transportation departments should ask themselves. If the school district chooses Tier 3, a closed model of education, transportation should operate under the approved district learning plan.
---
School Bus Safety Data
The following information from the National Academy of Sciences, the U.S. Department of Transportation and the school transportation industry reflect and represent safety data at a glance regarding yellow school buses and school transportation programs within the United States.
About 480,000 yellow school buses provide transportation service daily nationwide.
Approximately 26 million elementary and secondary school children ride school buses daily throughout the United States, twice a day.
That is more than 52 million student trips daily—before adding an estimated 5 million for daily extracurricular activity roundtrips.
This equals more than 10 billion individual student rides, or 20 billion boardings and exits, annually, when you include the national estimate for activity trips, Head Start transportation, summer school and child care transportation.
School buses travel approximately 4.4 billion miles each school year across the United States. To put this in perspective, the U.S. Department of Transportation publishes figures that show Americans drive nearly 3 trillion miles on U.S. highways each year.
Approximately 53 percent of all K-12 students in the country ride yellow school buses.
The average school bus transports 54 student passengers. An average of 1.5 students are transported per car if a school bus is not available. The number of cars needed to transport students currently riding on one school bus is 36. (Source: American School Bus Council.)
According to the National Safety Council, the national school bus accident rate is 0.01 per 100 million miles traveled, compared to 0.04 for trains, 0.06 for commercial aviation and 0.96 for other passenger vehicles.
The U.S. Department of Transportation reported that 328 crashes involving school buses, defined as resulting in a fatality, bodily injury requiring immediate medical attention away from the scene, or at least one of the involved vehicles being towed, occurred from 2013 through 2015. This equates to an average of 109 school bus-related crashes nationwide each year, or 0.60 per day based on a 180-day school year.
Therefore, the federal government considers school buses to be about nine times safer than other passenger vehicles during the normal school commute.
The National Highway Traffic Safety Administration reports that 96 percent of the estimated 8,500 to 12,000 children injured in school bus accidents annually are considered minor (scrapes, bumps, bruises, etc.).
NHTSA calculated that 4 percent of the school bus-related injuries to children—about 350 to 475 annually—are serious (i.e. broken bones or worse) based on the medical community's widely-accepted Abbreviated Injury Scale, or AIS.
An average of fourchildren are fatally injured inside school buses annually, per NHTSA.
About 16 children are fatally injured as pedestrians in the loading and unloading zone around school buses annually. That is better than 200 percent improvement from 75 school bus fatalities in 1975, but is still not good enough.
During the seven years between 1989 and 1996, 9,500 school-age children were killed during school hours while riding in all kinds of motor vehicles.
The federal government considers school buses to be about nine times safer than other passenger vehicles during the normal school commute.
According to data gathered for NHTSA's Fatal Analysis Reporting System, about 600 school age children are killed annually riding to and from school in motor vehicles other than school buses. These fatalities occur during school transport hours (7 to 9 a.m. and 3 to 5 p.m.), on school days (Monday through Friday) only, and during the typical 180 day school year, to children riding to and from school, mostly in automobiles.
More than $6 billion in state funding is spent each school year for all public school K-12 transportation.
Several hundred pupil transportation delegates are appointed by the chief school officer in each state meet for a week-long conference once every five years to review and rewrite minimum standards and specifications for safe operation. The next National Congress on School Transportation is scheduled for May 2020 in Des Moines, Iowa.
Three-point lap/shoulder occupant restraint systems are required by federal regulation on all newly manufactured small school buses under 10,000 lbs., but only seven states mandate their use. As a matter of practice, however, all manufacturers of small school buses install lap/shoulder belt occupant restraint systems on their buses.
Three states—New York, New Jersey and Florida—currently require two-point lap belts on large school buses over 10,000 pounds.
New Jersey not only requires lap belt installation on new large school buses, but students are also required to use them. In New York, use is only required if the local school district adopts a policy mandating their use. At last count, about 25 of the 725 districts in the state have done so.
A law requiring lap belts is also active in Louisiana, but there has yet to be any appropriated funding for the restraint systems. Meanwhile, Texas had a law requiring 3-point lap/shoulder belts on all newly manufactured school buses by Sept. 2010, but the legislature never passed the necessary funding to enforce it. A new law passed in 2017 allows school boards to opt out of the requirement if it holds a public meeting that informs local residents there is no funding.
California has the oldest three-point lap/shoulder belt occupant restraint systems law for all large school buses, dating back to 2005. It also requires three-point lap/shoulder belt occupant restraint systems on small school buses. All students are required to use the seat belts. Nevada passed a law in 2017 to require lap-shoulder seat belts on all new buses as of July 1, 2019. The law also requires student usage.
Great Britain requires lap belts on minivans used in youth transport, including school transport. The European Union (EU) has begun to require that coaches and minivans in member states be equipped with occupant restraint systems. Congress was debating mandatory lap/shoulder occupant restraint systems for the U.S. motorcoach industry.
Editor's Note: Unless otherwise noted, data presented here is extrapolated from the annual STN Buyer's Guide that publishes state-submitted information.
---
Loading and Unloading
The National School Bus Loading and Unloading Survey is a collection of fatality accident records provided by the state agencies responsible for school transportation safety and/or accident records. Only those fatality accidents involving K-12 school children in or around the loading or unloading areas of a school bus or transit bus are included in this survey.
Fatalities that occur on-board a school bus are not reported here. Student fatalities that occur at a bus stop before or after the bus has departed are not listed. Neither are fatalities that occur on the way to or from the bus stop, nor those that occur to motorists who strike, or are struck by, a school bus.
Compiled annually by the School Bus Safety Unit at the Kansas Department of Education (and previously the Kansas Department of Transportation), this series started with the 1970-1971 school year. Over the 40-plus years of this series, 66 percent of the fatalities occured to students ages 2 to 9 years of age.
Students departing the bus or on their way home from school experienced 60 percent of all fatalities. School buses were the cause of 57 percent of the total fatalities while motorists who passed a stopped school buses with its red light flashing, struck and killed nearly 39 percent of the total fatilities. The report indicates "other information" accounts for the remaining four percent.
The survey shows fatalities that occur going to school, coming home, on activity trips, and by motorists that pass a school bus that has stopped to load or unload school children. Survey results are usually released in December for the previous school year. Fatalities during activity trip transportation are not included since only six occured during the three decades reported.
One activity trip-related fatality occured in 1970, 1973, 1974, 1990, and one in 2005; two occured in 1978. Fatalities involving school children that occur on public transit buses have only been included since 1996. The data is spotty since the public transit industry does not report for this study.
There has also been an argument within the school transportation industry of what constitutes a loading/unloading fatality or injury. Historically, only fatalities were reported by states that occurred when the bus was at the stop.
But news reports nationwide chronicle all-too frequent instances of child deaths occuring minutes before or after the school bus is on scene. School Transportation News compiles its own data based on these news reports.
For the 2009-2010 school year, STN found twice as many accounts of student deaths at or near the school bus stop as the 13 student fatalities reported by the Kansas State Department of Education.
---
U.S. School Bus Stop Arm Laws
A breakdown of states that have laws authorizing school districts to install video surveillance cameras on or near stop arm equipment to capture incidences of motorists who illegally pass school buses while loading or unloading students. See the color code, below, and view a summary of current state laws, as compiled by the National Conference of State Legislatures.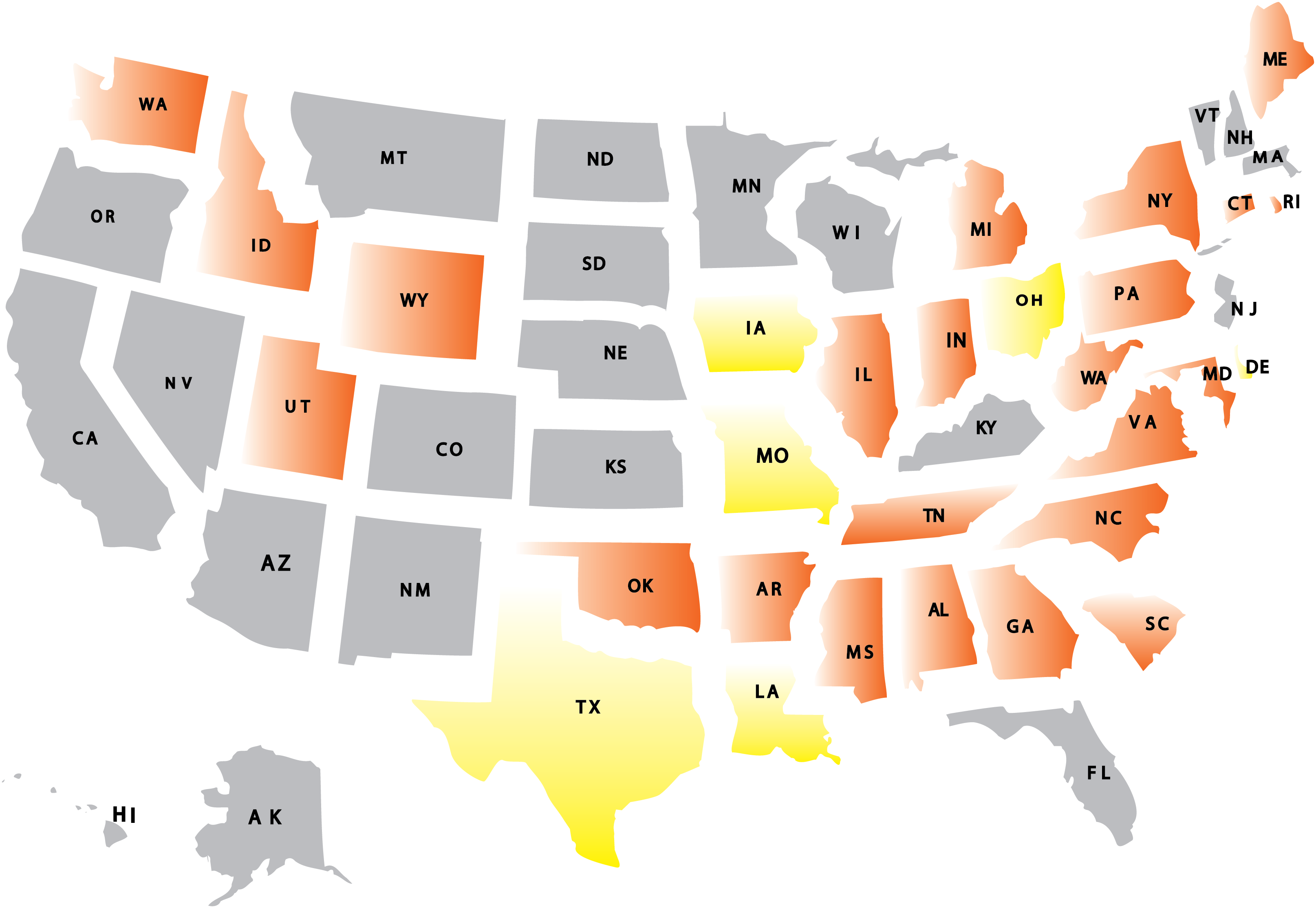 Orange = Law enacted
Yellow = Individual school districts or municipality decision
*Sources: STN, National Conference on State Legislatures. As of 4/7/22.
---
Federal Actions
The federal government of the United States has slowly begun to pay attention to the security of school bus transportation. Listed here are links to the federal initiatives taken to date:
TSA School Bus Threat Assessment
Ordered by Congress as a result of the 9/11 Commission Report, TSA completed a security assessment on the vulnerabilities of school bus security in 2010. The report is not for public consumption but can be requested by school district and school bus operator personnel through a direct appeal to TSA
The Intermodal Security Training and Exercise Program (I-STEP)
The TSA's Intermodal Security Training and Exercise Program provides exercise, training and security planning tools and services to the transportation community, including to school districts and private bus companies for student transportation
Transportation Security Administration Makes School Bus Drivers Eligible Under New First Observer Trucking Security Program:
Train-the-trainer curriculum available (July 2009)
Department of Homeland Security Announces Additional $21 Million Grant in Partnership with American Trucking Association:
(Sept 13, 2004) Funds enabled the School Bus Watch driver training program, the precursor to First Observer
USA Patriots Act, H.R. 3162 Section 801 "Terrorist Attacks and Other Acts of Violence Against Mass Transportation Systems, (C) (5):
"The term 'mass transportation' … shall include school bus …"
The Relative Risks of School Travel: A National Perspective and Guidance for Local Community Risk Assessment (July 25, 2002)
Report by the Transportation Research Board submitted to the Subcommittee on Highways and Transit, Committee on Transportation and Infrastructure, U.S. House of Representatives
801 Terrorist Attacks and Other Acts of Violence Against Mass Transportation Systems:
(Chapter 97 of title 18, U.S. Code, Sec. 1993)
---
Driver Distraction
What is distracted driving?
Nearly everyone in today's society has a cell phone or some portable electronic device designed to communicate with others or entertain ourselves. Despite a growing number of states that have passed laws banning hand-held cell phone usage while driving, just take a look around you on the road and you're likely to see dozens of other motorists with their phone to the ear while driving. Or, worse yet, they're texting.
Virginia Tech Transportation Institute research shows that distracted driving increases the risk of a crash by 23 times, or 23,000 percent. Data from the Liberty Mutual Research Institute for Safety has shown that driver distraction can lead to fewer mirror checks and not seeing things that are otherwise visible to all others, a phenomenon known as inattentional blindness.
The U.S. Department of Transportation has taken notice and targeted high rates of distracted driving by all motorists and especially school bus drivers. In September 2009, Transportation Secretary Ray LaHood hosted a two-day summit in Washington, D.C., that brought together federal and state officials, politicians, safety experts, representatives of the telecommunications industry, and concerned members of the public, to discuss the topic, the often-times fatal results of distracted driving and what to do do stop it.
In response to data-filled testimony and heart-wrenching accounts of fatalities at the hands of distracted drivers, LaHood announced that legislation was being worked on in Congress that would revoke commercial driver's licenses from anyone convicted of texting while driving and that would ban all newly-licensed divers from using cell phones in personal vehicles.
In July 2009, the Avoiding Life-Endangering and Reckless Texting by Drivers Act, or the ALERT Drivers Act, was introduced that would ban all cell phone or mobile device texting by motorists including commercial drivers. If passed, states would need to adopt the guidelines or forfeit 25 percent of its federal highway safety funds.
Meanwhile, the FMCSA has implemented a final rule that makes it illegal for all interstate commercial drivers to text or use hands-free or hand-held mobile communications devices. Check out an FAQ from J.J. Keller that breaks down the what the rule means. Note: most school bus drivers are not considered interstate commercial drivers, though some who work for a private bus company with a DOT number may need to comply with the rule.
The list of states that ban cell phone usage or texting by all motorists, including school bus drivers, is on the rise, according to the Insurance Institute for Highway Safety. But, the Department of Transportation says any cell phone ban legislation should include requirements for in-vehicle or other voice-activated systems that are proven to be less risky than using other hands-free technology such as headsets, as these voice-activated systems do not require any "eyes off the road time."
The National Transportation Safety Board issued recommendations that all states and D.C. initiate laws that ban all hand-held and hands-free mobile communication usage, including texting, email and updating social networking sites. But NTSB's recommendations are only that and carry no regulatory weight.
---
Train-School Bus Crashes
There have been about 170 train-school bus collisions known to have occurred between 1902 and 2019, the most recent on record occurred in Athens, Texas. Three people were on a school bus when it crossed railroad tracks and a Pacific Union Train hit it.
The crossing section did not have a crossing guard, alarms or warning bells. The bus driver and student were ejected, the student was pronounced dead at the scene. The remaining student was trapped in the bus.
A similar crash in 2015 in Larimore, North Dakota, happened when a freight train collided with a school bus, ejecting and killing the bus driver and a high school student. Prior to that incident, a freight train in Conasauga, Tennessee, was traveling at 51 mph when it struck the passenger side of a Murray County, Georgia, School District bus that was crossing the rail grade. Another major crash occurred several years earlier in Fox River Grove, Illinois.
Of these crashes documented during the 20th century, 35 resulted in fatalities to school bus passengers, resulting in 192 deaths and at least 546 injuries (some reports only indicate "many injuries"). The first known train-school vehicle collision occurred in 1902, when a train rammed a horse-drawn stagecoach in school transportation service, resulting in eight student fatalities. The collision occurred in West Nyack, New York, not far from the scene of the Congers train-school bus collision 70 years later.
Investigations of collisions involving a vehicle in school transportation service and a train that resulted in a fatality or injury of either a student passenger, driver of the bus or train crew, can be found by searching the major investigations section of the National Transportation Safety Board website.
Both the Conasauga and Fox River Grove collisions led to recommendations for radio speakers that are installed behind the driver console, since contributing factors of both incidents were that the driver could not hear the approaching trains.
The 2015 National School Transportation Specifications and Procedures lists recommended procedures for bus drivers when approaching railroad grade crossings.
Always stop 15-50 feet before a railroad crossing.
Only use the right lane, unless making a left turn immediately following the crossing.
Open the entrance service door and driver's side window after stopping, to listen for a train.
If one does not have an adequate view of the tracks, do not cross.
Other procedures stated are to make sure there is enough room on either side of the tracks to cross and to place to the transmission into a gear that is able to cross the tracks.
Since 1972, Operation Lifesaver has provided training and other educational tools to school bus drivers, educators and parents to help keep students safe at railroad crossings, especially when traveling on school buses.
The Federal Railroad Administration has been maintaining statistics on railroad crossing fatalities since 1981.